Renderplas Ltd
Beading solutions for a sustainable future
No. 2, 70-72 High Street, Bewdley, DY12 2DJ

01299 888333
ABOUT US
Renderplas was formed in 1990 to offer the plastering industry a new concept in beading. The first manufacturer of PVCu beads in the UK, Renderplas is the leading exponent in the field.
We set out to address the shortcomings of traditional profiles by designing a range of beads in PVCu to suit the British and Continental market. The key benefit of PVCu beads is that they use the most cost-effective, non-corrosive material to produce robust plasterer friendly beads. Renderplas PVCu beads conform to BS EN 13914-1:2016 - External Rendering.
Our products are designed to be unobtrusive with an extremely narrow arris, making it ideal for scratched or scraped finishes. Very popular with major house builders, our beads are available in white or ivory as standard to blend with most coloured renders. However, in order to give architects and contractors even more freedom to use through-coloured renders in more vibrant colours, a range of beads in 7 further colours are also available for popular render depths.
Used internally, whether, in conjunction with wet plastering or dry lining, they will not stain during lengthy drying out periods and offer superior protection against impact in heavy traffic areas.
By specifying a Renderplas PVCu bead, the problems associated with traditional beads and the aggravation of costly callbacks are avoided.
ACADEMY MODULES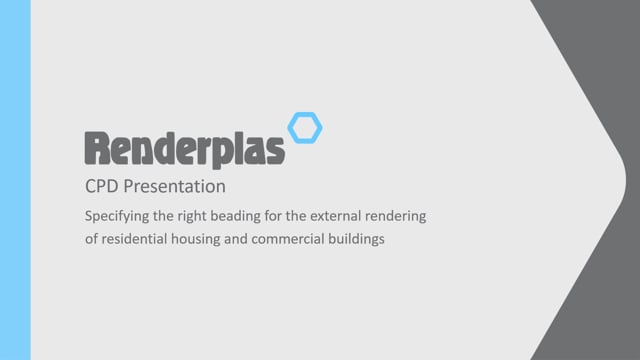 This CPD delves into specifying the right beading for the external rendering of residential housing and commercial buildings and will cover What is r...
Module rating
20 mins required (approx)
Share this module
KEY PRODUCTS OR SERVICES