Timber Cladding: How Timber Cladding Can Meet your Project and Quality Objectives: RIBA Plan of Work Stage 1 - Swedish Wood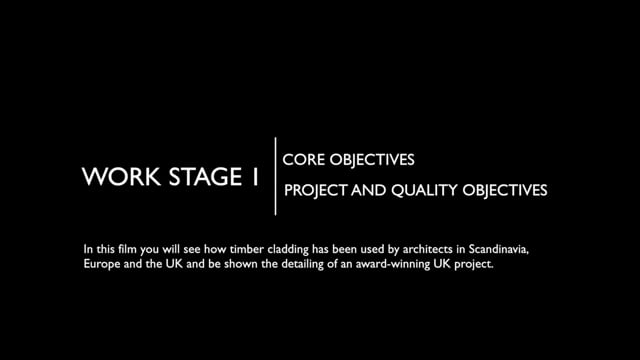 LOGIN OR REGISTER
Once you're logged in you can access all our training modules for free anytime that works for you. Enjoy On Demand CPD Training!
or
Please contact us via contact@construction-cpd.com to get permission to publish this video on your website.
<div style="position: relative!important; width: 100%!important; min-height: 700px; overflow: hidden!important; padding-top: 56.25%!important;"><iframe src="https://www.construction-cpd.com/cpd-external-view?ExternalId=87&ReturnUrl=https://www.construction-cpd.com/timber-cladding-meet-your-project-quality-objectives-cpd" style="position: absolute; top: 0; left: 0; bottom: 0; right: 0; width: 100%; height: 100%; min-height: 500px; border: none;" mozallowfullscreen webkitallowfullscreen allowfullscreen></iframe></div>
Timber Cladding | Work Stage 1
My name is Charles Barclay and I have a small practice in south London.
Projects Designed with Sustainable Wood Variations
Walk Barn Farm
I'm talking to you from Walk Barn Farm, which was the house that we completed in 2012. In 2013 it got an RIBA regional award, in the Eastern region. We had this idea that we wanted a black house with a brick plinth. We also wanted to have a strong texture to the outer walls, so the choice of softwood spruce was actually quite an easy one to make.
We didn't want the woodiness of more expensive timber finish. We chose to use timber cladding and then stain it with an opaque stain, so you can see behind me this black finish, it's got a certain Sheen to it and the board on board which, gives us very strong vertical texture to the walls.
Login to record your CPD points
At the same time the house is quite abstract when you look at it from afar you can't actually tell whether it's a wooden house or something else. Having a softwood timber also meant that we could tune and tailor the appearance of the outside of the house as we went along.
So just give one example you can see here that there's a 60 by 60 corner post and where that runs up to the corner of the building that same 16 millimetre dimension is replicated in the copings so that you get this constant framing element.
The North elevation of the house has a series of small casement windows. Rather than having a facade that's punctured with lots of holes, what we've done is trying to tie them together with these horizontal ribbons the boarding there is inset it's a different boarding detail and it's finished in the light grey opaque coating.
Because it's a modernist house we didn't want to have these large still overhangs or coping overhangs which is the standard practice for timber construction and that meant that, in places, the tops of the boards can be exposed the weather so we took special care to chamfer them to shed the water but also to seal that end grain.
The house has this brick plinth. Traditional bricks with lime mortar, it helps raise the ground floor up a bit, so you have more of a prospects on the surrounding territory, but it's also about keeping the cladding well clear of the ground.
Timber cladding has been used by Scandinavian architects for generations, just look at what can be achieved with high quality timber cladding, both in Scandinavia and closer to home.
Müritzeum, Sweden - Charred Larch
Like this Swedish museum that uses Charred Scandinavian larch, a technique pioneered in Japan.
Tåkern, Sweden - Pine
Or this beautiful Swedish home, both by Wingårdhs Architects.
Villa Solaire, France - Spruce and Larch
Look at how well the cladding is detailed on this modern French take on an Alpine farmhouse. They use spruce for the panelling inside, and oak for the staircase.
Anne Frank School, Netherlands - Spruce
In the Netherlands, Mecanoo have created a design aesthetic around spruce for the interior of their Anne Frank school.
Holmestrand, Norway - Charred and Brushed Spruce
Here's a house in Norway that uses charred and brushed spruce for the cladding. And oiled plywood with white ash floors inside.
Under the Oaks, Austria - Spruce
This house in Austria was built entirely of local spruce with wood wool insulation.
Borris House, Republic of Ireland - Douglas Fir
This in the Republic of Ireland uses rough sawn Douglas fir to striking effect.
Hunsett Mill, Norfolk, England - Charred Cedar
Here's the award winning Hunsett Mill by Acme architects which uses charred and brushed Japanese cedar.
Dune House, Suffolk, England - Scandinavian Spruce
And was the inspiration for this house by Mole Architects that uses black stain Scandinavian spruce for a similar effect.
Broadlands - Painted Larch
Mole used painted larch for this social housing project.
Lanes, Private Dwelling - Larch
And larch again for this private house.
Kielder Observatory, Northumberland - Siberian larch
At our Kielder Observatory in Northumberland, we specified Siberian larch for the external cladding with vertical board on board detailing for the upper part of the superstructure, including the rotating turrets and horizontal shiplap boards for the lower part.
Timber cladding can be a great material for the outside of a building, a wonderful way to make an envelope, it's versatile there's lots of things you can do with it, but you do have to detail that correctly to make sure that it has a long life.
This is one area where little care specifying, and detailing can make all the difference. This CPD program will give you the information you need, you can get the appearance you want and the performance that you should have from a good timber cladding, without necessarily specifying an expensive species of timber.