Third Party Insurance - Curtain Walling and Windows - VELFAC LTD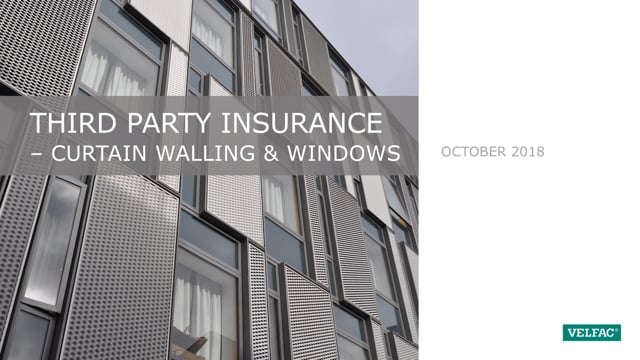 LOGIN OR REGISTER
Once you're logged in you can access all our training modules for free anytime that works for you. Enjoy On Demand CPD Training!
or
Please contact us via contact@construction-cpd.com to get permission to publish this video on your website.
<div style="position: relative!important; width: 100%!important; min-height: 700px; overflow: hidden!important; padding-top: 56.25%!important;"><iframe src="https://www.construction-cpd.com/cpd-external-view?ExternalId=81&ReturnUrl=https://www.construction-cpd.com/third-party-insurance-design-specification-curtain-walling-windows-cpd" style="position: absolute; top: 0; left: 0; bottom: 0; right: 0; width: 100%; height: 100%; min-height: 500px; border: none;" mozallowfullscreen webkitallowfullscreen allowfullscreen></iframe></div>
Dear Sir or Madam, thank you for joining this RIBA approved CPD seminar today. This video presentation is made by Velfac and the topic for today is third party insurance criteria when considering the design and specification of curtain walling and windows. This subject was identified from feedback received from architects and main contractors about the difficulty they have in conforming to not only building regulations but the individual requirements of building insurers, such as NHBC, LABC, Premiere Guarantee...
It is particularly appropriate to the residential market but much of the technical detailing could be transferred to other sectors. This seminar will take approximately 35 minutes.
Login to record your CPD points
Agenda
For those of you who haven't worked with Velfac before, we will give you a brief introduction to the company. Then we will move on to talk about the different type of products application when detailing windows.
Following that we will talk around some specific requirements which third party insurers have, for manufacturers and designers. And we will discuss how these should be treated alongside and in addition to the requirements of building regulations.
We will talk about the importance of definition, in terms of:
What is a window?
What is curtain walling?
And when does a window turn into a curtain wall?
Once we understand the definition, we will be able to highlight the design and specification differences to ensure that the design and specification for products, adhere to both building regulations and the additional measures needed by insurance companies or clients.
A Brief History of Velfac
In terms of a brief history of Velfac the organisation was founded in 1944 by Villam khan Rasmussen and is still in the hands of the Rasmussen family to this day. Many different window designs have been produced since the company was founded. However in 1984 our double glaze slimline composite window called Velfac 200 was launched. The Velfac 200 product has evolved to keep ahead of all the regulatory requirements since 1984 and, is still our core product. In 2014 we launched a triple glazed version known as Velfac 200 energy. This allowed us to offer the same 54mm profile window in both double and triple glazing. Velfac is part of a much larger group of companies called V KR which stands for Villam khan Rasmussen. All companies within this group are associated with either daylight or ventilation.
Velfac only manufacture composite windows which have an external aluminium sash with an internal timber mainframe suitable for the vertical application. For any sloped windows or roof lights our sister companies such as Velux would be able to help. Up until 2007 all Velfac products were manufactured in Denmark. However due to increased him and our facilities were relocated to Poland where we currently manufacture in excess of 5,000 windows per week, from this facility which serves the whole of northern Europe. We have recently built an additional production facility in Lithuania, due to the increased demands of our biggest growth markets being the UK and Denmark.
We are now going to talk about the different application and definitions as to how all windows can be used in terms of punched hole windows, ribbon windows and curtain walling. Some of this will seem relatively basic but ensuring a clear definition at the start of a project will make technical compliance and understanding much easier to achieve later on.
Punched Hole Windows
The simplest application for any window is in the punched hole scenario. The image that you can see is delivered as a whole unit rather than units coupled together, which means that the only interface to consider is the perimeter seal. In this instance the form of wall construction is also very straight forward with an external brickwork skin, a 100mm cavity and a block work in a wall. The primary weather seal this window is a compressible tape located at the back edge of the brick and the window is fixed into the structure using straps, which connects back to the block work. This punched hole window has no other interactions with any other glazed elements or panels on this façade and can be clearly defined as a window.
Ribbon Windows
The basic principle of a ribbon window is very similar to that of a punched hole. Ribbon windows will always run horizontally not vertically, and the perimeter ceiling principles are identical to those shown in the previous slide. The main difference between a ribbon and punched hole window is that the units cannot be delivered as a single unit to site and therefore a coupling joint is required.
The joint that you can see uses the same compressible external seal at the nose of the timber frame and internally would be finished with a simple mastic application. The windows are coupled using appropriate screw fixings in vertical joints. Any rainwater is shed away from the facade by use of an aluminium sill at the base of the window, in much the same way as for a window in punched hole application.
Curtain Walling
A curtain wall sometimes referred to as a window wall is where things start to get a bit more complex. The components are delivered as separate units and coupled together at floor slabs to create a vertical coupled arrangement.
Curtain walling is a vertical strip of glazing rather than being horizontal or punched. It can run from the top of a building to the base and, the critical differentiator is that in these instances there is a lot more potential for greater exposure to water and wind pressure than in the previous two scenarios.
The interface of this type of application is likely to require alternative detailing due to the increased risk of exposure that this application of product is subject to, and the higher possibility of potential failure if using traditional coupling methods.
Importance
The principles we have gone through are straight forward but, the reason we're focusing on this area is that there is some confusion between main contractors, architects and suppliers as to the practical implications of dealing with different window and curtain walling applications. Our fundamental importance is to ensure that all parties are working to the same definition.
This, as failure to adhere to the principle could lead to substantial remediation works in order to achieve the required performance and standard levels.
Therefore the remainder of this seminar will focus on these three areas.
What is driving increased focus in this area?
When does a window become a curtain wall?
How do we approach windows and curtain walling?
Products and detailed requirements.
Third Party Insurance Requirements
To understand the importance we need to understand what is going on in the minds of third party insurers. There are many insurers that can be approached for both residential and non-residential building. For the purpose of this seminar we have chosen to focus on the requirements of the NHBC as they are by far the biggest insurer of buildings in the residential market. 80% of new homes in the UK registered with NHBC. Other insurers refer back to NHBC technical standards. In turn the NHBC refer to the CWCT guidance for Windows and curtain walling.
NHBC technical extra 14 states that 33% of claims in the first 2 years are related to superstructure, with doors windows and glazing dominating. The reason for increased focus on glazing which is having an impact on specifiers, contractors and suppliers is clear from the points above.
NHBC Standards
The NHBC standards document provides guidelines on various areas of the build such as the roof, the floors etc. The chapters we are particularly interested in referring to the superstructure with chapter 6.7 doors windows and glazing, and chapter 6.9 curtain walling and cladding.
It is important to draw distinction between the requirements of the building regulations and the requirements within the individual insuring body standards. Insurance bodies will in many cases have standards which exceed that of building regulations.
Definitions
Previously we have defined the differences between a punched hole window, ribbon window and curtain walling. However definition is not as easy as it sounds. When we look at the images, we can clearly see that the window is a punch hole window and, that the curtain walling image showing approximately 200 metres squared of glazing, is curtain walling. The important part to consider is when in the eyes of the insuring body does the window become a curtain wall.
At what size or configuration does the window need to be classed as curtain walling?
Key questions that arise would be area of glazing, structural support mechanism or mechanisms, the system, the window or wall its constructed from, subjective view, customer requirements. The key point to consider is that all bodies need to be clear in the definition and what you and I think may differ. However it is the interpretation of the approval bodies that is overriding.
Importance of Definition
Once we are comfortable that the products have been defined in the correct, way we need to consider why definition is so important. Definition is important because windows and curtain walling are tested to different standards.
Windows are tested to BS - 6375 – 1, curtain walling to BS EN 13830 or CWCT requirements or both.
The standard and test criteria for windows is generally a lot less onerous than for curtain walling. Once you have commenced with a contract in line with window requirements it is not possible to change the curtain walling standards with the same products and application.
There have been instances where windows have been incorrectly installed in a curtain walling application, which has resulted in the windows needing to be removed and replaced with an appropriate curtain walling system with enormous repercussions in terms of program and cost.
Definitions - NHBC Technical Standards
Through discussions with the NHBC on multiple projects manufacturers are able to develop procedures in order to determine which standard the products need to conform to. The simplest way to approach these definitions is to consider whether or not the glazing system crosses floor zones.
In doing so there is a perceived increase risk of water running down the facade and therefore enhanced products and installation methods should be considered. Whether the units are supplied as complete components, or couple together does not affect the definition. It is the principle of windows running into floor zones that is key.
Critical to the definition is the position of the window in relation to the floor slab it runs past. For the top two images there is a distinct step in the facade which allows water to be shed from the face of the building and in these instances, it is likely that an insuring body will define these units as windows between a floor slab.
The lower examples show either the glazed elements continuing past the floor slab or an alternative material such as a panel in the same plane as the glazing directly above and below. It is likely that these will be considered as window walling and need to be designed specified and installed using different enhanced principles.
Please note that this guidance is internal guidance and is born from experience over many projects where we have detailed discussions with the insuring body. Without exception the final defining criteria for weather chapter 6.7 or 6.9 is the responsibility of the insuring party or clients.
NHBC Chapter 6.7 or 6.9?
Please take a good look at the two projects are the units shown in the image. Is this windows or curtain walling? You have 10 seconds to consider starting now.
And yet another two projects. Window or curtain walling? 10 seconds starting now.
NHBC Technical Standards - Windows
Whilst the products we talk about in this section relate to composite windows the principles and regulations would apply to all windows suppliers. Once we have defined the glazing as either window or curtain walling, we then need to consider the implications of this in relation to the standards, starting with punch hole windows and chapter 6.7.
Chapter 6.7 - DPCs and Installation
For chapter 6.7 in terms of product there is no change. The only consideration is the requirements for a DPC to the perimeter of the window frame. The following materials are acceptable for use as DPCs:
Bitumen to BS 6398
Polyethylene to BS 6515 (except below copping's and parapets)
Proprietary materials assessed in accordance with technical requirement R3.
We need to consider also the DPCs should be correctly installed, extend approximately 25 millimetres into the cavity and be continuous around the perimeter of the window frame. We will now leave you time to read for yourself the bullet points regarding external opening elements and additional precautions.
Chapter 6.7 - Rebated Reveals
We also need to consider the location of the building when detailing, as certain parts of the UK have increased levels of exposure. You can see from the map on the screen that the areas highlighted in red in the West country, Wales and up the western side of England and into Scotland all have higher exposure rating. In these locations it is critical that a rebate is formed in order to prevent a direct path from the outside to the inside of the building. Different suppliers will have different ways of detailing for such instances. One such approach is to apply a factory fitted frame extension piece around the perimeter of the window, in order to stagger the interface as you can see from the detail on screen. This is often referred to as a Scottish rebate detail.
NHBC Technical Standards - 6.9 Curtain Walling
Moving on to chapter 6.9. This is where things start to become more detailed in terms of both product and application. In terms of the product manufacturers often need to use an enhanced window system, which maintains that same visual appearance as standard product but has additional gaskets, additional fixings, enhanced drainage channels and a deeper section. Of critical importance is the alternative method of installation and sealing. You can see that a Silicon seal and backing rod is used in place of the standard compressible tape used for the standard products.
Also required is an additional groove, machined into the timber mainframe, that will house a gasket used to form the required cavity. The above means a critical change in the installation of the product. Windows are required to be de-sashed in order to apply the described ceiling principles.
NHBC Chapter 6.9 Curtain Wall & Cladding
When working to chapter 6.9, we are effectively working to the requirements of the CWCT, centre for window and cladding technology. The CWCT have enhanced performance requirements for air, wind and water, that are well in excess of standard building regulations or British standards required for Windows. In order to achieve CWCT certification, the window needs to undergo two different types of rigorous testing, one being offsite testing and the other being onsite testing.
Chapter 6.9 - Testing Requirements
Firstly we have offsite testing.
You can see here an image of a test rig set up on site at Taylor Woodrow, which underwent a rigorous test regime. This involves applying a great deal of water to the facade and pulsing the aeroplane engine at varying speeds against the facade to assess how it performs. The test is very severe and results in the entire curtain wall system moving substantially as the pressures are applied. The critical factor being that when the test is completed, the facade must continue to perform as before, with no detrimental air or water leakage determined. For all projects they need to meet CWCT standards, onsite testing should also take place. This is to ensure that test conditions above can be replicated in reality and to ensure that product and installation methods used meets the required criteria.
It is very important that the onsite test is carried out by an experienced tester, using the correct methodology. In normal circumstances the tester will focus on difficult details and the most vulnerable areas of the façade.
It would be good practice to request the system manufacturer to be in attendance on site, whilst the test is undertaken to record all findings. This is an example of a test rig that was purpose built at an independent facility. For such tests it is important that all components are representative of those that will be used within a project. Manufacturers should use a range of opening functions and panels within any test rig. Only those products that undergo the full test cycle can be deemed as compliance under CWCT guidelines.
Chapter 6.9 - Additional Seals
For chapter 6.9 the installation and sealing methodology is a critical component. The image on the left shows a typical aluminium curtain walling system, with an outer cap. Behind which a cavity is present. Fundamental to the facade performance is the introduction of a drained and ventilated cavity. This ensures that any water that bypasses the outer seal can percolate through the system and is drained effectively, meaning that the performance of the facade remains intact.
The images in the centre and right, show this cavity being created within a composite window system by using a Silicon seal at the nosing of the timber frame and, an additional compressible gasket fixed behind it. This effectively replicates the approach used with aluminium systems. Any manufacturer attesting to the above criteria, will need to replicate this drained cavity detail in their own specific way.
Chapter 6.9 - Perimeter DPC / DPM
Like chapter 6.7 within chapter 6.9, there is a requirement for an additional perimeter seal. The most common form of this seal is EPDM and like chapter 6.7 we must ensure that it is applied to the entire perimeter of the windows system.
Note that the specific type of EPDM that is used will differ from project to project and will be dependent upon the substrate that it is adhered to. For example, a different method of adhesion is required for a CLT frame compared to traditional masonry construction.
NHBC Chapter 6.9 - Details Examples
This is an example perimeter detail that a specialist manufacturer will typically supply. On this image you can see that we have used our enhanced product. An external Silicon seal with backing rod is in place. The window is lug fixed back into the SFS structure. You can also see the EP DM that has been applied to the window frame and wrest back across the fixing lug and onto the internal structure. In this instance the windows are to be installed prior to the external structure. Bespoke details can be created for your project based upon your own preferred sequence of build.
NHBC Chapter 6.7 & 6.9 Combined
Chapter 6.9 also relates to cladding. This includes:
Rainscreen cladding,
Insulated render,
Brick slip cladding.
It is for this reason that we need to consider the entire facade rather than simply the window system as installed within it. It may be that a window that appears to be a punched hole window at first, actually forms part of a larger total facade in the eyes of the insuring party and, as such the installation and products may need to perform to the requirements of chapter 6.9.
It is therefore volatility important that the project criteria is defined at the outset of a project, in order that the correct technical principles and products can be specified.
NHBC Chapter 6.7 & 6.9 Combined - Example
This is a project where both chapter 6.7 and chapter 6.9 had been applied to different areas of the façade.
NHBC Technical Services
There are around 400 NHBC officers working across the UK. The majority of projects insured by companies such as NHPC are simple low rise dwellings. However any NHBC projects can be referred back to their own in house technical services team, if it is more complex in nature, specifically if, it is over 6 storeys high, it has large expanses of glazing, it is of non-traditional construction, that is lightweight framed walls, insulated render systems etc, rainscreen systems are used complex interfaces exist, dispute over interpretation of standards occurs.
Note that the decision of the NHBC technical services is normally final and non-negotiable, so regardless of a supplier specifier or main contractors' interpretation of the standards, technical services will dictate the performance requirements.
Manufacturers & NHBC
Manufacturers have been working with the NHBC for a number of years and some have produced bespoke internal guidance regarding how to approach NHBC insured projects. It is important that when enhanced performance is required the advice, specification, design, product and installation all conform to the necessary standards.
Design
Manufacturers should be tasked with providing a full design service for schemes of this nature. This is the ideal time to fundamentally define the technical requirements of the scheme and, to ensure that all parties are aware of which parts of the scheme need to conform to the enhanced standard.
Simple exercises such as, taking a highlighter pen to define the scope of works should not be dismissed.
We now present you an example of a typical design timeline:
Week 1 order acknowledged, design information reviewed, design engineer appointed.
Week 2 - 6 if information incomplete RFIs submitted, client team and Velfac designer meet if necessary, drawings and structural calculations where applicable prepared for design team approval.
Week 7 - 8 design team review and approval or comments on drawings.
Week 8 - 9 negotiate a status construction issue; drawing status.
Week 9 - 10 window manufacturer scheduled; ancillary components ordered.
Week 11 - 16 typical manufacturing period for standard rectangular window glazed with clear float or laminated low E glass, and with a standard frame finish.
This will be extended if special items such as shaped units, solar control or fire windows have been ordered.
Final Thoughts
There has been a lot of information contained within this presentation, that we hope is of use you. Some final key points to remember:
Windows are tested to BS6375.
Curtain walling is tested to BS EN 13830 or CWCT.
Product does not always need to change.
Application is always subject to change.
The key point is that the insurer dictates the scope.
Specification should reflect the requirements of the project, that is the correct window needs to be installed in the correct manner.
Questions to the NHBC technical or building control teams can be asked on the NHBC homepage, under Technical Support and guidance.
Thank you for listening. If you have any questions about the presentation, please do not hesitate to contact us at 01223897100 or email enquiry@velfac.co.uk.