SuDS Compliant Permeable Paving: Resin Bound Surfacing Systems - Ronacrete Ltd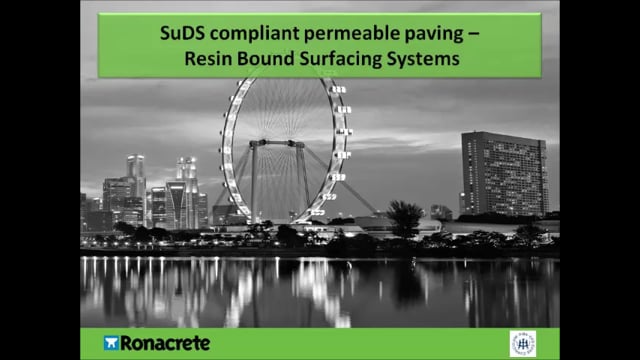 LOGIN OR REGISTER
Once you're logged in you can access all our training modules for free anytime that works for you. Enjoy On Demand CPD Training!
or
Please contact us via contact@construction-cpd.com to get permission to publish this video on your website.
<div style="position: relative!important; width: 100%!important; min-height: 700px; overflow: hidden!important; padding-top: 56.25%!important;"><iframe src="https://www.construction-cpd.com/cpd-external-view?ExternalId=75&ReturnUrl=https://www.construction-cpd.com/suds-compliant-permeable-paving-resin-bound-surfacing-systems-cpd" style="position: absolute; top: 0; left: 0; bottom: 0; right: 0; width: 100%; height: 100%; min-height: 500px; border: none;" mozallowfullscreen webkitallowfullscreen allowfullscreen></iframe></div>
Introduction
Welcome to this RIBA certified CPD presentation on suds compliant permeable paving, resin bound surfacing systems. Before we start here is some information about Ronacrete. Ronacrete is an international manufacturer of specialist construction products., we specialise in several different applications including concrete repair and protective coatings waterproofing screeds flooring and bedding and of course resin bound and bonded surfacing.
The aim of this CPD presentation is to raise awareness of resin bound surfacing systems and resin bonded aggregate systems, as well as the importance of specialist contractors for the installation of these systems. You should also gain an understanding of resin bound systems tree pit systems types of resins available the importance of aggregate selection as well as a knowledge of slip resistance testing methods. The difference between resin bound and resin bonded surfacing systems, substrate construction suds and application methods.
Login to record your CPD points
What is suds?
Suds stands for sustainable drainage systems. The UK floods of 2007 led to the Pitt review headed up by civil servant Michael Pitt, which highlighted that 2/3 of the 57 thousand homes affected were flooded not by swollen rivers but by surface water run off or surcharge from overloaded sewers. The pit review led to the 2010 flood and water management act with provisions set to make suds mandatory for any construction work that affects the ability of land to absorb rainwater, enforced by the new local authority. Suds approved bodies also known as SABS.
Since the 6th of April 2015 the implementation of legislation through local authority suds approved bodies is no longer in place. Suds is now dealt with as part of the overall planning process with each individual council planning team consulting with the local flood authority on the management of surface water. This consultation will determine whether or not the proposed drainage system meets planning criteria for the prevention of flooding. Suds applies to new housing developments of 10 or more dwellings as well as commercial and mixed use developments. With regard to existing domestic properties permitted development rights have been removed from new or replacement driveways or other hard surfaces. For example, patios, where permeable paving is used or where water drains onto a permeable area within the property. Otherwise planning permission will be required.
How can suds compliance be achieved?
Suds compliance can be achieved through providing an alternative to the conventional means of piping surface water directly into the public sewer. The aim is to drain surface water into the ground or provide temporary storage so it can be released slowly. This can be achieved by surface water run off to soft landscaped areas, soakaways attenuation tanks retention ponds and permeable paving which we will go through in this presentation. Without adequate surface water control downstream flooding can occur and overwhelmed drainage systems when released to water courses, can cause deterioration in River quality.
There are a number of permeable paving options available such as loose gravel and polypropylene grid systems. Permeable block paving is a suds system for driveways it has many benefits of an efficient drainage system that returns rainfall to the water table without the need for membranes tanks or soak aways.
Grasscrete is a cast on site cellular reinforced concrete system with voids created by styrene void formers. Typical traffic related specifications for grasscrete can include vehicle parking for daily or overspill use, emergency access, maintenance access and highway verges and pull in.
Permeable asphalt concrete which can be used as a surface finish or is a permeable base beneath resin bound surfacing. Or resin bound surfacing. A permeable suds compliant paving system, which is the focus of this presentation. Firstly, what is resin bound surfacing? Resin bound surfacing is a mix of selected aggregates with a binder resin. It supplied by hand to a structured base to provide a highly decorative permeable slip resistant surface.
Resin bound systems
Resin bound systems can be used in many situations. This slide shows an example of it being used in a college's grounds. It was selected for its permeability, appearance and durability.
This example is at a holiday park. Where it was selected because it's decorative, durable, porous, resistant to chlorine and soft under foot. With sufficient slip resistance to be considered low risk. The colour here was chosen to resemble a sandy beach.
This example shows a domestic drive, it was selected in this instance as it is suds compliant, decorative and durable. The drive has a slight incline and during the winter months became icy. This has been greatly improved by the installation of resin bound as this system has very good slip resistance. There are several types of resin on the market primarily epoxies or polyurethanes. It's also worth noting that there are resins on the market that derived from botanical sources. These could be considered kinder to the environment.
Epoxy resins
Epoxy resins tend to be moisture tolerant and therefore could be used with wet aggregates. So recycled aggregates can be used. However, overtime epoxy resins become brittle and do not last as long as polyurethane resins, which are not moisture tolerant and therefore necessitate the use of kiln dried aggregates rather than recycled. The benefits of being able to use wet aggregates or environmental. The stone can be bought in bulk and therefore does not have to go through a bagging process or a drying process. Thus, reducing the carbon footprint epoxy resins also enable the re use of existing aggregate.
Polyurethane resins are generally UV stable, but you should always check with the manufacturer as some are not. They are also stronger than epoxies intention and a more chemically resistant.
Aggregate should be selected not just for its aesthetic qualities but based on its polished stone value. Often referred to as PSV and also its crush value. Polished stone value is an indication of the aggregate hardness. Always consider whether there is an opportunity to use recycled aggregate, ensuring it is fit for purpose. Items such as glass and marble have low crush values and will break under pressure.
Build up for car parks
As different applications require different features including strength, the build-up will differ depending on the area of usage. This slide shows the required build up for car parks when using resin bound surfacing. The bottom layer is the subgrade which is generally earth or clay. On top of this an optional geotextile membrane can be installed to prevent the upward migration of soil. This should be followed by a 300mm granular subbase of well compacted MOT type 1 or type 3 aggregates. The next layer is the binder course this should be AC14 open graded asphalt concrete with a 100mm to 150mm maximum pen binder to BS EN13108 part 1. Asphalt concrete is commonly known as asphalt, tarmac or black top. The minimum thickness for this is 100mm. The final layer is the resin bound surfacing which should be installed at 18mm to 20mm. The build-up for pathways and driveways differs slightly to the required build up for car parks. The subgrade and the optional geotextile membrane remain the same. For pathways and driveways, the minimum thickness for the binder course is only 60mm again with a 100 to 150 maximum pen binder to BS EN13108 part 1. In areas subject to reduced traffic loads resin bound surfacing can be applied from 15mm.
Resin bound surfacing
If laying resin bound surfacing onto an existing concrete substrate, the concrete is generally laid to falls into a drainage system. In this case it's a linear drainage channel providing any surface water is routed back to the ground and not into wastewater pipes. This is also considered to be suds compliant.
Many surfacing products need some type of edging to mark the finish of the product and the start of another or simply to hold the product in place while it sets or cures. An exposed edge would be subject to impact damage. This overtime would cause aggregate to break away from the edge and affect the overall integrity of the surface. Different types of edging are widely available, but it is important to ensure the resin bound surface does not fall below the overall depth level of the edging because this would cause a trip hazard. The edgings should be securely fixed to ensure they do not move away from the resin bound surfacing system leaving it exposed.
The mixing process of resin bound surfacing is very important to ensuring you get the best finish with the highest level of permeability. We will run through how this should be done. First the aggregate is put into a mixer this must be a forced action mixer to ensure full dispersion of the resin. Tumble mixer should not be used as they can provide an inconsistent mix.
The resin hardener and the resin are then mixed until homogeneous. This should be done with a drill and helical paddle mixer attachment. However onsite circumstances often vary from those dictated in manufacturers data sheets. Sticks often replace a drill and paddle for mixing resins. This is undesirable because it would be nearly impossible to achieve a homogeneous mix, which could result in soft spots in the resin.
Mixing the resin
This slide shows the correct process to mix the resin using a drill and paddle mixer. As mentioned previously the resin components should be mixed until a homogeneous mix is achieved. This will typically take between one to two minutes. It is important to ensure that the resin is not over mixed. Before the mixing of the resin components proceeds the correct amount of aggregate should be poured into the forced action mixer. This ensures that the mixed resin can be added straight to the mix once it's ready. If the resin is poured into the mixer before the aggregate, the mixing process will take longer as the resin will need to be recovered from the base of the mixer.
Once the resin and aggregate have been mixed together and all the aggregate has been coated with resin which typically takes 3 to 5 minutes. The mix is emptied from the mixing station into a wheelbarrow and taken to the point of application where it's required. Once you are at the point of application the resin bound surfacing mix should be evenly distributed in a line to ensure ease of levelling. Pouring the entire mix into a single mound will make it difficult to spread into place.
Once evenly distributed and levelled, the resin bound aggregate mix is then trowelled to the appropriate depth whilst maintaining a wet edge. This ensures no joint is visible. The finished area should be seamless and no joints visible where different batches have been applied. If day joints are necessary, a steel trim should be installed to leave a nice clean joint.
Recessed manhole covers can also have resin bound surfacing applied to them to enhance the seamless appearance of the surfacing.
This shows a completed domestic driveway project with seamless finish and includes recessed manhole covers which you will notice on the left hand side of the image.
Resin bound surfacing
The possibilities for design with resin bound surfacing are endless, as the product is mixed, and hand applied. It can be shaped and formed into designs very easily and opens up a great palette for any designer or architect. MDF stencils can be used to mark out designs. Flexible metal trim edges may also be used. This is an example of where three different colours have been used to brighten up a school playground.
At this primary school performance area has been marked out in a different coloured aggregate blend.
Resin bonded surfacing should not be confused with resin bound surfacing. Resin bonded surfacing is a non-permeable high friction surfacing system. It's often used on roads car parks and places of high volume traffic, either vehicular or pedestrian. When installing a resin bonded surfacing system onto a new base such as concrete or asphalt concrete, the base should be left to cure for up to 28 days to expel moisture or volatiles prior to the application of the resin bonded system.
Resin bonded system
With a resin bonded system, the resin is spread on the substrate first and the aggregate is then cast onto it. This is often referred to as a scatter system. This will provide a hard wearing heavy duty surfacing provided suitable aggregates are used.
A resin bound tree pit is a mix of aggregates and resin which uses a larger size aggregate than resin bound surfacing for paving. This makes the matrix structure more open creating a highly porous surface that allows water to drain to the tree roots. This is considered to be a suds compliance system. Dried aggregates are not essential; however, this depends on the resin selected.
Resin bound tree pits provided cost effective alternative to metal tree grills. The system is easily maintained and does not trap glass needles or hazardous materials as opposed to tree grilles and similar alternatives.
Permeable tree pit systems
Permeable tree pit systems typically use a single size aggregate most commonly 6 to 10mm. This differs to resin bound paving systems where blends of aggregates are used, most commonly 1 to 3mm aggregate mixed with a 2mm to 5mm aggregate. As mentioned previously the larger aggregates provide a more permeable surface due to the larger voids between the aggregate particles. However, having larger voids will reduce the strength of the system which is why resin bound tree pit systems should only be subjected to foot traffic.
Tree pits
This slide shows that general specification for tree pits, which is very simple. Compacted earth is covered with loose aggregate and the resin bound tree pet surface is installed from a minimum of 40mm. Depending on the age and size of the tree a collar maybe left around the trunk containing loose aggregate to allow for tree growth. The loose aggregate is then pushed out and can be swept up if the pressure of the growing trunk pushes against the resin bound tree pit system, it can cause it to crag so loose aggregate within a collar is preferred.
This image shows a common type of tree pit for a young tree. It's designed to direct the feeder roots downwards to minimise surface damage.
Many local authorities are now specifying resin bound tree pits as tree grilles are often stolen for the scrap value and can harbour litter.
Generally, a tree pit is as the name suggests a pit around a tree. However, this one is a whole section across the path. The installation of a tree pit system is very similar to a resin bound surfacing system. The aggregate is poured into a forced action mixer. The two component resin is then mixed with a drill and paddle and the full contents are then poured into the mixer. The resin and aggregate should be mixed to a few minutes ensuring the aggregates is fully coated in the resin. The mixed material is then poured onto the loose aggregate and trowelled to leave a flat finish. Once installed the material should be left to cure for several hours before being opened to foot traffic. Tree pits and resin bound surfacing are both hand applied systems and involve high levels of skill that takes some time to require. Tree pits and resin bound surfacing are both hand applied systems and involve high levels of skill that takes some time to acquire. Therefore, only manufacturer approved contractors should be considered for these specialist's installations.
As with all flooring it is extremely difficult to ascertain life expectancy. The amount of traffic any flooring receives will have a huge bearing on its life. You could expect a resin bound surface to carry a 15 year warranty and for the bonded systems at 10 year manufacturer's warranty. You would expect both systems to last longer especially in a domestic situation with light traffic.
Slip resistance
Slip resistance is an important factor to take into consideration. There are two slip tests that are generally used. BS EN 14231 provides guidance on test methods to determine the slip resistance of a surface, using the pendulum test method. This gives a reading from the friction obtained by releasing a pendulum onto it. BS EN 8204-6 covers the use of slip alert. This is a commonly used method as the equipment required is extremely compact and portable. This method involves running a wheeled device down a ramp, which then measures the friction of the surface. Correct aggregate blending provides low risk category of slip in wet and dry conditions. Increased slip resistance can be provided by casting aluminium oxide onto the uncured surface.
Overview
You should now have a knowledge, awareness and understanding of resin bound and tree pit systems. Benefits of permeable paving, substrate build-ups, suds resin and aggregate selection, various test methods and specialist contractors.
For any technical inquiries or to find out more about suds compliant surfacing systems, contact our technical Department on 01279638700 or email tech@ronacrete.co.uk. We hope this CPD presentation was useful to you. If you would like to receive a certificate showing you have completed this presentation, please fill in the form below.