Streamlining weatherproofing in modular construction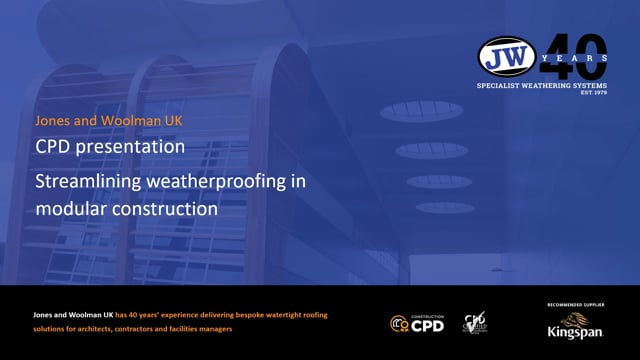 LOGIN OR REGISTER
Once you're logged in you can access all our training modules for free anytime that works for you. Enjoy On Demand CPD Training!
or
Please contact us via contact@construction-cpd.com to get permission to publish this video on your website.
<div style="position: relative!important; width: 100%!important; min-height: 700px; overflow: hidden!important; padding-top: 56.25%!important;"><iframe src="https://www.construction-cpd.com/cpd-external-view?ExternalId=197&ReturnUrl=https://www.construction-cpd.com/streamlining-weatherproofing-in-modular-construction" style="position: absolute; top: 0; left: 0; bottom: 0; right: 0; width: 100%; height: 100%; min-height: 500px; border: none;" mozallowfullscreen webkitallowfullscreen allowfullscreen></iframe></div>
Contents
Weatherproofing is a fundamental aspect of building envelope protection and today we will be looking at how the changes in the way we construct buildings are affecting weatherproofing systems.
The Importance of modular buildings for a viable route to net-zero construction
The Government commitment to decarbonise the grid by 2050 means we will need to build more energy efficient buildings, with better performing building envelopes. Closely connected to building energy efficiency is the build quality and the impact of both parameters on the operating and lifecycle costs of buildings.
Considerations for weatherproofing of modular buildings and the impact on a modular project
We touched upon the fact that weatherproofing for modular construction will need to match the values of efficiency. In this section, we will have a closer look at the considerations behind the need to overhaul the traditional weatherproofing materials and methods.
Weatherproofing for healthier and more sustainable modular buildings
From a building design perspective, a healthier building means an increase in the number of building penetrations required. These will often be installed on the roof of buildings to maximise the available light for any windows and the service space for mechanical, electrical, and plumbing elements. Adding building penetrations has an impact on the energy efficiency of a building and the building design must reflect this. In this section, we will look at how modular construction and weatherproofing selection can help address the challenge.
Dealing with modular building envelope penetrations
We considered the challenges that modular construction poses for traditional weatherproofing methods and materials. So now let us have a look at how they can be overcome.
Conclusion
We are seeing modular methodology being embraced for all tenures and building types across the sectors. If the expectation is for construction speed and quality to continue improving, we should consider the value of innovation and industry cooperation.
Thank you for your time. We hope you found this CPD on streamlining weatherproofing in modular construction useful.
Jones and Woolman UK
Weatherproofing for modular buildings - https://www.jandwuk.com/solutions/modular-building-solutions