Specifying Appropriate Rainwater Systems to Achieve your Architectural Vision - Brett Martin Plumbing & Drainage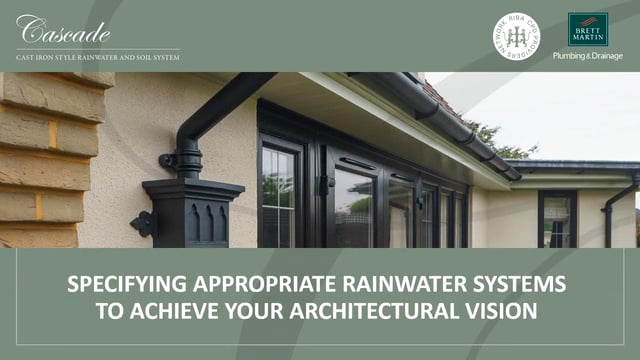 LOGIN OR REGISTER
Once you're logged in you can access all our training modules for free anytime that works for you. Enjoy On Demand CPD Training!
or
Please contact us via contact@construction-cpd.com to get permission to publish this video on your website.
<div style="position: relative!important; width: 100%!important; min-height: 700px; overflow: hidden!important; padding-top: 56.25%!important;"><iframe src="https://www.construction-cpd.com/cpd-external-view?ExternalId=51&ReturnUrl=https://www.construction-cpd.com/specifying-rainwater-systems-cpd" style="position: absolute; top: 0; left: 0; bottom: 0; right: 0; width: 100%; height: 100%; min-height: 500px; border: none;" mozallowfullscreen webkitallowfullscreen allowfullscreen></iframe></div>
Welcome to this CPD on specifying appropriate rainwater systems to achieve your architectural vision, focusing on cast iron style systems and using Brett Martin's cascade system as an example.
Aims and Outcomes of this CPD on Specifying Appropriate Rainwater Systems.
The agenda of this presentation highlights a number of the factors to be considered when specifying rainwater systems. The aim of this CPD is to improve the understanding of rainwater and soil systems, the requirements for these products and to offer an alternative. It is anticipated this presentation will lead to a number of outcomes.
Login to record your CPD points
Brett Martin plumbing and drainage is part of the Brett Martin group of companies, the UKs largest independent building products manufacturer. A privately owned UK manufacturing business, Brett Martin has a global sales and distribution network in over 70 countries, with a turnover of £166 million the company currently employs around 1000 people. As a BSI registered company all sites have achieved BS EN ISO 9001:2015.
The company has seven sites throughout the UK including three manufacturing hubs and a cutting facility.
All products are manufactured in the UK using recycled materials. Brett Martin runs a low emissions transport fleet including lorries powered by euro 6 engines with AdBlue technology reducing nitrogen oxide emissions. We are able to produce 25% of our energy from renewable resources, this is hard wired directly into our main manufacturing facility. Together they provide a potential carbon emission reduction around 4000 tons.
Industry Standards and Regulations
We will start this presentation by looking at industry standards and regulations. Rainwater systems satisfy the requirements of the following standards and apply to extruded gutters, down pipes and injection moulded fittings. Soil and waste systems are manufactured to the following standards and apply to all products before the painted finish is applied. Products comply with building regulations part H drainage and waste disposal H 3 covers rainwater drainage and H1 covers foul water drainage.
Materials Selection - Rainwater Systems
Specifiers need to consider and understand the differences in the types of materials. This includes cast iron, aluminium, standard plastic and the cascade cast iron style rainwater system. Cascade can be used as a direct replacement for cast iron on historic buildings and in conservation areas. Cascade can provide heritage style and meet the aesthetic requirements of new build, where traditional style is required. There are a number of influencing factors when specifying the type of material, including cost of materials and installation, finish, performance, sustainability and health and safety.
Design and Installation
Let's look at design and installation. When specifying rainwater systems, the amount of rainwater collected by a given roof area, determines the gutter profile, as well as the number and positioning of outlets.
Domestic Rainwater Systems: Sloping Roof
In the case of simple roof slopes, the affective roof area is derived from the formula shown on screen. Where B equals half the roof span, 4M. C equals reach to eaves height, 4M and L equals a slope width 10 M. This gives E the effective roofing square meters. There is an alternative method of calculation taken from building regulations AD H3, this is D times L times 1.5 which again equals 60 square meters.
Domestic Rainwater Systems: Cast Iron Gutter Capacities
When it comes to size and capabilities the cascade domestic range has three profiles available, pro-style, round style and deep style. Specifying the correct gutter profile can offer high levels of efficiency with up to 50% greater flow capacity. There is potential to reduce the number of downpipes required, compliment build design and also reduce cost. Even though the product of his traditional aesthetic it can be installed in a modern way, such as onto a fascia board. For larger roof areas such as churches, farm buildings and apartment blocks, a gutter profile with an even greater flow capacity should be considered with a four inch outlet.
Gutter Support Spacng
The recommendation for spacing of gutter support is 900mm. However, roofs with a pitch exceeding 35 degrees or roofs with smooth services or areas subject to heavy snow loading, gutter support spacing should not exceed 600mm.
Downpipe Sections
There is a range of down pipes to suit all gutter profiles including 68 mm round, 65mm square 105mm round, 100 by 75 rectangular. With the traditional appearance of cast iron pipes are socketed with fixing logs.
Installation of Downpipes
Allowance should be made for thermal movement, particularly for installations in cold conditions.
Hoppers
Hoppers are often used as an aesthetic to compliment build design. Offering authentic detail and period design, period motifs include Tudor rose, gargoyles, and bespoke date stamps. Hoppers do provide a function draining rainwater from flat roofs, parapets, valley troughs.
Offset Bends
Unlike modern plastic systems offset bends are pre-set to replicate the appearance of traditional cast iron. The specifier simply chooses the correct size offset to make the connection to the down pipe.
Downpipe Shoes
A down pipe shoot outs authentic detailing to maximise the traditional appearance and is used to divert water into a drainage outlet or onto a paved area away from the building.
Soil System
Originally launched as a rainwater system the natural progression from this was a soil stack, with a traditional theme carried through these drainage products. In lengths have 2.5 metres the 110mm soil system is push fit, with a textured paint coating applied to offer the appearance of a traditional cast iron soil pipe. The paint is HBV High Build Vinyl.
Soil System: Shroud
To offer only a painted soil stack wasn't quite right therefore shrouded colour was designed. The shrouded colour maximises the traditional appearance of cast iron and basically hides the joints.
Colour Options
To personalise the rainwater system or to complement build design a range of heritage colours are offered. Traditionally cast iron would require priming and painting to achieve this finish, but this is costly and labour intensive.
Cost Comparisions
In this current climate. It is important to offer products which will offer significant reduction not only in terms of material costs but also the time and labour involved with installation.
These images show a typical house installation with the cascade round style cast iron style rainwater system blending perfectly with the architectural detailing of this heritage home.
This table shows cost comparison between different rainwater systems.
This image is of Crumpsall primary school in Manchester, which required the replacement of 32 down pipe sections.
Again, the cost analysis of the project demonstrates the cost differential of the alternative systems.
Let's now look at performance and maintenance.
Traditional cast iron is a durable material which will last 100 years and more. However, this slide highlights the problems that can occur if cast iron down pipes do not receive regular maintenance. This is costly and Labour intensive.
Cascade has been used in this application to replace deteriorated cast iron.
Influencing Factors Health and Safety
What are the influencing factors in terms of health and safety when specifying rainwater systems?
Lightweight plastic rainwater systems ensure installation at height is safer, quicker and easier. The difference in weight between a cast iron down pipe and a cast iron replica is significant. Real cast iron can be as much as seven times heavier in weight than cascade.
Pros and Cons
Let's look at the pros and cons of each system. Traditional cast iron, aluminium and modern plastic.
Traditional Cast Iron Pros
Established Material
Installed for over 100 years
Original material
Feaure and Design
Durable Material
Manufactured using recycled material
Traditional Cast Iron Cons
Expensive Material
Installation is costly and labour intensive
Complicated jointing methods
Requires primers and topcoat
Maintenance and redecoration
Costly and labour intensive
Energy intensive process
Aluminium Pros
Lightweight, Strong and Durable
Life expectancy - 50 years
Replicates Cast Iron
Reduced Maintenance
Corrosion resistNCE
% of product is recycled
Green energy used
Aluminium Cons
Expensive material
Installation is costly and labour intensive
Complicated Jointing methods
Energy Intensive Process
Plastic Pros
Low cost
Quick Installation - simple systems
Functional - does a job
10 year guarantee
Low replacement cost
No primers or paint
Can be recycled
Plastic Cons
Modern clean lines
No traditional features
Oil based products
100% virgin material
Case Studies
Looking at a variety of new build and renovation projects provides insight into the wealth of possibilities with cascade cast iron style rainwater systems. These images show the redevelopment of a former railway works in Ashford Kent, where the installation of cascade rainwater systems has helped to blend the past, present and future. Installed on 108 new build homes the cast iron aesthetic perfectly complements the historic character of six listed railway buildings located within the site, whilst it's quick and easy installation delivered considerable time savings on the overall construction program.
A development in Bromley south east London comprising 11 new luxury homes and the conversion of a grade two listed school into 20 apartments, required a rainwater system that was easy to install, offered high capacity rainwater performance and met the aesthetic requirements of the Hampton Grange development by striking the right balance between old and new. For Bellway homes the solution was to specify the cascade cast iron style rainwater system, deep style 115mm gutter profile and 68 millimetre round down pipe in classic black, which provided high capacity rainwater whilst also respecting the character of the former listed school.
This image shows a new build project situated in the Derbyshire town of Bakewell in the Peak District National Park. As it is a conservation area road developments required approval from the local planning authority and conservation officer for the peak National Park, before the cascade cast iron style range could be specified for the site. Consideration of the age and style of the surrounding buildings in Bakewell was a major factor of the choice of any new materials used. The project features 112mm round style gutter and 68mm round down pipes.
For the refurbishment of a 19 century former Vicarage on the banks of the Thames in Old Isleworth the architect combined a careful and sensitive choice of materials throughout, with the Brett Martin cascade cast iron style rainwater system playing an integral part in the restoration. Located within the Isleworth riverside conservation area, the redevelopment had to respect the character of the existing architecture, in terms of scale, design and in particular, the use of materials. It was crucial for all product specifications to strike a balance between aesthetics, long term performance and cost effectiveness. To meet their requirements MCD specified a Brett Martin cascade rainwater system comprising a high capacity 160mm round style gutter, and 105mm round down pipes, completed with the addition of cascade cast iron effect hoppers.
Built in 1813 and once used as a smock mill the grade two listed building has been painstakingly restored to its former glory having been damaged by fires in the 1980s and again in 2008. While modern materials were used where possible to safeguard the future of the mill, the owners were keen to ensure that the buildings character was preserved. Close attention to detail was paid throughout the building with the installation of bullseye windows, beautiful timber staircases and wooden mill doors. Externally developers installed cascades 106mm prostyle rainwater system and complementary 110mm push fit soil system on this prominent landmark, in keeping with the heritage aesthetic.
The historic village of Mayfield East Sussex founded approximately 980 AD has many traditional buildings with heritage characteristics. The old maintenance yard roundel is one of the oldest which is also great two listed. Brett Martins cascade cast iron style was chosen to complement existing building and to add heritage to the additional new modern residential development decided. Using a 112mm round style gutter and 65mm round down pipe, the houses with their red brick facade have been given that cast iron look.
Located within the village of Bentley conservation area the Crock's Farm development features the partial rebuild and conversion of a 900 square metre Period Oast house, into three new 4 bedroom properties, a pair of new barn style properties, a single detached 4 bedroom home and a terrace of three 2 bedroom cottages. For this part new build, part refurbishment developer Crompton homes was looking for a cost effective rainwater solution. It needed to offer the aesthetics of cast iron to conserve and enhance the character of the area, whilst containing all the benefits of a plastic material. To meet the requirements Compton Homes specified a Brett Martin cascade rainwater system comprising a high capacity 115mm deep style gutter and 68mm round down pipes.
These images show the great two listed Gargrave House near Skipton in North Yorkshire. Built in 1917 and originally a private residence, it was recently converted into luxury apartments. With the insistence the soil stacks should be kept externally, the client turned to cascade cast iron style soil systems.
For the Knutton Village heritage scheme, 73 houses that were once used to showcase the decorative work of local brick maker John Nash Peak underwent a one point £7,000,000 scheme to breathe new life into the area. Works carried out included repairs to damaged, decorative brickwork and tiles, using materials that complemented and enhanced the original features. Chimney parts, doors and windows were also replaced and, where appropriate other architectural features such as boot scrapers were renovated.
The lead box section down pipes were recently stolen from the Holy Trinity Church in Long Melford Suffolk. The building dates to 1461 because of limited funding the church turned to the replica product as an alternative and have installed 105mm round down pipes and hoppers.
These images show examples of applications featuring the range of heritage colours offered within the Cascade Range.
Cast iron has shaped the architectural landscape of our Townsend cities since the industrial revolution by combining authentic period design, together with the benefits of modern plastic products, the architectural vision is achieved.
In summary
The Cascade Range of products offer a number of significant benefits including project savings, a reduction in installation time, site safety and long term maintenance. For more information visit www. Brettmartin.com.