Specifying Platform Lifts for Private Residences - Gartec Platform Lifts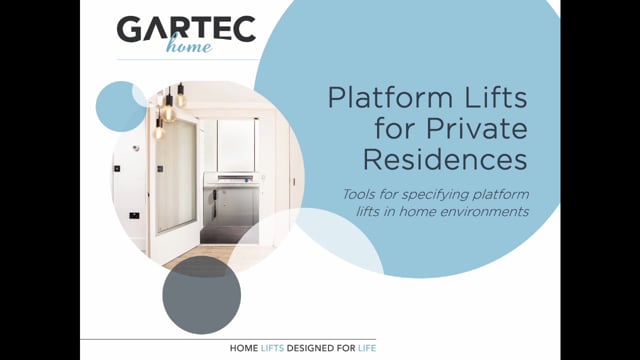 LOGIN OR REGISTER
Once you're logged in you can access all our training modules for free anytime that works for you. Enjoy On Demand CPD Training!
or
Please contact us via contact@construction-cpd.com to get permission to publish this video on your website.
<div style="position: relative!important; width: 100%!important; min-height: 700px; overflow: hidden!important; padding-top: 56.25%!important;"><iframe src="https://www.construction-cpd.com/cpd-external-view?ExternalId=62&ReturnUrl=https://www.construction-cpd.com/specifying-platform-lifts-for-private-residences" style="position: absolute; top: 0; left: 0; bottom: 0; right: 0; width: 100%; height: 100%; min-height: 500px; border: none;" mozallowfullscreen webkitallowfullscreen allowfullscreen></iframe></div>
Hi everyone, my name is Matt Ackerman and today's CPD is all about the specification of platform lifts for private residences, instead of alternative hard lift options. It's worth double points as it's a core curriculum for any RIBA members.
Aims
So, we're going to run through these areas today. Starting with looking at who are Gartec home, then what is a home platform lift, the rules and regs, who needs one and finishing with the features and benefits.
Login to record your CPD points
Introduction
So first a little about us. We are Gartec home, a division of Gartec lifts who have been running for 25 years. We deal specifically with private residences and offer white glove treatment for homeowners. We're wholly owned by our parent company Aritco who are based in Sweden and manufacture the lifts, which means we have a great relationship with the factory. We are also members of key industry associations to give you peace of mind.
Gartec home cover the whole of the UK with a network of engineers and project managers across the country ready to go. Our three main lifts are the 4,000 our compact two person lift, the 6,000 our most versatile lift with six platform sizes that can carry up to five people and the home lift our latest smart lift. We've also got the only showroom in the UK with a fully working 6,000 wheelchair lift and a home lift, located at our head office in Aylesbury in Buckinghamshire.
What is a residential platform lift?
Platform lifts are really quite simple EPSA, the European platform and stair lift Association defined platform lifts as an electrically powered lifting appliance which falls under the scope of the machinery directive. The main takeaway is the machinery directive part which is much less restrictive than the lift directive and makes platforms simple to specify and at a low cost.
There are four main types of platform home lifts:
Open step lifts
Open step lifts are great for a few steps or changing level, working really well in external applications.
Through floor lifts
Through floor lifts travel between two floors on exposed guide rails through a ceiling aperture, leaving the floor space clear under the lift when at the upper level. They tend to have a more clinical appearance.
Enclosed platform lifts
Enclosed platform lifts are what we are discussing and focusing today and are hugely flexible. They come complete with their own shaft enclosure and can travel up to six floors with doors configured on three sides. It's an L shaped carrier which is driven up and down a threaded bar by a quiet motor and large nuts. If you stand inside and look up, you can see all the way to the top of the enclosure.
Cabin platform lifts
Finally cabin platform lifts which are very much like convention lifts with a full car, telescopic car and landing doors. They usually require a structural shaft to house the lift so, a little more demanding on the property.
Enclosed platform lift design
Enclosed platform lift design includes some standard features that all help in a restricted home environment. They always come with a shaft enclosure which includes swing or bifold doors on each landing. They're almost free standing, no load bearing wall or head fixing is needed. Literally just attached to guides to each floor as it passes through and uses the support hoop in stairwell locations, so it's easy to fit into most homes.
The drive mechanism is integral and located on one side, so no separate machine rooms or pump boxes are needed. This creates a small footprint area and means that all that is really needed as a whole through the floor, a power supply and a shallow 50 millimetre recess in the floor under the lift for level entry and exit. A common size of lift opted for is the 1,000 by 1,280. This is large enough to accommodate a wheelchair or four to five persons standing, but there are smaller and larger options to tailor for your client space.
The workings of a platform lift
Now we're going to watch a short video which shows the workings of a platform lift and some of the options you can add to make it more personal. Entirely designed and produced in Sweden. Thanks to its smart design it easily adapts to all housing needs.
The L shaped platform and stylish control panel are run by an innovative driving system which only takes 21CM, allowing you to move freely between floors all Aritco home lifts can be customised. Doors can be placed on three different sides and are available in different types and sizes. Full height glass door, double hinged glass door for smart and compact living, and half height glass door for optimal visual experience. Glass panels are available in clear, tinted, frosted, dark tinted and different sizes. While for wall panels you can choose between EPS or rockwool.
Aritco home lifts can be ordered in 213 colours and they also come in 11 different sizes, with several matt options to adapt to any home interior style and need. Thanks to its unique structure Aritco home lifts can cover up to six floors with a maximum travel height of 13 metres.
Doors can be placed on different sides on different floors. On the ground level the home lift can be set directly on the floor and access can be granted through a ramp, or you can easily optimize the comfort with the five centimetre pit. Behind the control panel since the screw and drive system available for one or three phase power supplies, that allows the platform to move at 15 centimetres per second using less power than your washing machine.
All Aritco home lifts are fully certified according to the highest international safety standards. Each lift features safety edges all around the platform and they are all equipped with two motors so that in case of a power failure the secondary motor allows the platform to travel to the landing floor.
To enhance safety doors are locked during the platform travel until it has reached this selected floor. Unlike conventional lifts, Aritco's smart structure doesn't require any machinery room safety pit or counterweight. This is why our Aritco's home lifts are easier and quicker to install. They take very little space and can adapt to any environment and move in safety, comfort and style. There are really three main types of enclosed platform home lift available, a compact option which is ideal as a through floor equivalent, larger wheelchair lift option and finally a smart home lift, which is great for tech or design savvy homeowners.
Compact Home Lift
First is the compact home lift which is ideal as a versatile through floor lift equivalent for a similar budget. Many of these are installed into smaller homes or where space is restricted. They can carry two to three persons or alone wheelchair users. With the option for those on different sides at each floor it makes it easier to tailor to any layout and going up to six stops with the 250KG capacity makes it more versatile than a through floor lift which can only serve 2 levels.
Flexible platform home lift
Larger flexible platform home lifts are ideal for those looking to future proof or for wheelchair users. With a higher weight limit of 410 kilograms and bigger sizes, it's even possible to get a wheelchair and attendant in together, great for homeowners with children using wheelchairs allowing them to travel together. These also can have doors on multiple sides of up to 6 levels and have glass or row coloured shar panels too. If the travel is under three metres you can even have a half height gate at the top, working well for low ceiling properties or into areas affected by the eaves.
For those looking to future proof it also comes in handy for daily use and sending items up and down such as the laundry, vacuum, items of furniture and suitcases, saving a potential accident on the stairs, as you would never need carrying anything up or down again. Rather than adapting a home or doing costly extensions for single storey living a lift will allow full access over the property at a fraction of the cost.
The final type is the smart home lift which is a pretty new concept. It offers all the benefits as the other lifts six floors, 400KG, doors on different sides, but has a connected app, controlled coloured lighting systems, and a bespoke wall option at the back, to allow clients to make their lift unique to them. It can also be integrated into smart home systems which is a feature lots more people are switching onto. It's a bit of a higher budget but can make a project really stand out especially, if you're going in for awards.
Regulations and Safety
Next let's look at some of the rules and regs for home lifts. There are a few regulations and standards that are applicable for home lifts which we will now look at in more detail to help with specifying the right lift.
Machinery directive
All platform lifts fall under the machinery directive instead of the lift directive, looked upon as a piece of people moving machinery and the directive ensures a common level of safety. This gives a lot more freedom with only a few restrictions. The first being, the speed which is limited to 0.15 meters per second. Secondly, the controls on the platform must be constant pressure. The exception to this is the cabin platform which can have one touch operation from inside as they are fully enclosed. Lifts over 3 meters must be CE certified.
EN 81-41 (2010)
EN 81-41 (2010) covers platform lifts manufactured in the EU and ensures that all products meet the EC directive. It's basically the top of the pyramids and combines all legislation. The main takeaway is the requirement for a two way communication interface in most instances a telephone will be fitted but this can be switched with an auto dialler.
BS 6440: 2011
BS 6440: 2011 discusses requirements of lifting platforms being used for impaired or partially impaired passengers with an enclosed or partially enclosed shaft. The standard provides minimum recommendations for safety and design, construction, installation, operation and maintenance of lifting platforms, including screw and nut systems like those we're discussing today.
The requirements for 6440 are covered within EN 81-41 so as long as the lift you select conforms with EN 81-41 you can be confident it covers all other local and national standards.
Building Regulations Part M
Part M of the building regulations calls for a property to be either wheelchair adaptable, where provision is made for a potential future lift installation or wheelchair accessible where a lift is fitted. It covers a few key points ensuring the correct space is allocated and that there are clear turning circles. The access requirements can also be found in the EN 8170 standard which covers safety rules for the construction and installation of lifts. And defines lift controls, distances, dimensions, contrast and accessories that facilitate access for people using wheelchairs or walking aids.
Building Regulations Part B
Part B is building regulations regarding fire safety. Essentially this means that the lift cannot be looked upon as a means of escape. The most important part is around protected areas of the building. If the lift travels more than 4.5 meters, usually 3 levels or more, the lift either needs to open onto the protected stairwell or it should be in a fire rated shaft with fire doors, as you can see in the diagram at the bottom. It's always best to try to locate the lift with the doors opening into the protected stairwell if possible, as this is a communal area keeping all the vertical circulation together, and it negates the need for the fire rated doors making it more cost effective. The most important advice is to make sure you always check with building control for their approval before proceeding.
Lifetime homes
Lifetime homes were developed to ensure homes are future proofed and are accessible and inclusive. There are 16 design criteria, one of which calls for a lift location to be identified. If the lift is not being installed during the build, then a knockout panel should be allowed for. There are a number of safety features on platform lifts apart from the limited speed, the shaft means you cannot get underneath, so there is no chance of crushing. Great for families with children or pets.
The redline around the platform here shows the safety edge, which is all the way around the floor and above the control panel. When it is pressed down the lift stops, so if something falls over or fingers get between the floor and the shaft walls, the lift stops. It is spring loaded so it will work again as soon as the blockage is removed. The controls are constant pressure so simply taking your finger off the button will stop the lift but there is also an emergency stop as a backup.
In the event of a power failure, the lift will automatically switch over to the battery backup facility, taking users down to the next available floor. A telephone or an auto dialler is also fitted to give a means of communication from inside the lift.
Discussing Platform Home Lifts
Now let's look at when to discuss platform home lifts with your clients. Anyone who wants to future proof and maximise the time they can stay in their property is probably already looking at lifts especially those doing new builds, major renovations or large extensions. Having a lift can save more costly care home fees and give clients freedom and independence through old age, disability or even temporarily through accidents and injury. They're also pretty useful for day to day items. We've seen all sorts of things being transported.
Of course, they are also ideal for wheelchair users or less abled homeowners, or for the visitors and family with mobility issues. There are sizes to suit all needs from smaller lifts for the ambiance struggle with the stairs, to those who need a lift to carry a chair un-attendant. If the stairs are a challenge, then again transporting things between floors is easy too. The inclusion of a lift into a home adds value and if looking to sell it on will open it up to a bigger market and more potential buyers. If designed in well with the options and features you can tailor to the lift, it can really be a feature in the home rather than a clunky necessity like a stair lift.
Also, the ability to integrate smart lifts into smart home systems is ideal for more techie homes and can be a point of interest for perspective buyers too. Platform lifts are a real design feature and can support award winning architecture and design very well, for example our home platform lifts have won various awards too. Including the best home technology award at Build-IT-Live and the best personal independence product at the OT show.
Features and Benefits of Platform Home Lifts
Let's look at the features and benefits of platform lifts for the home.
Minimal building changes
Generally installing a lift requires minimal amendments to the building. Due to their design there is no need for a deep pit, overrun, a separate machine room or any scaffolding.
Simple requirements
All you need to install a platform home lift is here. The main part being the aperture in the floor. Once you know the size of the platform and entry configuration, your supplier should provide all the drawings and information required.
Pick from a 50 mile pit given a flush entry exit or choose the ramp option. A single phase 20 amp power supply and a telephone line are the only two interfaces required. Is quite simple.
Quick Installation
The installation is really quick, and a two story lift takes just two to three days. Add about a day for each extra floor.
The modular system means it's a very clean installation and scaffolding isn't needed.
Sustainable
Platform lifts are very energy efficient using less energy than a kettle. The parts are recyclable, and the lift can be demounted and moved with the modular system, rather than disposed of. Maintenance is simple too, with servicing packages available that have been created with homeowners in mind.
Low Cost - For Life
Platform lifts won't break the bank either, with compact home lifts in a similar budget range to through floor lifts.
Normally home lifts come with an extended two-year warranty and two service visits per annum, to ensure the initial period is smooth and easy as users get used to their lift and it settles in. Maintenance costs are also low as the system is simple making for happy lifetime customers.
Here's some budget ideas for each type of home lift, they are all parts for a two-stop lift, so it does depend on your client's choices. These include everything from presale support, any meetings, quotes and drawings, delivery, installation and warranty.
Possibilities for Customisation
Here's some of the things that can be customised on the lifts that will make it a more personal feature. Some are aesthetic such as glazed or different coloured wall shaft panels, mirror and lighting options, or alternative platform flooring. Then there are mechanical items such as automatic doors or remote control operation, which are particularly popular. There's many more options and we've had some people make their own graphics in cladding for the shaft as well so it's really unique.
Case Studies
We've got a few case studies to highlight the real benefits and stories that inspire our clients when they are looking for a lift device.
Case study one
This is about a disabled homeowner Kayla who required a lift as she didn't want to compromise on the property style she liked, she chose a flexible wheelchair platform lift for her four storey Victorian town house in the centre of Brighton. The lift allowed her to live in the house and location that she wouldn't have been able to otherwise. The whole house had a massive sustainability focus as well, which platform lifts are ideal for. The doors are located on three different sides across the floors as the layout of the property was adapted to suit her needs, but she was thrilled with the end result.
Case study two
This is about a homeowner who needed a lift installed very quickly, with a modern design to match their renovated home. They opted for a smart home lift in a large size to future proof for all eventualities. They even made it personal with a bespoke back wall art design.
Calling into the showroom was key for them helping to visualise the design and we visited them a few times to help with the positioning of the lift in the most suitable location. Again, they were thrilled.
Summary
So, let's run through the learning outcomes.
So, after today you should feel comfortable with:
The different types of lift,
Specification regulations,
Benefits of home platform lifts.
Thank you for your time today. If you require any further information, wish to discuss a project that you are working on or to book him for a showroom appointment, please don't hesitate to get in touch.