Step on It: Stairway Safety - Quantum Flooring Solutions, a trading name of Quantum Profile Systems Ltd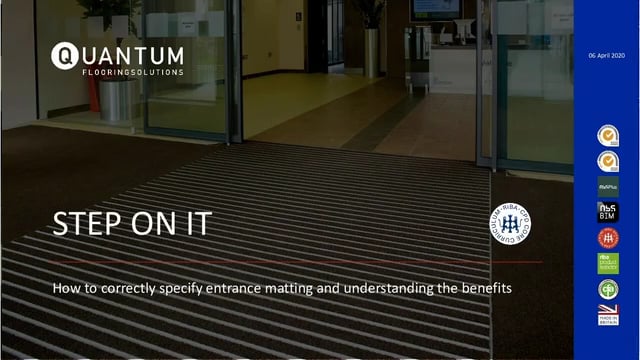 LOGIN OR REGISTER
Once you're logged in you can access all our training modules for free anytime that works for you. Enjoy On Demand CPD Training!
or
Please contact us via contact@construction-cpd.com to get permission to publish this video on your website.
<div style="position: relative!important; width: 100%!important; min-height: 700px; overflow: hidden!important; padding-top: 56.25%!important;"><iframe src="https://www.construction-cpd.com/cpd-external-view?ExternalId=73&ReturnUrl=https://www.construction-cpd.com/specification-of-stairway-safety-cpd" style="position: absolute; top: 0; left: 0; bottom: 0; right: 0; width: 100%; height: 100%; min-height: 500px; border: none;" mozallowfullscreen webkitallowfullscreen allowfullscreen></iframe></div>
Introduction
Welcome to this RIBA accredited CPD on stairway safety. This CPD looks at the guidelines for the specification of a safe stairway. It deals with the subject of how stair nosing's helped to make a commercial stairway safe, and meet with all current building regulation guidelines followed by the little questionnaire at the end.
Regarding stairway safety, Quantum flooring has over 30 years of experience and knowledge. Quantum flooring products are supplied throughout the UK and worldwide. British standards and building regulations, are seen by many as a gold standard throughout the world, and especially in the Middle East. Where many quantum flooring stair nosing's have been installed on major projects. The agenda for this CPD will cover a number of different areas. Firstly, there is a brief introduction. Secondly some background and key insights into stair nosing specifications, and then a look at what regulations and industry standards actually mean. Followed by how stair nosing's can help make a stairway safe, and then there will be a summary with some additional features of note, concluding with a bit about us.
The aims of this CPD are to understand the what, where and why of stair nosing's. To understand the rules and regulations involved with stair nosing's on stairways, and the objective is to provide the knowledge on how to specify the correct stair nosing's for a given project, from the very many different products that are on the market.
Login to record your CPD points
Stair nosing's. What are they and what is their purpose?
They're basically profiles which served to highlight the nose that's the front edge of steps on a stairway. They are traditionally made from a carrier channel of value aluminium PVC U rigid plastic. With a slip resistant material on the upper surface to provide a safe tread for footballs. They also protect and extend the life of a stairway floor covering. Preventing wear on the nose, and Thirdly they can be a design feature, since the specifiers choice of colour can coordinate with the interior deco or of their location. If the correct stair nosing is specified for a project then the stairway involved will always be safe, durable and attractive.
Where should stand housings be installed it's recommended that they be fitted to stairways in all buildings with public access. This includes sectors such as hotel and leisure, offices and all categories of government buildings including the mod, social housing, education, healthcare retail and anywhere where the public needs safe access to a building.
Why use stair nosing's?
Stairs can be very dangerous places. A statistical fact is you're more likely to die falling down the stairs then buy anything the earth can throw at you. This includes earthquakes, floods and volcanoes. It is the stair nose where most oversteps, and slips can happen. See the link at the foot of this slide to the economist for reference to these facts. And Additionally, it is a statistical fact that according to the UK health and safety executive HSE, there are over 100,000 injuries reported in the UK on non-domestic stairs every year, resulting in over 100 associated deaths. This is why stairway safety is absolutely imperative. The next item from the agenda is to cover some background and key insights into the specification of stair nosing's. All the current guidelines link in some way back to the building regulation document K 2013 schedule 1. This document states, stairs, ladders and ramps shall be designed constructed and installed as to be safe for people moving between different levels. There are five documents which give guidance for the design of stairs and associated stair nosing's for use in buildings with public or shared use. They are shown here, building regulation document K, building regulation document M, BS 8300:2009, BS 9266:2013 and building research information paper IP 15/03. It is the combined guidance from these documents which can help the specifier conclude what is the right stair nosing choice for a given project.
This CPD aims to sift through the detail and highlight what is important in this regard. Now we're going to move on to the detail of these regulations and standards.
Regulations and standards for stair nosing
The first aspect to consider is the dimensions of a stair nosing. This statement starts the process. All those things are made apparent by means of a permanently contrasting material on both the tread and the riser. The recommended dimensions of a stair nosing according to the building regulations documents K and M and also the British standards are that the tread should measure between 50 to 65MM, and the riser should be 30 to 55MM. This ensures that there can be large enough contrasting material band on the nose of each step. It is worth noting that the earlier disabled Discrimination Act DDA called for much more specific dimensions of 55MM on both the tread and the riser. However, the more recent Equality Act 2010 has introduced the more flexible guidelines that are shown here. Moving onto the colour of stair nosing's which for regulatory purposes is measured by light reflectance value LRV, which is defined as the amount of light a colour reflects. On the LRV scale pure white is 100 pure black is O and all colours are somewhere in between.
The LRV colour requirements of the stair nosing tread and riser materials according to the building regulations document K and M and the British standards are that they should differ from the stair floor covering material by 30 points on the LRV scale. For example, a grey carpet with LRV of 80 needs a stair nosing tread material with LRV of less than 50. Technically both the stair nosing tread and riser should be of the same colour, a PVC U stair nosing can achieve this. The regulatory guidance on dimension and colour helps to create a safe stairway with a contrasting step nosing. This produces what can be termed as a ladder effect. As you can see from the stairway on the right the steps are clearly defined with stair nosing's of the correct dimensions and contrasting LRV colour the left hand stairway is obviously not as safe. The next consideration is the slip resistance of the tread.
Slip resistance of flooring and tread material
There are two methods for measuring the slip resistance of flooring and tread material. The traditional pendulum test which gives a pendulum test value PTV. This involves swinging calibrated pendulum across the surface of the material to be measured. The problem uninstalled stairways however is the lack of space to swing the pendulum over the tread. So PTV values of stair nosing tread material can only be established in the laboratory when the material is new. An indication of installed material on a stairway can be established with the second method, which is a surface roughness meter which gives roughness Rz readings in microns. The table on this slide shows the classified value ranges of each method. A laboratory tested PTV greater than 36 is classified as low slip potential. A surface micro roughness measurement greater than 20 RZ, is classified as low slip potential. Materials installed on stairs that can achieve at least these values in wet conditions will contribute to helping making a stairway safe. Lastly as far as the stair nosing are concerned there is tread surface coverage to be considered. BRE information paper IP 15 /03 gives guidance that the stair nosing tread material should extend to the front edge at which it meets the vertical riser face in order to minimise the risk of a slip or overstep in dissent.
Although this moves away from the steps of the stair further consideration is required to the approaches of stairways. Building regulations approved document M states that a contractor can satisfy requirement M1 or M2 if a corduroy tactile hazard warning service is provided at the top and bottom of landings. BS 8300 also endorses the assistance provided by a tactile surface at the approaches to stairway, it says a corduroy tactile approach should be installed as a hazard warning surface on the top and bottom approaches of the staircase, which will warn pedestrians that they are approaching a staircase. However, in recent years it should be noted that experience and practices changed. Now tactile are generally specified for external applications as they can sometimes cause a trip hazard if used internally. It is what makes the specific access area the safest that should determine their use
Not all stairways in buildings need to meet the guidelines of the building regulations but, if there are areas of public access then the advice is that the guidance should always apply. It is much better to be safe than sorry. Whilst stair nosing's over the years have evolved to offer all sorts of shapes materials and sizes to meet the different step designs, the building regulation guidelines now dramatically reduced the options available to specifies. It is important to note that there are some traditional step designs that do not necessarily satisfy these guidelines.
Traditional stairway designs
Here are some of the traditional stairway designs and stair nosing solutions that should be considered carefully if guidelines are to be followed. Bullnose step profiles usually of timber construction but also sometimes in stone are a trip hazard to the partially sighted. So too are open riser steps as you are unable to get an LRV contrast and feet can get caught between steps.
Also, a shiny metal finish such as the traditional aluminium used a stair nosing carrier, can produce a glare in artificial light which can confuse the partially sighted. Lastly it is interesting to note that stair nosing's with tread widths greater than 65MM do not meet the guidelines. This puts all double channel stair nosing's outside the criteria. So what if some existing bullnose or open riser steps are to be renovated and building regulation guidelines need to be followed, as the specifier you might wish to bring to the clients attention but the stairway cannot meet the guidelines in full but if a decent ladder effect can be created by selecting materials with LRV differences of 30 points one of the main criteria can at least be achieved. That is all stair nosing's are made apparent by means of a permanently contrasting material. Again, it is making the stairway as safe as possible for the conditions that is the most important consideration.
Examples of correctly specified products
An example of a product that is specified correctly meets with the building regulations is the eco glow photoluminescent range of stair nosing's. This product is widely used in healthcare, sports grounds and educational environments. The product meets all guideline requirements. It specified worldwide and with only 30 minutes of light will generate 7 1/2 hours visibility in the darkness, as well as being fail safe and green as there are no costly wires or nasty chemicals to deal with.
Here's a staircase with echo glow photoluminescent stair nosing's on the left its daytime and on the right night-time. As can be seen the step is visible in all conditions.
Another example of a product that if specified correctly meets with all the building regulations is the Q range of stair nosing's. This product is also used widely in offices, schools and social housing. Again, it meets all the requirements including the all over tread. It's green and has no dirt traps, especially important for health care and the range is also easy to clean with low maintenance costs. The simple design and colour options allow for a number of different finishing styles.
And here is a clear example of a well-defined stair. The dimensions are within guidelines, the colour of the stair nosing's are a clear contrast with the floor covering and the stair nosing tread material is right up to the front edge of the nose. NBS plus BIM models of the stair nosing's are now available to specifies in the national BIM library.
Having covered the key regulatory guidelines that determine the key characteristics of a safe stair nosing, the next agenda item incorporates these into the specification process.
Specification process
Firstly, identify what type of floor covering has been selected for the stairs. This will determine the gauge i.e. The thickness of the stair nosing to be used, a vinyl or lino floor covering requires a slimmer gauge stair nosing than that for a carpet or carpet tile. Stair nosing's are available in different thicknesses to suit all floor coverings.
Next establish what shape is the step profile. The main choices available are flat, rake and bullnose. Then what tread material is required, if its internal use a specially formulated PVC which is a proven grade with good slip resistance and long wear characteristics in dry conditions. If its external use a heavy duty material suitable for external use as well as internal applications.
Does the stair we need to meet best practice guidelines as already discussed. Any building with commercial or public access should meet building regulations best practice guidelines. Considerations to include are; the dimensions of a stair nosing, its colour tread and slip resistance and the tread coverage, and possibly tactile approaches as well.
Summary
Now to summarise the CPD we bring together all the aspects that have been covered.
Firstly, the reason stair nosing's are installed because they improve the safety the durability and the attractiveness of the stairway. The regulations around stair nosing's include considerations of the dimensions the colour the slip resistance and tread cover. For selection it is necessary to consider the thickness of the floor covering used step profile and the tread coverage and the material type, and finally, there are some additional features to be considered. And these additional features can help us specify finish off a staircase design that incorporates stair nosing's.
Firstly, there are angles for open string staircases. These provide a neat simple and attractive finish to the edge of steps that have an open side. Next there is often a right angle step at the foot of stairways that needs a special fabricated edge, whilst the logistics of getting the specified stair nosing's to and onto steps may be of little concern to specifiers, if they are not there on time it can cost money in delayed handover time.
Speed is always of the essence and a unique solution has been developed which gets the measure details to the contractor and distributor within the hour, enabling the correct stair nosing's to be cut and ready for fitting usually within 24 hours. It is a specialist measuring service known as QSMS for short and how does it work? Step sizes are measured with a laser and this data is transferred to a handheld computer and forwarded to base where, it is compiled into a formal cutting schedule, to be sent on to the distributor for attention and supply to the flooring contractor completing the work. Why should specifies be interested in Q SMS? Because stair nosing's are often one of the last items to be fitted on site and any problems with their delivery can cause delays in handover.
Here the CPD covers health and safety, the environment and maintenance. All points which can be dealt with together. A stair nosing itself presents little or no health and safety issues apart from perhaps a sharp edge or two before fitting. However, a stairway without stair nosing is a risk area, since in an uncovered condition the steps represent a serious slip or overstep hazard, meaning that the principle requirement of building regulation document K is not met. They can also be totally recycled. All stair nosing's housings can easily be maintained and cleaned. Wiping them with a damp cloth and perhaps some mild detergent is all that is required. It is established that stair nosing's hugely out last the surrounding floor coverings and quantum flooring applies lean principles to its manufacturing processes, along with a commitment to ISO 14,001. The company holds itself up to be green, safe and clean, with a committed and practiced environmental policy.
About Quantum Flooring
And finally, a little bit more about quantum flooring. Quantum flooring manufactures all the bits that go around the floor covering. The stair nosing's that go on steps which we have covered in the CPD. The PVC accessories and trims which go around the edge of floors and on the walls and the PVC transition profiles that join floor coverings together.
Quantum profile systems limited. The holding company is an Oldham based company over 40 years old, specializing in the production of extruded plastic products for different sectors of the building industry. These are offered under four different brands namely quantum flooring under this brand products including stair nosing's and PVC skirtings and trims are produced and sold to the contract flooring market. This RIBA approved CPD covers the subject of stair nosing selection and application. We also have a CPD entitled close that cavity, which deals with the Dacatie brand of original insulated cavity closers, and as PVC and PVC U extrusion specialists, quantum also produces custom made profiles for independent clients. But most recently the business has developed an extruded wood plastic composite material called Q wood it does not rot warp or have any knots and is being used successfully for beads in the timber window industry.
In addition to telling you about what we do we would also like to tell you about the principles of how we do things at quantum. We have embraced the principles of what is known as lean manufacturing and we set out our lean guidelines in five statements. Everything we do is aimed at creating and adding value for our customers. We aim to generate continuous workflows, to eliminate job queues and this reduces waste. Customer pull through determines what we make and hence we deliver just what the customer wants. We strive for perfection all the time. We are never satisfied, and we are always learning. This helps us to continuously do things better and these principles underpin all that we do. We also ensure that quantum products are green, safe and clean.
Should further information about quantum flooring products and services be required then please contact us through the website or by telephone to the main office. On the website you'll find a product selector app to help pick the correct stair nosing product for any project, as well as detailed specification guides, NBS plus details and BIM models.
Thank you for your time and following this RIBA approved CPD.
There will now follow a brief quiz on its contents.