Setting the Standard for Architectural Powder Coating - QUALICOAT UK & Ireland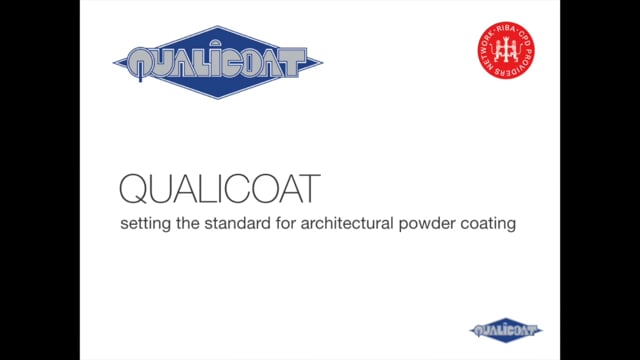 LOGIN OR REGISTER
Once you're logged in you can access all our training modules for free anytime that works for you. Enjoy On Demand CPD Training!
or
Please contact us via contact@construction-cpd.com to get permission to publish this video on your website.
<div style="position: relative!important; width: 100%!important; min-height: 700px; overflow: hidden!important; padding-top: 56.25%!important;"><iframe src="https://www.construction-cpd.com/cpd-external-view?ExternalId=72&ReturnUrl=https://www.construction-cpd.com/setting-the-standard-for-architectural-powder-coating-cpd" style="position: absolute; top: 0; left: 0; bottom: 0; right: 0; width: 100%; height: 100%; min-height: 500px; border: none;" mozallowfullscreen webkitallowfullscreen allowfullscreen></iframe></div>
Introduction
Welcome to our Qualicoat presentation setting the standard for architectural powder coating, where we will introduce to you the benefits of architectural powder coating and the reasons why you should consider specifying Qualicoat.
A striking new building on the North London skyline. This is Canaletto on city road.
The architectural aluminium was specified in Qualicoat Class 2 polyester powder coating. Class 2 is now being specified on a regular basis for large projects, more of which will discuss later.
In this video presentation, we intend to cover the following topics:
When powder coating goes wrong;
About Qualicoat;
Powder coating processes;
The membership of Qualicoat;
The benefits of using Qualicoat;
Approve members;
How to specify and maintain; and case studies.
Login to record your CPD points
When powder coating goes wrong
Specifying Qualicoat will eliminate this form of failure by increasing levels of pre-treatment and etching prior to powder coating. This rather dramatic failure is known as delamination. What is suspected here is a poor or non-existent pre-treatment of the aluminium which has led to moisture getting under the powder coating, and allowing oxidization of the aluminium to occur.
This is an example of where the concrete render has stained and discoloured the powder coat for new significantly. The building is less than five years old. Regular cleaning with brick wash will reduce standing.
Qualicoat is a not for profit quality label organization committed to maintaining and promoting the quality of coating on aluminium for architectural applications, to minimise and avoid situations in the previous pictures. The Qualicoat system ultimately gives confidence to specifiers and building owners because it sets out centre controls for the complete process from the chemistry, to the powder, and from the powder to the applicator.
Qualicoat defines the requirements in each stage of the process and then through its licensing system. It independently orders companies to ensure that they deliver these requirements. It is this third party inspection that drives the credibility of the standard. Through its efforts over the past 30 years Qualicoat has played a key role in ensuring the quality of aluminium parts used in architecture. Due to its success the work completed by members of Qualicoat has culminated in an evolving standard which is already in its 15th edition.
About Qualicoat
Founded in 1986 several National Associations supporting coaters of architectural items formed a quality label organization called Qualicoat, these six countries formed with just 10 Qualicoat licenses, today well-over 400 licenses are in use worldwide. It is safe to say that Qualicoat is a global standard and one that can be specified by any architect for any project across the globe. Qualicoat UK and Ireland are part of the Qualicoat global network. The head office of the organisation is based in Zurich Switzerland. Qualicoat's initial goal was to raise and standardise the level of powder coat quality throughout Europe by laying down voluntary rules, applying to the industry. This project shows how powder coating can be used to a dramatic effect.
Mission and goals of Qualicoat
Qualicoat's mission is to provide best practice rules to obtain a good quality coating on aluminium. To achieve this goal Qualicoat committed in particular to:
establishing specifications for processes, products and tests to be used by the coating plants;
monitoring the correct application of the specifications in licence plans;
developing and improving these specifications;
granting licenses to coating plants that apply for the quality label;
testing and approving chemicals and coating products to be used.
The global standard is set out and maintained by Qualicoat, the head office in Zurich.
Certified quality
The clinical quality label is a product certification scheme Qualicoat has granted several licenses to national associations to issue these certificates and inspect the license plans. Gaining the Qualicoat certificate of quality, first plants who expressed an interest to be initially inspected licence are only granted after inspectors are assured that the Qualicoat standard is being achieved. The whole process is tightly controlled, and is undertaken by the independent test house in the UK and Ireland IFO.
Why is it so important?
Consistent and reproductive quality is a cornerstone of Qualicoat the projector book is the new student accommodation in Stratford opposite the Olympic park.
The UK and Ireland Qualicoat Association is located in the national metal forming centre in West Bromwich, and works closely with other associations such as the aluminium Federation and the council for aluminium and building. British and Irish membership includes powder coating applicators; powder manufacturers; pre-treatment chemical suppliers; laboratories and equipment manufacturers. The three initial groups of members form the supply chain important to ensure consistent quality coatings within the Qualicoat license. Members details are available from the Qualicoat website.
This infographic simply shows the flow of the supply chain. Both Qualicoat pre-treatment suppliers and powder suppliers supply systems to the applicators, who in turn applied the powder coating. Powder coating material is supplied directly to systems companies or fabricated with the construction of facades windows and doors, as well as other architectural features. Not for getting the independent test houses who randomly inspect the whole process.
Now we will review the complete powder coating process and highlight the particular areas covered by the Qualicoat specification. We will cover the full processes, the pre-treatment systems, good mental preparation being the best foundation to powder coating, the coating or application process, the powders themselves referred to as powder systems and finally testing. Each process is inspected by IFO during twice yearly inspections for coating members.
Pre-treatment advice
Qualicoat has a strict specification for the pre-treatment process. A high quality pre-treatment process cleans and passivates the base material and offers a good key for the powder to be applied to. The cleaning and etching process is essential as any surface deposits of contaminants may cause loss of adhesion on the final finish. They cleaned the next profiles of them presented to the passivate to protect the surface aluminium. This layers either a chromate, chrome free formulation or flash anodise process. The aluminium is then fully dried to powder coating application. Once tried the profiles need to be predicated with a short time to ensure minimal contamination of profiles.
The pre-treatment process shown here is the immersive process, where profiles are lowered into tanks.
A vertical pre-treatment line can be seen here, in this process profiles are either sprayed with pretreatment solutions and are allowed to cascade down the profile. The cascade process can also be undertaken with material in horizontal position as opposed to the immersive method, both these processes allow for solution to be captured and reused.
Once pre-treated the dry aluminium in this case extruded profiles are transferred to a continuous powder coating line. Powder is electrostatically charged and sprayed onto the aluminium profile. Power is attracted to the electrically earth profile and builds up into a consistent thickness. Profiles then proceed through a long temperature controlled oven at approximately 200 degrees C. It is essential that the great curing indexes adopted when coating a 200 degrees C. The process on the left shows a horizontal powder coating line.
Once pre-treated the dry aluminium in this case extruded profiles or transfer to a continuous powder coating line powder is electrostatically charged and sprayed onto the aluminium profile. Power is attracted to the electrically earth profile and builds up into a consistent thickness. Profiles then proceed through a long temperature controlled oven at approximately 200 degrees C. It is essential that the great curing index is adopted when coating a 200 degrees C. The process on the left shows horizontal powder coating line.
This picture shows a vertical powder coating line. vertical lines allow for larger batches of profiles to be coated quickly. Both vertical and horizontal processes offer the same quality of coating. Plants can be installed with pre-treatment and coating-application combined. Profiles are then rapidly heated and monitored between 180 to 210 degrees C, depending on the powder coat specified. This is to ensure that the curing index is followed, explained later.
At this temperature the powder coat melts, forms chemical crosslinks and flows on the surface of the metal. Profiles exit the oven and are allowed to cool naturally. Profiles are then inspected, and profiles are identified as being to the Qualicoat standard and then are ready for use. So, what sort of testing of finished products does Qualicoat specify?
Types of tests conducted during all production shifts
There are various tests to be conducted during all production shifts. All applicators must maintain the quality control laboratories for his in house testing as well as end of line analytics. The mechanical tests which include checking for film thickness and gloss level, adhesion, impact resistance and flexibility of the finish. The testing regime includes tests such as impact tests, cross hatched tests, bend test, M.E.K rub, DFT readings, gloss levels, oven temperature profiles, accelerated weather test, pressure cooker test, and Machu test. Numerous sample panels are powder coated during each shift for destructive testing as described above, others are stored for 25 years in reference to their time and data processing through the plant. Now let's have a look at some of these tests.
Crosshatch test
A scribe is passed across the powder coated surface at 108 degrees opposing angles to form squares of 2MM in size, an adhesive pad is then firmly pressed onto the scribe service, any air pockets should be smoothed out. After one minute this is removed with a sharp right angle pull. The adhesive Patch remained clear with no particles or flakes or powder coated surface. A scribe square should also be clean and unmarked. This is the test for powder coating adhesion to the substrate.
Cylindrical bend or mandrel test. A coated sample panel is bent around a 5MM mandrel, applying adhesive pad to the bent areas smoothing out any voids or air pockets. Remove after one minute with a sharp right angle pull. The adhesive pads should remain clear and the tested area should not show any loss of adhesion or surface cracking. This is the test for adhesion and surface stability after tension has been applied.
DFT or film thickness test. The bad coated surface is measured with a film thickness meter. Film thickness must be a minimum of 60 microns average with one reading only to a minimum of 48 microns. This is a standard test for film thickness.
The gloss test
The powder coated surface is measured with a gloss meter which has been calibrated to a master. Mats should read at 30% within acceptable variation of plus or minus 5 units. Satin should read 70% with acceptable variation of plus or minus 7 units. Gloss should read it 90% with an acceptable variation of plus or minus 10 units. This is a standard test for gloss level.
The impact test
The impact test should be carried out on the reverse side of a powder coated sample panel, whereas the result should be assessed on the coated side. A known weight of 0.908 kilograms is dropped from known height at 250 millimetres. The impacted area of the panel is then inspected for flagging, chipping or cracking. An adhesive pad test is then carried out. This is the standard test for adhesion and powder coating cure.
The Machu test. Which is no longer obligatory. An accelerated corrosion test on extruded 6060 or 6063 aluminium profile. A crosscut incision with a width of 1mm is made on the significant surface. A solution of hydrogen peroxide H2O 30% in a buffer is added.
After 48 hours there should be no infiltration exceeding 0.5mm on both sides of the scratch. This is a standard accelerated corrosion test.
The oven profile test
A grant recorder or similar is attached to an aluminium profile and passed through the stoving at a normal track speed. Probes are attached to the top, middle and bottom of the selected section. Warm up speed, track speed, cool down air temperature and metal temperatures are recorded in graph form.
So, what is the curing index? It is a powder coating manufacturer's specification of heating and use of the Curing index ensures minimal energy consumption and reduction of CO2 footprint.
The M.E.K rub test
Prescribed solvent normally M.E.K methyl Ethyl ketone is saturated into a cotton wool swab. The test panel is given 30 rubs within 30 seconds over the part to be tested. After 30 minutes the test panel is observed for loss of gloss or softening of the powder coat. This is a test to check the stoving and cure.
The pressure cooker test
2 hours immersion in boiling demineralized water in a pressure cooker operating at 2 pounds pressure. After cooling their decent pad test is applied. This is to test for blistering and delamination.
To recap here's a short video of the application process.
So how are powder coatings applied?
There are several different ways to apply powder coatings to destination services. However, the customer must first make sure the surfaces to be coated are prepared and cleaned before the coating application. This is a crucial step to ensure high quality application and the desired technical performance. The most common application method is by electrostatic spray, usually using the Corona high voltage application gun. The powder is put into a fluidising hopper that feeds dry clean air through the powder and makes it behave like a fluid. The fluidised powder is then delivered through feed pipes into the spray gun. A small amount of air pushes the powder towards the metal substrate. The air around the nozzle of the spray gun is electrically charged giving the powder passing through it a negative charge. The coated object is electrically grounded, and a charged particle always travels towards a grounded object. As a result, the powder is held onto the surface of the object by a strong electrostatic bond. Any powder that does not adhere to the surface of the object which we call overspray, is collected, recycled and reused. Thus, minimising wastage. There are other ways of applying powder coatings including fluid bed dipping and using different spray guns. Once the powder is applied the coated object is baked in an oven and finally emerges with a smooth tough and durable finish ready for service.
Powder systems.
Polyester powder systems are referenced and placed in class, identifying a specific chemical formulation. Whilst a process of applying powder polyester finishes is similar the formulations the powder vary a great deal. Each system can have a variety of gloss levels and finishes. There is a wide range of finishes with various growth levels from Matt through to gloss. There are also metallic finish formulations and finishes which offer textured effects. All these finishes are Qualicoat approved. Approvals are granted for each system gloss level and finish. A Qualicoat applicator can only use a Qualicoat approved powder in their plant. Approvals are only granted after extensive independent testing. Approvals are granted against performance classes. There are four classes of powders more of which will cover later. Never use epoxy finishes on the outside the building as these could be subject to failing.
Performance characteristics of various powder coating systems
To assess the performance characteristics of the various powder coating systems a measure of their weatherability is essential. It is this measure which determines the performance class of power systems. Qualicoat for their part, use the Q-lab Florida site which has more specimens on test than any other outdoor weathering facility in the world. Weathering is about real time exposure to the key elements that will affect any powder coat light, temperature and moisture. Each has an impact on the colour and gloss fidelity of the power system. Approvals are only granted after extensive independent testing. Based on the weather in performance in Florida testing the qualicoat of specifications defined four classes of powder with increasing levels of durability.
Class 1 standard durable one year Florida.
Class 1.5 super durable two years Florida. This is a classification generally used in Australia only.
Class 2 super durable three years Florida.
Class 3 hyper durable 10 years Florida. Most powders used in the UK are within class 1 as these pages are most suitable for our climate. On larger projects where extended life expectancy is required and exposures are greater, then higher classes can be used. The Canaletto project that we saw at the outset of the presentation used a Qualicoat Class 2 powder.
The Qualicoat standard
The Qualicoat standard includes a seaside class determined as within 5 kilometres from any coastal or tidal estuary. There are two issues which determine life expectancy powder coating within these regions. Abrasion due to airborne sun particles. Whilst polyester powder coating is a strong and long lasting durable finishing most climbers the presence of additional airborne particles such as silica abrasive effect on the surface finish. The level of abrasion increases the nearer to the coast the material is situated this also depends on the coastal topography. The increased level of pollutants such as salts in the atmosphere. Powder polyester coat finishes have a high level of resistance to salts and airborne pollution even in coastal areas however, as no coating is 100% pervious to water, some pollutants can affect the pre-treatment in certain circumstances, where these pollutants are found in high concentrations this can cause failures to the coating or adhesion.
Benefits of Qualicoat specification
So, in summary what are the benefits of using the Qualicoat specification? One global standard for architectural powder coating in any environment. The most current specification available rig regular updates to the standard, now in its 15th edition. It's a simple specification with traceability of the process and third party independent inspections. Quality is built in by virtue that members who join the Association want to borrow best practice.
For perspective here are the other currently used powder coating standards for aluminium BS EN12206- 1:2004 the current standard. BS 6496:1984 the old standard, now withdrawn. And Qualicoat the 15th edition. Specifying Qualicoat fundamentally embraces both standards for an architectural powder coating. It is important to realise that the Qualicoat standard is always changing and improving, as Qualicoat is not tied to any legislation or government its members can improve the standard quickly to meet new technology and building needs. The Qualicoat specification exceeds the BS EN12206 standard.
How to specify and maintain
Involve Qualicoat members at the outset to determine which class of powder is the most suitable for the project. Simply add coating to Qualicoat specification for architectural powder coating on all specifications. Ensure specification includes a maintenance regime as required by the panel manufacturer. Maintenance in its simplest form is rinsing down with mild detergent solution and inspection to catch any preventative issues. Any damage to the powder coat should be repaired immediately.
Care and maintenance instruction should be obtained from the application on completion of the projects and handed over in the OEM manual. Basic maintenance details are available from the Qualicoat website. It is imperative that a schedule of maintenance and cleaning is put into the buildings OEM manual to ensure the life expectancy of the installation. This forms part of the Qualicoat warranty.
There are very few failures of powder coating today. One of the main reasons is the global adoption of Qualicoat. The standard has also improved on the materials and expertise has been gained in the market. However, a poor pre-treatment can lie undetected for some years and can then begin to cause problems. We do urge specifications to include Qualicoat and or a reputable powder coating company. Should failure be suspected contact the powder coater and specialist testing laboratory, IFO. IFO is just one independent laboratory they have extensive experience in the UK and the European market. Often problems with finishes down to on site damage because of poor protection. Damage can be repaired, however if this is not done to the correct standard it can invalidate warranties. Damage needs to be repaired correctly and in the first instance contact the powder coater who completed the work. This is another very good reason to specify Qualicoat and/or a reputable powder coating company so the coater can be identified.
Filiform Corrosion
These next two examples show a form of failure known as filiform corrosion, which is caused by contaminants present in the surface of the aluminium. The correct etching at the time of pre-treatment will avoid this issue.
The location of this project is around the Harbour and the restaurant it belongs to is less than 10 years old. Any cuts in this case a mitred cut on the lower frame horizontal will be the source of any corrosion. It is crucial that all joints are glued and sealed in strict accordance with the system given in the technical manual. The great etching pre-treatment will avail this feature.
This project makes very good use of the various standard colours available. Each perforated panel on the project is held into place with a grey powder coated aluminium frame. Notice how well the shading performs on each window.
Overview
So, the CPD has given you an overview of who Qualicoat is; what the Association achieves; the powder coating process; the rigorous testing regime; the standards; the classes of powder; and how to specify and maintain.
The Shard and a reminder of the importance of getting the specification correct for all our building structures. Advice from Qualicoat members is only an email or a phone call away.
Thank you for listening to and watching our CPD.
Please contact any member of Qualicoat should you have any questions or wish to specify Qualicoat on your next project.