Permeable Resin Bound Paving - Sureset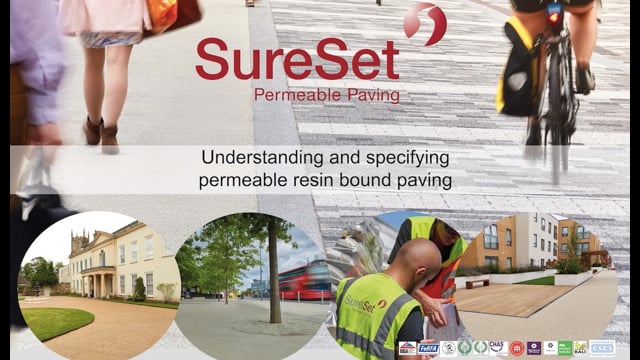 LOGIN OR REGISTER
Once you're logged in you can access all our training modules for free anytime that works for you. Enjoy On Demand CPD Training!
or
Please contact us via contact@construction-cpd.com to get permission to publish this video on your website.
<div style="position: relative!important; width: 100%!important; min-height: 700px; overflow: hidden!important; padding-top: 56.25%!important;"><iframe src="https://www.construction-cpd.com/cpd-external-view?ExternalId=120&ReturnUrl=https://www.construction-cpd.com/permeable-resin-bound-paving-sureset-cpd" style="position: absolute; top: 0; left: 0; bottom: 0; right: 0; width: 100%; height: 100%; min-height: 500px; border: none;" mozallowfullscreen webkitallowfullscreen allowfullscreen></iframe></div>
Permeable Resin Bound paving
Welcome to this online CPD module on Permeable Resin Bound paving, content supplied by Sureset. The module will discuss the properties of permeable resin bound paving, the applications it is suitable for and offer advice on how to specify resin bound paving.
Login to record your CPD points
Since 1997 SureSet has been creating beautiful, long lasting, environmentally friendly paved surfaces, suitable for various applications from rural footpaths, to town centres, and driveways, to access roads.
We specialise exclusively in permeable resin bound paving, installing both residential and commercial projects.
To guide your understanding of SuDS compliant Permeable Resin Bound Paving Systems, this module will cover:
Sustainable Drainage Systems (SuDS)
Selection of Resin Bound Systems
Technical Performance
Types of resin binders
Resin to aggregate ratios
Areas of use
Aggregate Selection
The importance of aggregate selection
Health and Safety
Application methods
British Standards
Slip resistance testing methods
Design Criteria
Resin bonded vs. resin bound
The importance of specialist contractors
And…Inspection, Testing and Aftercare
Resin bound has grown to be a popular alternative paving finish to Tarmac, concrete, block paving, slabs and even clear hot-mix binders.
So, why use resin bound paving?
It is an environmentally friendly surface, where each aggregate particle is fully coated in resin to ensure they bind together, resulting in no loose stone. Voids are left within the surface making the surface permeable to air and water.

The surface is:
Smooth, making it ideal for pushchairs, wheelchairs, bicycles, skateboards etc.
Attractive, making it ideal for regeneration projects.
Durable and hardwearing, making it ideal for areas with heavy traffic such as town centres, and access roads.
Permeable, this makes it ideal for SuDS. It is great for use around trees, with high permeability and low maintenance levels.
Proposed as part of the Flood and Water Management Act 2010, which Has since been watered down (pun intended) by successive governments and white papers.
The requirements for Sustainable urban Drainage Systems (SuDS) was introduced by the Environment Agency in 2011 in an effort to more effectively manage water run-off in order to reduce flooding.
Here are a few ways you can achieve SuDS:
Attenuation tanks,
Retention ponds,
Soakaways,
Surface run offs
And permeable paving.
Even traditional paving systems have evolved.
These advancements include: loose stone and cellular structures, Permeable block paving, Grasscrete systems and permeable paving solutions. As demonstrated in this clip, water is going through open graded asphalt. The high volume of water highlights the true impact and high porosity rates permeable paving can have.
Resin paving meets the requirements of SuDS by preventing the formation of standing water by facilitating rapid drainage. CIRIA, the leading body in SuDS research, states that a permeable surface can remove 60-95% of suspended solids and 70-90% of hydrocarbons.
There are different types of resin surface available.
Resin bonded
Resin bonded is a 2 layered scatter system whereby the resin is sprayed onto the ground and the aggregate is scattered on top. This system can be prone to loose stone, as only one side of the aggregate is attached to the resin surface and is under 5mm thick. The design life for this product is approximately 5-8 years and will cost less to install in comparison to…

Resin bound
Resin bound is a 1-layer system that involves mixing the aggregate and resin together prior to laying. Each stone particle is completely coated allowing them to adhere to one another but still leaving voids for water and air to pass through. Resin bound is laid as a mat (one layer), a thicker surfacing from 16mm, providing a durable long lasting surface with no loose stone, and a design life of around 25 years.
In a high quality resin bound system.

The resin should be:
Crystal clear. As you can see from the image below, it appears just like water.
3-part chemically curing.
The resin should be polyurethane, not epoxy. This is because polyurethane is more flexible, and the properties allow the surface to expand and contract with any freeze thaw action, and cope with a small amount of movement. The resin is derived from a renewable plant source.
For use in an aliphatic system, the hardener (I resin) should be crystal clear, and the resin (P resin) should be a straw like colour.
There are three resin types to be aware of as each has significant differences when UV stability is concerned:
Non-UV, Aromatic resin - Will yellow over time.
Stabilised Aromatic resin – Will yellow over time but at a reduced rate to the first.
UV stable Aliphatic resin – Will Not Yellow.
It is important that you select a resin bound surface that is UV stable. This will ensure that both the aggregate and resin do not yellow with time, even when using a white material.
When using aliphatic polyurethane in a resin bound system, due to the UV stability, the colour will not change. This stability opens up many decorative options for a range of applications. This module will go on to discuss various applications and solutions. Testing and performance of aliphatic polyurethane over time demonstrates how durable this material can be and interestingly enough it's also flexible which helps to cope with any potential frost – the material will expand and contract during the freeze-thaw process.
Aliphatic polyurethane is easy to maintain, with minimal loose stone and provides a smooth surface for wheelchair users, pushchairs and urban skaters.
It is important to have a carefully selected range of colours and materials varying from Natural Gravel to Marble and recycled glass. Blends are graded for each application type to ensure durability. They are all designed in laboratories and tested for purpose.

Most Natural Aggregates, contain gravels and crushed rock, which are mainly buff and tan in colour. The crushed rocks contain other materials including grey and red granite. Marbles quarried outside of the UK consist of varying colours of naturally sourced marble - subtle tones.

Recycled glass is tumbled for safety before colour coating with virtually any colour from the RAL chart.
Aggregate has recently been mixed with recycled rubber tyres to form a perfectly durable surfacing ideal for golf courses etc.
Blends are an important factor to the aggregate selection and are graded to ensure you have the right blend for the application needed. There are three aggregate sizes, 3mm, 6mm and 10mm. Each will have a difference in appearance, their permeability rate and the minimum depth to which they can be installed. Any colours of your client's choice can be fused together. There are many varying material types as well as colours but they may not be available in all sizes – something to bare in mind when researching for specification.
All sizes and material types/colours are designed as either open textured, medium textured or close textured blends.:
Open textured blends tend to be specified for Tree pits, SuDS, soakaways, driveways and walkways.
Medium textured blends are the most popular choice as they generally suit most light vehicular applications.
Close textured blends are for more impact or heavy vehicular use whereas if a vehicle were to turn on the surface area.
All product sample kits will state the vast majority of information required to specify the right material blend for your project.
Resin bound paving, is suitable for all applications, such as access roads, driveways, pathways, schools, tree pits, step treads, bridges, patios and swimming pool surrounds. The ideal base for resin bound paving is a dense asphalt base or concrete base. This can be an existing surface, however it must be free from cracks and undulations. Resin bound should never be installed onto a cracked or damaged sub base. As you can see, the left hand image is an ideal base, and the image on the right, is a definite no. Any surface like the one on the right must be repaired prior to installation.
Typical specification advice for pedestrian and vehicular traffic:
You will require 150-225mm type 1 sub base, followed by a 50mm depth of a close graded asphalt, less than 14mm in aggregate size.
The resin bound surface is then placed on top of the asphalt, at a depth dependant on the aggregate size and application type.
Concrete is a more brittle sub base and whilst it can be used as a sub base for resin bound, precautions should be made – such as reflecting expansion joints and curing periods of new concrete as well as priming.
Cellular base structures are fast becoming popular for SuDS and are proven to be strong and durable.
Type 3, also known as crushed stone is another free draining base option but only suited for light use.
The next few slides will discuss suitable base structures for various application types and will cover specifications.
When installing resin bound onto concrete, the concrete must have been in place to cure for at least seven days prior to the installation of resin bound.
Also, the base must be primed with a dilute PVA seal prior to application and in the event that there are expansion joints in the concrete base, these must always be reflected through to the final surface.
There are various suitable applications for resin bound materials. The three main bases on received specifications tend to be:
Asphalt,
Concrete or
Cellular structures.
Although it is best practice to create a permeable build, in some cases it is just not viable and specifications should be tailored for each scenario. It is possible in some cases to install onto tiles, normally used around swimming pools and also resin bound can also be installed vertically.
For some light and rural pedestrian areas, there is an option to install resin bound directly onto a well-compacted Type 3 crushed stone as a sub base. This is often considered if there is poor access to the desired area or if a less disruptive build was needed - especially in residential and rural locations. You will just need to allow for an increased depth of resin bound of 30mm when using this sub base build up, which may be considered cost effective.
If there is a pedestrian area that will see a considerable amount of pedestrian traffic especially in urban/public places a more substantial base will be required.
This can be achieved by a well compacted Type 3 sub-base at 175mm depth, a 70mm layer of asphalt and an 18mm layer of 6mm resin bound.
Driveways & courtyards have a similar base build up as in urban areas. It might seem surprising but significant volumes of pedestrian traffic can take its toll on paving as much as or even more than vehicular traffic. For Heavier vehicle use such as car parks and access roads, a greater sub base of Type 3 is needed to allow for more regular heavy weight traffic, starting from 300mm.

There are also two asphalt layers to consider:
Road base - a 20mm open grade at 100mm deep
And the binder course of 10mm open graded asphalt at 40mm
Equates to a total of 140mm asphalt before then adding a resin bound layer of 20mm, when using a 6mm aggregate. It is important to follow specifications to ensure the best possible longevity of any surfacing.
As mentioned previously resin bound paving can also be used for installation around trees. There are different options for the base for this application:
Free draining aggregate is the most popular solution
Existing soil
Cellular structures can be used for heavy traffic.
Metal trays can also be used as a base, which enables access to the root ball of the tree without disturbing the resin bound paving.
Tree Pits are typically installed using a 10mm aggregate size for maximum permeability to a 40mm depth on any of the 3 sub-bases:
A Cellular Containment structure,
Tree Sand
Or a Compacted Crushed Stone.
All products are permeable allowing air and water to permeate through the surface, making it ideal for tree pits, and equally a surface suitable for residential use as homeowners can install without the need for planning permission.
A popular recycled base material known as a cellular structure is often used as a sub-base. Suitable for occasional vehicular traffic it is required to be installed onto a prepared and well-compacted Type 3 base of 150mm depth. The Cellular structures can vary but are tested and proven for a 52mm thick structure infilled with loose stone. The resin bound system will need to be installed at a 24mm depth.
Made from recycled plastic, this cellular system is quick and easy to install. They are light to handle and come in manageable sized panels that you clip together. It is then filled with loose gravel and makes a suitable stand-alone paving alternative or great sub-base. It offers a fully permeable build up. Each stone size and application type will determine the overall depth of the material. The most popular aggregate depth is 18mm – this would be for a vehicular application using a 6mm medium textured blend to allow for any wheel turning.
Resin bound has a huge amount of benefits, importantly its durability and UV stability. Due to a wide colour range of UV stable resin it has aesthetic appeal for many decorative applications. It is flexible allowing scope to cope in cold conditions keeping it free from potential frost damage. It is easy to maintain; general sweeping goes a long way! And its smooth finish is ideal for pushchairs, wheelchair and even children's scooters and skates.
Resin bound paving is great for areas where a smooth accessible finish is required; for example, on sloping driveways where you want the appearance of loose gravel without the problem of migrating stone. Depending on the intricacy of the design and the definition required, some installations require permanent metal edging to delineate the design, others are butted against each other or they can be blended together, as this image shows.
Logo matching
Spectrum colours are fantastic when used to recreate logos. The attention to detail achieved is outstanding and often used in school entrance designs, recreating badges for football clubs, public realm settings and regeneration projects.

Flexible edging
As well as straight aluminium edging, there is also a flexible version that can be formed to create detailed curves like this.

MDF
MDF is often installed in situ prior to arrival on site, however, for less intricate designs, you can consider a supply and implementation edging service.
It is imperative to ensure that the base is level prior to commencing installation of formwork; to ensure the best possible finish is achieved.
A permanent edge is required to surround a resin bound surface and can take several forms:
Bricks,
Timber,
Metal or even drainage channels
And existing building structures.
MDF stencils can be used to create bespoke designs. The stencil is cut to shape, laid onto the ground, and gradually areas surrounding the stencil are infilled. Once cured, the remainder of the design can be completed. You can see here, with the Manchester City FC badge, these stencils work with great effect.
Touching on design capabilities and possible design outcomes, here is another example of how aluminium edging is installed. The main thing to remember here is to always allow for a stable edge.
With time, experience will help to increase the amount that an installer can lay in a single day.
Fundamental skills needed to install resin bound
These are the fundamental skills needed to install resin bound:

A Resin Batcher operative
They will implement the quantities of resin required for the project, this machine will then dispense the correct amount of resin required for each batch of materials.
Mixer operative – Do not underestimate the importance of this job, a reliable steady worker who will not cut corners and make mistakes.
Barrow operative
As well as being needed to push a barrow all day, you want this person to keep an eye on the finish of the surface as they will be walking back and forwards to it and will see it from a different perspective.
Raker
Very important to get levels and depths right. A good one can make the floaters life easier!
Floater
A keen eye for detail. Whether it's by hand or power float, what they leave behind is what you will give your customer!
It is an added bonus - if you can use a resin bound surface whereby the supplier has full control of the curing time. The standard curing time is approximately 6 hours, however, in the event that you need emergency access and need to get on to the area quickly after laying, this can be altered. Alternatively, if the design is intricate, and extra working time with the material is required, the curing time can be altered accordingly.
Resin bound paving offers minimal maintenance.
It is recommended that you sweep the areas fortnightly and powerwash every 6 months to a year. As you can see in this video, 15 years of dirt is being removed. Powerwash the surface at a maximum pressure of 150 bar. Chewing gum can also be a concern in public areas and can be easily removed using the freezing method without damaging the resin bound surfacing.
Repairs can easily be completed using the same blend as the original material.
We would advise chiselling out the area and infilling with the same blend as the original material. You can see from the image on the right, the repairs are almost seamless. You can just make out the repairs, where the material is still slightly wet.
St.George's Place in Canterbury is a project installed with the requirement to create a memorable and vibrant pathway throughout a University campus.
As you can see by the design, to achieve the 'Rainbow' effect, bright colours are needed to blend together to create a seamless rainbow. The colours themselves would also have varying percentages of colours, known as Fusion.
The lines of the rainbow were marked out by hand and the colours were blended into one another. Over 36 bespoke colours were created to represent the colours of the rainbow. Each colour was individually hand floated and then blended into the next creating the incredible 'Rainbow' effect on the pathway. Two areas were completed using bespoke colours from the Fusion range. The larger 'eye' shape was completed in the family quarter and another in the communal gardens.
Here we take a look at another case study for the public realm, Kennington Oval
Environmental Aspects of Resin Bound Paving
Now, you know about the installation process and considerations, and the product type and considerations, we will now focus more on the environmental aspects of resin bound paving:
The laying method is a low energy, cold-laid process.
The surfacing is a low emission system using only non-volatile components.
The resin used is from a renewable plant derived source.
At the end of its useful life the product can be reused as an inert aggregate.
It is always best to try and use a sustainable urban drainage system (SuDS) where possible.
Most reputable resin bound companies will offer a guarantee for 10 – 21 years, depending on the supplier. Guarantees demonstrate the confidence suppliers have in their product and their commitment to providing the best solution and product for the greatest value. Resin bound paving Guarantees will normally cover against:
Loose stone,
Cracking,
Oil damage,
Frost damage,
UV degradation,
Colour change,
And workmanship.
A quick summary:
Permeable resin bound paving is currently widely specified by local authorities and architects. It is important to clarify whether you are looking for resin BOUND or resin BONDED. High quality resin systems should consist of a 3-part resin system providing, fully bound material, flexibility, strength, adhesion, and UV stability. Aggregates should be washed, dried, graded and bagged prior to use.
Aggregates are blended specifically for each application ensuring suitability for expected traffic type, ensure you have the correct blend details when specifying. Aim to use companies that include workmanship within their guarantee for the maximum length of time possible. Remember the design life, if you should choose Sureset's peace of mind and quality offering, is 25 years due to the age of the components.
To conclude potential applications, here are some photos of various permeable resin bound projects.
DIY Kits are available for small areas. These kits cover 0.5m² at a 16mm depth, ideal for small areas or repair work.
Trade packs are designed for self-installers, experienced tradesmen or builders to install larger areas of permeable resin bound paving themselves. With sufficient aggregate and resin they can install areas from 30m² at a 18mm depth. Packs are available for aggregates, coloured glass and for Cellular containment structures.
Thank you for your time, I hope you found the content informative.
To complete this CPD module and log your learning, please see the below multiple-choice questionnaire.