Euro cell - CPD video - Part K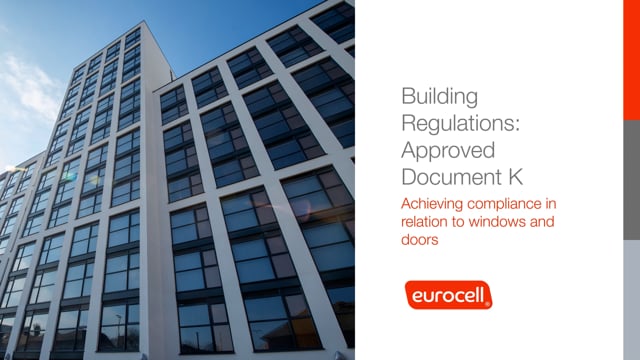 LOGIN OR REGISTER
Once you're logged in you can access all our training modules for free anytime that works for you. Enjoy On Demand CPD Training!
or
Please contact us via contact@construction-cpd.com to get permission to publish this video on your website.
<div style="position: relative!important; width: 100%!important; min-height: 700px; overflow: hidden!important; padding-top: 56.25%!important;"><iframe src="https://www.construction-cpd.com/cpd-external-view?ExternalId=1229&ReturnUrl=https://www.construction-cpd.com/part-k-overview" style="position: absolute; top: 0; left: 0; bottom: 0; right: 0; width: 100%; height: 100%; min-height: 500px; border: none;" mozallowfullscreen webkitallowfullscreen allowfullscreen></iframe></div>
Part K covers a wide range of building elements, including windows and doors, stairways, ramps, ladders and balustrading, as well as vehicle barriers and loading bays.
This CPD, presented by Eurocell, covers Approved Document K and its requirements for PVC windows and glazed doors in England and Wales. It also briefly discusses the requirements in Scotland and Northern Ireland.
How to achieve Part K compliance when specifying windows and glazed doors?
Approved Document K is separated into six parts. This CPD looks at sections K2, K4 and K5:
● K2 is about protection from falling - such as through the use of guarding.
● K4 covers protection against impact with glazing - this includes safe breakage, the use of small panes and permanent screen protection.
● K5 discusses additional provisions for glazing in buildings other than dwellings - such as protection from collision with open windows, manifestation of glazing, safe opening and closing of windows and safe access for cleaning windows.
The presentation also discusses other relevant legislation and standards that must be considered. For example, the The Workplace (Health Safety and Welfare) Regulations cover issues such as prevention of personal injury from falling, as well as the requirements for projecting windows and marking and cleaning transparent or translucent windows and doors. BS 6206, 6262 and 8213-1 also stipulate additional requirements.