Modular Balustrade & Handrail Systems - Q-Railing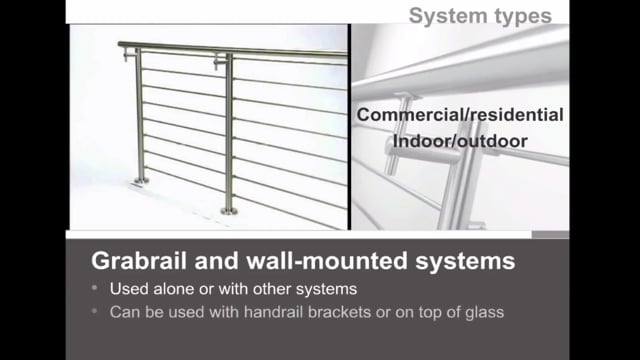 LOGIN OR REGISTER
Once you're logged in you can access all our training modules for free anytime that works for you. Enjoy On Demand CPD Training!
or
Please contact us via contact@construction-cpd.com to get permission to publish this video on your website.
<div style="position: relative!important; width: 100%!important; min-height: 700px; overflow: hidden!important; padding-top: 56.25%!important;"><iframe src="https://www.construction-cpd.com/cpd-external-view?ExternalId=100&ReturnUrl=https://www.construction-cpd.com/modular-balustrade-handrail-systems-cpd" style="position: absolute; top: 0; left: 0; bottom: 0; right: 0; width: 100%; height: 100%; min-height: 500px; border: none;" mozallowfullscreen webkitallowfullscreen allowfullscreen></iframe></div>
About Q-railing
In 1982 a company called Antiqua started manufacturing a wide range of brass bar fittings, with the introduction of a very successful stainless steel modular rating system in 1998, Q-railing was born. With a turnover of around £25,000,000 and over 7 million articles of stock going through our warehouses this year, we have just celebrated the 6th anniversary of our UK branch, the first international branch to be opened outside of Germany.
Login to record your CPD points
We now have 10 offices all round the world and stockists and distributors in nearly every country. The benefit of our modular components is an installation does not require specialist training. Systems can be fixed quickly without the expense and extra work from welding. Our UK branch holds its own stock, works from customers drawings, and has recommended installers. We also provide useful services in competitive time schedules such as bending, polishing, pre-fixing and made to measure glass. With up to 80% of our orders dispatched from our UK warehouse, we can normally deliver your products to you the next day.
Introduction
In this CPD we will see how well engineered stainless steel modular handrail and balustrade systems complement architectural design and function, see how major components of the systems are assembled and installed, understand the importance of quality materials design and testing, examine some of the standards that affect handrails and balustrades, and look at a case study to see how certain on site conditions and design challenges were met.
Modern modular handrail and balustrade systems are stylish, contemporary, and functional. Creating a railing system is about the balance between functional design and affordability. There are many different rating systems to choose from depending on what purpose they serve, whether it be a simple handrail, a staircase balustrade or perhaps an architectural feature.
Types of handrail designs
There are many types of designs available the main types are posted systems, frameless systems, grabrail and wall mounted systems. The most popular and economical system is a post and clamp combination although tension wires or horizontal bars could easily be used instead. Glass clamps can be used on different thicknesses of glass Perspex or metal panels over, an expanse of up to about 1.5 metres.
The clamp comes in two pieces, the post is drilled and tapped, and the base side is screwed onto the post, next insert the rubber inlay, position the glass panel and secure in place by screwing on the face of the clamp, cover caps can be used to disguise the screw holes.
Frameless systems are completely balustrade free. The glass is slotted into an aluminium shoe and securely dry fixed with rubbers or wedges. There are based channel options for top mounting or side mounting, and these are suitable for balconies, metsoneen floors and staircases. The channel can be used with mono or laminated glass and is very easy to install. Normally the glass is finished off with a protecting handrail, however it is possible to install without a handrail as long as building standards are adhered to. As a predominantly gas system is practically invisible, which can be desirable for some projects. The side mounted system is made from sections, to begin position the fixing plate and secured to the wall, in four simple steps the channel can be mounted. A. Slide on the aluminium profile and secure, the screw hole can be hidden with the cover plate. B. Attach rubber strips to the base of the glass and slide into the aluminium shoe. C. Push the security wedges in at intervals. D. Insert the rubber gasket into the channel. For a professional finish use a black sealant along the edge.
About handrails
Handrails are the most useful item as they are needed everywhere and, with just about every system. They can be fitted directly to a wall, a glass panel, a post with handrail brackets, or a cap rail that slides onto the top of the glass with a rubber insert. Various options at wall flanges, end caps and corner pieces can be used to create the right look.
To fix the bracket two opposed drill and tap the post and screw on the base of the handrail bracket. Attached the horizontal spacer and secure. The saddle slides into the insert at the end of the length and can be fixed at the required position. Lastly the handrail can be secured on top.
Each component is made to the highest standards with a precise tolerance to insure a tight fit. This makes sure the high strength adhesive used in manufacture, creates a secure chemical bond, because they are modular systems are easy to install and, some manufacturers will provide recommended installers who are fully trained to install specific systems.
It is now possible to have your handrail shaped to meet your needs. This includes 2D for balustrades, 3D often used on spiral staircases and mandrel bending to form angles. Both solid round handrails and slotted or glass channel handrails can be bent using these processes. You can also create curved wooden handrails with bendable wood, this is so flexible it can be bent on site, by hand or with basic tools.
Stainless Steel
Stainless steel is a generic term for a product that contains a wide range of steel types and grades, for corrosion or oxidation resistant applications. Stainless steels are iron alloys with a minimum of 10.5% chromium. Other elements are added to enhance their structure and properties, such as formability, strength and cryogenic toughness. These include metals such as nickel, molybdenum, titanium, copper, non-metal additions are also made, the main ones being carbon, nitrogen. The main requirement for stainless steels is that they should be corrosion resistant for a specified application or environment. The selection of a particular type and grade of stainless steel must initially meet the corrosion resistance requirements. Additional mechanical or physical properties may also need to be considered to achieve the overall service performance requirements.
Stainless steel is usually divided into five types, Ferritic, these deals are based on chromium with small amounts of carbon usually less than 0.1%. Austenitic, these steels are the most common and have a characteristic combination of weldability and formability. Martensitic, these steels are similar to ferritic steels in being based on chromium but have higher carbon levels, up as high as 1%. Duplex, these steels have a microstructure which is approximately 50% ferritic and 50% austenitic, this gives him a higher strength than either ferritic or austenitic steels. Precipitation hardening PH these steals can develop very high strength by adding elements such as copper, niobium, and aluminium to the steel. There are over 150 grades of stainless steel of which 15 are most commonly used. They are described as a number for example, grade 316, 304 and 2205 as set out in the British standard BS970.
Grade 304 is a standard 18 8 a typical composition of 18% chromium and 8% nickel stainless steel. It is the most versatile and most widely used stainless steel and, is available in a wider range of products forms and finishes and any other. It has excellent forming and welding characteristics. Grade 316 is the standard molybdenum bearing grade 2nd in importance to 304 amongst the austenitic stainless steels. The molybdenum gives 316 better overall corrosion resistant properties than grade 304, particularly higher resistance to pitting and crevice corrosion in chloride environments. It also has excellent forming and welding characteristics. Its recommended for outdoor use as is tougher composition gives better resistance to harsher environments. Grade 2205 is the most widely used duplex meaning, ferritic and austenitic stainless steel grade. Having excellent high strength, it has even more resistance against salt, chlorine and pollution and is recommended for harsh environments.
Stainless steel is stainless but not corrosion proof as is commonly thought. Tea staining can occur if stainless steel is not been cleaned and maintained properly, but this is superficial and can be reversed with a specialist cleaner that strips back the surface and renews the passive layer that protects the metal.
A guide to applications and resistance against staining
Here is a guide to the types of applications and resistance against staining for 304, 316 and 2205 grades. Surface finishes play an important part in the corrosion resistance of stainless steel. On the same grade of stainless steel rougher mat or brushed surfaces have shown significant differences in corrosion resistance. BE EN 10088 stainless steels gives detailed standards on many aspects of stainless steel, including surface finishes, types and grades. An excellent resource for stainless steel is the British stainless steel Association website at www.bssa.org.uk. Using 316 polish can offer a solution for harsh environments outdoors. The smooth finish helps prevent dirt and salt particles, that cause tea staining from collecting on the surface. With any surface finish central to invest in highly designed, precision engineered, quality stainless steel systems and, ensure the surfaces are maintained on a regular basis.
Whilst stainless steel is a tough and durable material that will last a lifetime if properly cared for and maintained, it is prone to damage, especially during transportation. Adequate packaging and dew care is always required. Protection of newly installed handrails is never more important than during installation, especially whilst other trades are operating nearby. Contamination at the construction phase may appear harmless but is often the cause of tea staining and discoloration later. The proximity to welding is a major hazard, as is impact damage and surface abrasions. Some manufacturers provide protective sheeting to use during construction and installation, which is highly recommended during such a crucial phase.
Glass balustrades from reputable companies make sure their components are subject to rigorous testing, as specified under EN 12600:2002 glass in buildings. This specifies a pendulum impact test method for single flat panes of glass for use in buildings. Other international test certificates include the German ABZ from the DIBT Federal Bureau and the ETB directives.
Recycled stainless steel
The amount of recycled stainless steel in any stainless object is approximately 60%. This will increase however as stainless steel produced today will not necessarily be recycled for 20 to 30 years. Stainless steel is 100% recyclable, its long term life making it an ideal environmental performer, far better than many other materials. Stainless steel products are designed to have a long life, often spanning over several decades. This longevity is often the reason for choosing stainless steel in the first place. When the end of a products life is reached, this does not mean that the stainless steel is not useful as a recyclable product. The main alloying elements of stainless steel, chromium, nickel and molybdenum are all highly valuable and can easily be recovered from other materials. If scrap stainless steel still finds its way into disposal sites unlike many other, metals it will have no damaging effects on the soil and water. Stainless steel is made up of 25% old scrap, such as end of life products, 35% knew scrap returning from production and, 40% knew raw materials.
Suffolk one - case study
The Suffolk one project was to create a brand new flagship Learning Centre for 16 to 19 year olds. There were two parts in the project the internal staircases and the landing balustrade. Originally a different company's product was specified by the architect. However, it was decided to install Q-railings quick rail because of its ease of installation, its availability and because it does not need to be installed exclusively by the manufacturing company. Quick rail has test data for loadings of up to 1.5 kilonewtons. This is sufficient for everyday use but because of its location at the primary use being with young adults are loading of 3 killer newtons was deemed necessary. This is specified in the BS63991:1996 code of practice for dead and imposed loads. The main reason that this system is not suitable for a 3 kilonewton load is because it is constructed from aluminium instead of stainless steel. Keith Tindall from Anting discussed different options with our UK sales team, and the head offices product development manager in Germany. There were two main solutions either, change parts of the posts to a more robust type of aluminium or, substitute parts of the uprights to stainless steel. This second option was the simplest and most cost effective.
Q-railings like to work alongside project managers, architects and contractors when developing products, so that they can provide the best solutions with their systems. For this reason, Keith Tindall was invited over to Germany to discuss with the technical team the possibilities of producing a new range of 3 kilonewtons products.
Summary
So, in summary:
We've seen how modular balustrades and handrail systems can add a visually stunning and highly practical addition to any project.
We've looked at the 3 main system types and how they are assembled.
We've seen how different systems component parts can be interchangeable to give flexibility in design and even achieve non-standard free form curves.
We looked at the manufacturing qualities of stainless steel and the standards that are important to his performance.
We've looked at the importance of quality in manufacture, transportation, assembly on site and safety testing.
And finally, we've seen that balustrade and handrails had real benefits for sustainability.
Thank you for listening.