Procuring Sustainable Timber - Wood Campus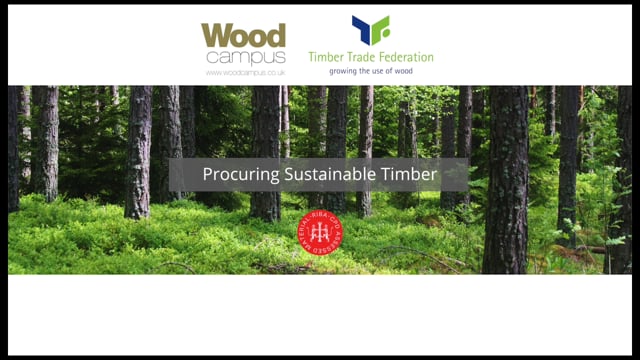 LOGIN OR REGISTER
Once you're logged in you can access all our training modules for free anytime that works for you. Enjoy On Demand CPD Training!
or
Please contact us via contact@construction-cpd.com to get permission to publish this video on your website.
<div style="position: relative!important; width: 100%!important; min-height: 700px; overflow: hidden!important; padding-top: 56.25%!important;"><iframe src="https://www.construction-cpd.com/cpd-external-view?ExternalId=78&ReturnUrl=https://www.construction-cpd.com/forest-legality-procuring-sustainable-timber-cpd" style="position: absolute; top: 0; left: 0; bottom: 0; right: 0; width: 100%; height: 100%; min-height: 500px; border: none;" mozallowfullscreen webkitallowfullscreen allowfullscreen></iframe></div>
Hi I'm Dave Hopkins. I'm the managing director of the timber trade Federation in the UK. I'm going to walk you through an online CPD module accredited by RIBA, about sustainable timber procurement. The timber industry has always had a very strong sense of responsibility towards the forests that produce our goods.
In Europe the Forests are Growing
If you look around the world at areas that have a very strong sustainable timber industry, you will see that those areas particularly in Europe the forests are growing. But this is only true if we maintain a very strict sense of discipline, over the sustainable timber procurement policies, that we have and that we implement. This course will provide you with a strong understanding and awareness of forest legality and sustainability issues, an understanding about the role of certification, an awareness of the legal requirements that you're expected to meet, an awareness of the UK government procurement requirements and, an understanding of how to specify an procure legal and sustainable timber. This is an accredited RIBA CPD module, if you want to get your CPD points please log on to woodcampus.co.uk and sign up to receive your CPD certificate.
Login to record your CPD points
Benefits of Timber
Timber has some incredible environmental properties; from a sustainability point of view it outstrips virtually all other competitive materials in the building sector. Its renewable it's low carbon and it has incredible life cycle assessment properties. You can see timber is a renewable resource, that means we replant the trees that we take from the forest. Over 90% of the timber used in UK now comes from Europe where more trees are grown than are harvested. Timber isn't inherently low carbon material trees absorb carbon dioxide as they grow, storing it as wood. Timber products can save over a tonne of carbon dioxide per cubic meter when used instead of building materials such as concrete or brick. Timber has an incredibly low impact on the environment it takes very little more than sunlight and water to grow a tree with no inputs of polluting chemicals.
It takes very little energy than to produce timber goods of an equal building performance value to other materials. To see a full range of the life cycle impacts of timber products please log on to woodforgood.com and see our life cycle database. But all of these benefits of using timber are only realised if you are using timber from sustainable sources and maintaining a strict sustainable timber procurement policy, that's what this course is about. For a better explanation of seeing the benefits of timber in construction, please look at this video of architect Andrew Waugh, explaining why he has moved to only using timber in all of his projects.
Waugh Thistleton Architects - Timber Use
Hi, I'm Andrew Ward from Waugh Thistleton architects. We do a lot of work in timber construction in our practice. Two real issues that are facing humanity globally, are climate change global warming and population .7 billion people twice what it was when I was born the only solution for that for that increasing population is to build denser compact cities with tall buildings and those buildings need to be built from timber.
Trees as they grow they store carbon dioxide they're storing the carbon dioxide, they're storing the carbon within the body of the timber, so there soaking up carbon dioxide from the atmosphere, releasing oxygen into the atmosphere and storing carbon and then we cut down these trees and we use these trees in our buildings, these trees are or an active carbon store. A cubic metre of timber stores a ton of carbon dioxide. Concrete is the 20th century the century before it is all about steel is the Eiffel Tower it was Chicago skyscrapers, then you can see how that technology then moved into concrete, at the beginning of the 20th century and how now what we're doing here is taking timber into the 21st century. The temperate forests that we have at the moment whether there in North America and Canada, Scandinavia, they're all growing they are increasing in size at the moment so, we have this fantastic replenish full natural resource that we can use to build our buildings with, to build our cities with.
Benefits of Sustainable Timber Procurement
There are of course numerous benefits to implementing a sustainable timber procurement policy. It's not just about the trees it's not just about the forests, it's about the benefits to your business. We've listed some of those onscreen we have the rest of this module will talk you through some of those benefits and how you can make use of them.
Forest Legality and Sustainabilty
Of course, the main reason for implementing a sustainable timber procurement policy, is to make sure that we play our part in maintaining forest cover here and around the world. This is the second section of our CPD about forest legality and sustainability.
Of course, all of us remember the big news about deforestation in the 1980s. Many people now are asking is deforestation still an issue, is illegal timber still a threat and what is sustainable forest management.
Deforestation
If we look at deforestation you can see some major global problem. The United Nations estimates that roughly 7 million hectares of tropical forests are lost each year. This is an area over four times the size of Wales.
When we look at the reasons why, you can see that agriculture is the most significant driver of global deforestation. As our graph shows deforestation is still a problem, mainly though confined to tropical areas. If you look over the years, deforestation has been a major driver in tropical forests, whereas in temperate areas the forest have actually been growing, particularly in Europe and North America.
There is a threat that this illegally felled timber can make its way into our timber supply chains, in Europe in the UK and elsewhere in the world, but that threat can be removed by following sustainable timber procurement procedures.
Sustainable Forest Management
When we look at sustainable forest management and ask what that actually means, we can see from the screen here, that it aims to address deforestation forest, degradation and increased benefits to the people and the economies and the environments, in which they operate. It should be socially beneficial providing decent employment, decent living wages, and health and safety equipment for all those working within it. It needs to be environmentally viable providing carbon sequestration as well as wider ecosystem services for the people and the forests around. It needs to be economically viable providing income generation and sufficient returns to be able to invest in future production, future generations of people and forests.
Threat to Supply Chains
So, we can see that illegal logging is still a major problem and a major threat to the world's forests.
This diagram shows the proportion of the world's timber trade that the WWF estimates comes from illegal sources. It poses a huge problem to the people and the wildlife that depend on those forests for their livelihood.
Why is illegal Timber still traded?
One of the main problems is that many countries lack the appropriate policies, the legislation, the institutional frameworks and the legal incentives to promote sustainable forest management.
Other land uses such as agriculture, mining can appear more attractive in the short term, and can provide more and quicker returns for the people living there. The timber Trade Federation is working with the department for International Development, to share best practice and promote governance in developing countries around the world.
Valuing the Forest
Ultimately our aim is to move towards a system of valuing the forests for the goods that they can produce. We want to introduce sustainable forest management, to achieve long term value from the forests. Valuing them for their timber means greater investment in replanting and sustainability. Certificates and schemes which is one of the areas we're going to be addressing in this module, aimed to make it easier to procure legal and sustainable timber. Ultimately a forest that pays is a forest that stays. Supporting sustainable timber trade can lead to far greater investment in forest management and greater growth of the world's forests. That's why sustainable timber procurement policies are so important.
How much of the world's forests are actually managed sustainably?
The great majority of forests in Europe, Canada and North America are managed sustainably and provide the bulk of the goods for the UK market. But many forests as we've seen earlier are shrinking specially in the tropics.
How do you know that the products you're buying have come from a sustainable source? Well worldwide there are a number of forest certification schemes operating. They help to encourage sustainable forest management. The most recent development has been in something called FLEG T, a process we're going to learn about later in this module. But the most visible means for specifies and consumers to identify products from sustainable sources is through the use of mainstream certification schemes.
FSC / PEFC Certification Chart
This graph shows the area of forests covered by the two main certification schemes PEFC and FSC and each of the continents around the world.
Certification
So, moving on to the third section of this module, Certification. Certification schemes play a key role in identifying sustainable timber products, but what is certification? What schemes exist? What are recognised by the UK government procurement rules? And what are the principles behind each of these main schemes?
Certification is essentially a process that results in a written statement or a certificate that shows the origin of the wood coming from a sustainably managed source. There are two forms of certification. One to cover forest management to prove that the forest itself has been managed in a sustainable manner and according to sustainable criteria. The second form is a chain of custody certification, this covers the goods on leaving the forest through every step of the supply chain until they enter the market. Having those certificates in place means that your customers, your buyers can easily identify the fact that their goods come from legal and sustainable sources. In turn this means that you can better manage the risk in your supply chains, and you can show your customers your project partners that you have managed those risks on their behalf.
Within forestry and timber certification there are two main brand names that operate globally, The Forest Stewardship Council or FSC and the Program for the Endorsement of Forest Certification, PEFC.
10 main principles of forest stewardship
The FSC very well-known brand has developed its own standards for forest management and certification. You can see them here, there are 10 main principles of forest stewardship. PEFC works by endorsing National Forest certification schemes, and then judging them against its own standards. To see what those standards are we can click here.
PEFC's 7 Criteria for Forest Management Requirements (PEFC ST1003:2010)
Both FSC and PEFC impose very strict standards and very strict criteria for forest management and chain of custody certification. Both are recognised as equal under the UK timber procurement policy. You can watch this video to learn more about PEFC certification.
What is Chain of Custody Certification?
Well as we've seen, it's a mechanism for tracking the certified material from the forest through all of the stages of the supply chain, processing, distribution right through to the final product and the final consumer. So why do we need chain of custody certification?
Well once a product has left the forest, it can go through many different stages before it reaches its final customer.
Chain of custody certification provides traceability a tracking mechanism to reassure the end user that what they are buying has come from a sustainable source. Secondly chain of custody certification demonstrates compliance with public and private procurement policies as we'll see later in this module a number of different procurement policies exist, which states that those end users will only buy goods from certified sources. Thirdly, chain of custody provides reassurance to your customers to your end users that what they are buying is made from legal and sustainable sources. You are not allowed to use the labels of PEFC or FSC on your goods unless you have chain of custody certification and your customers know that.
Controlled Timber
So how is this actually done? Well the certification companies will audit your timber supplier, to make sure that they have systems in place to identify the certified timber and keep it segregated throughout its processing and distribution. In some instances, both FSC and PEFC allow suppliers to use a percentage of what is known as controlled timber. To learn more about control timber we can click here.
What are the three main types of chain of custody certification?
In addition to simply having timber products certified, there are no schemes in place to have an entire project certified. Your building, your building project can have project chain of custody. To learn more about FC project chain of custody we can watch this video.
Carpentry
I was the annoying grandchild was like a hammer now with my grandad, like under his feet when he's trying to build stuff. The reason why I got into carpentry was cause of the fine work to it. Every single piece of wood in this building is FSC certified. I've been working on this project for over a year now.
5 Broadgate
We are on site at 5 Broadgate which is located in the Broadgate estate to the North of the City of London and sits on the doorstep of Liverpool Street station. 5 Broadgate will provide 700,000 square feet grade A office space. This might seem surprising for a building, which on the surface appears to be constructed solely of glass and stainless steel, but in fact the construction of 5 Broadgate and the fabric of it required over 1200 cubic metres of timber. Every single wooden element has FSC certification and is thus traceable and responsibly sourced. That's 100% of the timber in the building and I'm pleased to say that the building has achieved BREEAM excellent.
On our larger projects we aim to achieve FSC project certification. The additional level of assurance that this provides us underpins our sustainability goals and ensures that we meet the highest standards possible. Timber has been used in many guises and 5 Broadgate from ornamental such as Eki tropical hardwood, to practical such as large volumes of timber in the carcass and during the construction process. With huge quantities of MDF and plywood every single plank, board and panel is FSC certified. All the companies who have taken part in this project including ourselves, Make, Mace and The Tray contractors strongly believe that using responsibly sourced timber is not a novelty with its benefits, in terms of the ethical, social, environmental and economic activity. Projects such as this are a real example around the world, the UK the world leader when it comes to putting certification with more than half the projects to date, being in the UK. So, this is example not just for UK companies but to companies around the world that this can be done at such a great scale. The way FSC certification works, every link in the supply chain from the forest through to sawmill, to manufacturer needs to be independently audited for the chain of custody to be intact. People tend to think about FSC being environmental label, they're not surprised that trees were harvested by the replacer allowed to regenerate naturally that rare plants and animals are protected. What's less well known is the social aspect of FSC. For a forest to be FSC certified before machines local workers, they must provide health and safety equipment, pay a decent wage and often enhance the local community. We always encourage people to look for the logo in their shopping. This takes into a whole new level with the choices you can make. What's really great about this project is that Maze and British land so FSC, are not just as a nice to have but other must and that again is a great example to other companies. It's great for workers in this country as well as the countries where the wood actually comes from. I know the timber which I'm using comes from a forest as good as their photos.
In this fourth section of the module, we can look at what are the legal and UK Government procurement requirements for sustainable timber, including that of the European timber regulation.
The main legal requirement acting on the entire timber sector is the European timber regulation. The European timber regulation was brought in in 2013 with the intention of stamping out illegal logging and illegally harvested material from entering the European supply chain.
Due Diligence
It places an obligation on all importers and traders to rely on systems of due diligence, in order to risk assess the products that they are buying. The European timber regulation applies to all timber being traded in the European market, that includes goods being placed on the market from European sawmills, and those goods being imported from outside of Europe. The main players in the market will have to do the most to comply with the European timber regulation are what as known as operators. These are principle importers with first places on the market. All operators must show that they have a robust due diligence system in place. They must conduct due diligence on all of their purchases and all goods operating in their supply chain before making their purchases. The due diligence system which will have to be shown to any competent authority or auditor, shows that they have access to information on the volume, the species, the scientific name, country of harvest, region of harvest and concession of harvest, of all of the goods that they're trading. It shows that they've got the name and the contact details of all the suppliers, that they have complied with all the applicable forest legislation, in the country of harvest. It shows that they've done a risk assessment on all of the information that they're presenting. It shows that where they have identified a risk within their supply chain, they have put risk mitigation measures in place. In short, all operators must prove that their products have a negligible risk. If you are merely trading timber products within the EU, the restrictions from the European timber regulation are far less onerous. If you're a trader buying or selling timber products in the EU, you have to be able to identify who you bought the timber products from and who you are selling those timber products to. That information has to be kept on record for at least five years and be provided for checks if you were audited by the competent authority in your country. If you're an architect or specifier you should be making sure that you only buy timber from companies that have a very robust due diligence process in place, such as members of the timber trade Federation.
Responsible Purchasing Process
All timber trade Federation members are required to have a due diligence process in place called the responsible purchasing process. This has been designed in line with the needs of the European timber regulation. The UK has of course voted to leave the European Union. However, we haven't voted to leave the European timber regulation. It remains part of the law in the UK and the Timber Trade Federation is lobbying hard to make sure that we keep the European timber regulation here. It's a good, it's a flexible piece of business regulation that allows us to control our supply chains and make sure that the goods that you buy come from risk managed legal and sustainable sources only. You can learn more about the European timber regulation by looking at www.gov.uk or, clicking through on the links from this module on the wood campus.co.uk website.
Government Requirements
Now we move on from the legal requirements of the European timber regulation to the requirements of the UK government's procurement policy. The UK was one of the first countries to introduce a timber procurement policy, at something for which we should be rightly proud. The timber procurement policy is mandatory for all central government departments, the executive agencies of the government and the non-part departmental public bodies.
Other organisations such as universities and local authorities have also been encouraged to take up their timber procurement policy, and it also formed the basis of many of the policies that have now been adopted by larger contractors, house builders and other big players in the market. All of the devolved administrations have similar policies in place it's very useful for all specifiers to understand the requirements of the UK timber procurement policy. The timber procurement policy covers a wide area of government procurement, construction, furniture and interior design and all paper and paper products.
The UK timber procurement policy requires all suppliers to provide evidence that what they are supplying comes from sustainable sources. The policy states that you could use either category B or category B evidence.
Category A evidence
Category A evidence is probably the simplest way to comply. For this you would need documentary evidence of a full PEFC or FSC chain of custody certificate, or proof that your timber carries a FLEGT license. For more information on the FLEGT licenses please look at the EU FLEGT website.
For more information or to get a full list of FSC or PEFC license holders, please look on the FSC and PEFC websites. If you're supplying timber from an uncertified forest or timber from a forest which is certified but which does not carry the chain of custody certification, the timber procurement policy accepts what is known as category B evidence.
Category B evidence
Category B evidence requires the supplier to show that the legality sustainability criteria have been met in the forest and that you have a traceability system throughout your supply chain. The timber trade Federation can offer help and advice to suppliers and buyers alike, and the timber trade federations responsible purchasing policy can be used to provide the sorts of evidence needed in category B. So how is category B evidence verified? You can have first party verification where suppliers check themselves, through what is known as a supplier declaration. You can have second party verification when customers can audit or check their own suppliers and 3rd party verification when an independent organisation checked the supplier.
All timber trade Federation members are third party audited by the Soil Association an official monitoring organization of the European timber regulation. To meet the needs of category B evidence is handy to have a checklist of all the things that you will need. That includes supply chain information showing the description and location of the sources you bought from, the procedures for controlling mixing or substitution, how this is all checked and the evidence that you have available. You'll need information on the forest sources and the legality of those forest sources, you'll need to prove that the organization that felled the trees has a legal right to use the forest, that it complies with all local and national laws, that it pays all of its taxes in the country that it operates, and that it respects all other environmental requirements. You'll need to be able to demonstrate information on the sustainability of the forest management, and it minimises harm to the forest and the ecosystem around it. That it maintains forest productivity, that ensures ecosystem health and vitality, and that it maintains biodiversity and social criteria of the people living and working in the forest.
For companies supplying UK grown timber from smaller Woodlands the Forestry Commission has developed guidance on how to prove compliance with the sustainability criteria. Forests with the UK forestry standard compliant forest management plan already comply with the timber procurement policy. A simplified protocol is also being developed for smaller Woodlands based on the UK forestry standard and the English Woodland grant scheme. For more information on those look at the Forestry Commission website. For any further questions about the UK timber procurement policy or any other aspect of timber procurement, please contact the timber trade Federation.
Specfying Sustainble Timber
Welcome to Section 5 we've looked at all of the different aspects related to sustainable timber procurement. This section is looking at how we now do that in practice. What are the requirements of the jobs that you are looking at? What are the choices of species and products available to you? How do you actually go about putting that procurement process into practice?
The first step of any job is to establish the criteria the sustainability requirements do you need to comply with the UK government timber procurement policy. Do you need chain of custody certification for your customer? And do you need to comply say with build UK or another private contractors' requirements? You also need to look at what timber is required for the job? What technical or aesthetic properties are required of the timber and could you use alternative timber products or species to meet that sustainable sourcing requirement? It may be that a technical manual will guide you towards a particular tropical species for any particular job. Could you look then and say well that would be too much of a high risk species for me to fit within the sustainability criteria of your procurement process, but I can offer you alternative products and alternative species.
How much time do you need to plan before ordering your goods? Timber products coming from all over the world less subject to other variables within global markets, shipping issues harvesting rights, weather. Not all of your merchants, not all of your suppliers will be carrying a large stock of all products. Always check with your supplier what products are in stock and whether they have the species you need and what the lead time is before you commit to one species or another species.
Finally, always make use of the knowledge of your specialist timber supplier. Search the timber trade Federation database for a list of our members and always ask them for their advice.
So why should you buy from a member of the Timber Trade Federation?
TTF Members
Members of the TTF are committed to sourcing products with the highest environmental credentials and from legal and sustainable sources. It's mandatory for all TTF members to comply with our responsible purchasing policy (RPP). This is a due diligence framework and a set of tools to help them assess the risk of their products and their suppliers and minimised the risk of illegal timber entering their supply chain.
The tools have been designed to align with the needs of the EU TR. It supports all of our members and promoting good procurement policies to customers. Increasingly we're saying that our members are turning to certified products to meet their due diligence requirements. The RPP is complementary to certification schemes, it gives a second layer of confidence for all of the market.
In short buying from TTF members gives assurance that all due diligence has been conducted on all of their timber products. If you want to be sure of your purchases just look for the logo and ask for TTF member.
Procurement Requirements
Before choosing your timber supplier always look and see what the procurement requirements are. Ensure your supplier has got a robust due diligence system in place, for example the responsible purchasing policy of the timber trade Federation. Make sure your supplier can provide category A evidence such as PEFC or FSC chain of custody certification or a FLEG T licence for their products, or established full category B evidence from your supplier. Make sure that you have copies of all the relevant paperwork in your possession. If you're working on a very large project, why not talk to FSC or PEFC about getting full chain of custody project certification. For other projects where the client isn't subject to the UKs timber procurement policy, always ensure the full due diligence has been conducted across the entire supply chain, in compliance with the European timber regulation, and always talk to a member of the timber trade Federation or seek specialist advice about your supplies. If you are working on a government project subject to the rules of the timber procurement policy, it's important that all of the wording from that policy is then embedded into your procurement strategies and your procurement proposals that you send out to suppliers.
Here are six points copied directly from the government's website showing you how you can build these six points into your contracts
For a full description of the UK's timber procurement policy, search for the timber procurement policy on the governments gov.uk website. To put all this learning into practice and to receive your CPD certificate, log on to wouldcampus.co.uk and complete the self-assessment module.
Thanks for watching I hope you found this very useful. If you'd like more information or more RIBA CPD courses on timber and timber products, please log on to woodcampus.co.uk.
Thank you.