Specify Underfloor Heating with Confidence - ARDEX UK Ltd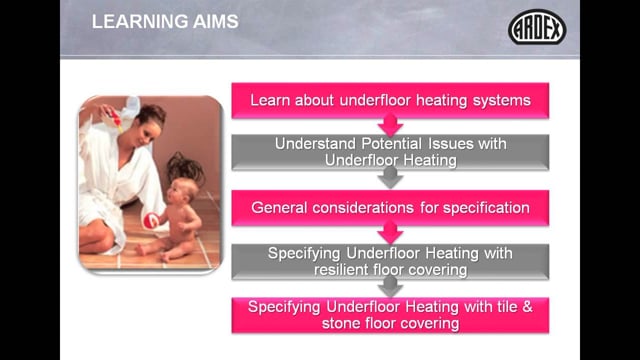 LOGIN OR REGISTER
Once you're logged in you can access all our training modules for free anytime that works for you. Enjoy On Demand CPD Training!
or
Please contact us via contact@construction-cpd.com to get permission to publish this video on your website.
<div style="position: relative!important; width: 100%!important; min-height: 700px; overflow: hidden!important; padding-top: 56.25%!important;"><iframe src="https://www.construction-cpd.com/cpd-external-view?ExternalId=91&ReturnUrl=https://www.construction-cpd.com/considerations-for-specifying-underfloor-heating-cpd" style="position: absolute; top: 0; left: 0; bottom: 0; right: 0; width: 100%; height: 100%; min-height: 500px; border: none;" mozallowfullscreen webkitallowfullscreen allowfullscreen></iframe></div>
Specify Underfloor Heating with Confidence.
This CPD seminar aims to enable listeners to make informed choices when specifying underfloor heating systems by considering the potential issues associated with the screed and or the floor covering. With this in mind the seminar intends to help you to learn about the different underfloor heating systems and their features and best use. Understand the potential issues associated with the specification of underfloor heating. Take account of the key consideration areas for specifying underfloor heating in order to tackle the potential problems. Learn about key watchpoints when specifying underfloor heating with resilient floor covering. Learn about key watchpoints when specifying underfloor heating with tile and stone floor covering. We'll also share with some of our project experiences to demonstrate these key learning points. We hope that after this CPD you'll gain confidence in specifying the appropriate solutions for the installation of underfloor heating in most situations.
Login to record your CPD points
Ardex UK Ltd History
Before commencing the CPD we'd just like to give you a brief overview of Ardex as a company. Ardex group is one of world's leading suppliers of high performance specialist building materials. Ardex group employs approximately 2020 employees across 69 sites and has global sales in excess of 510 million euro. For more than 60 years Ardex UK has been a quality leader for the flooring and tiling industries, servicing the market from its manufacturing base in Haverhill's Suffolk. Ardex's continuous efforts in market shaping innovations and the application of the latest stringent quality assurance procedures have made it the brand choice for quality and reliability. Furthermore sustainability underpins all Ardex activities.
All new products are formulated to achieve greater coverage so that less product is required during installation. Continuous consideration is given to the sources of raw materials used and energy saving in operation. Ardex is proud to provide customers with quality products and a strong Technical Support network. Our guiding principle is to achieve excellence in all that we do no matter how big or small the job.
Ardex works closely with a number of industry associations such as The Tile Association, The British Adhesives and Sealants Association, The Stone Federation and the Contract Flooring Association to promote professionalism technical standards and best practice. Within the tiling industry when specifying Ardex you can rely on our expert team for ongoing support at every stage of the process. From rapid response, to specification writing, to installation visits and on site testing.
British standard clauses provide best practice guidance and support for your flooring specification and we regularly partner with complementary product manufacturers, to provide project warranties. Our purpose built training facility enables us to bring all parties involved in an Ardex specification together, from the client through to the main or subcontractors ensuring total confidence in the specification and subsequent onsite application.
The online Ardex CPD Academy is a central tool in the specification process allowing you to earn CPD points by taking one of our RIBA approved CPD seminars online. Technical guidance product information and project case studies are also available for download.
Ardex products have been successfully specified on projects incorporating underfloor heating systems. Ardex have a range of flooring screeds levelling and smoothing compounds and tile adhesives and grouts specifically designed for fast track flooring installations with underfloor heating systems which will minimise project construction time and ensure a perfect floor finish.
Ardex flooring and tiling products incorporating the unique rapid dry formula technology, have controlled drying and hardening properties, allowing both the product to be walked upon and the installation of the final floor covering to be completed in the shortest possible time.
Specification and Installation of Underfloor Heating Systems
The seminar today will cover these key consideration areas related to:
The specification and installation of underfloor heating systems.
The different underfloor heating systems and their features and best usage.
The potential issues associated with underfloor heating.
General considerations for specifying underfloor heating in order to prevent the potential problems.
Key watchpoints when specifying underfloor heating with resilient floor covering.
Key watch points when specifying underfloor heating with tile and stone floor covering.
Underfoor Heating Systems
Traditionally underfloor heating has been perceived as an exclusive commodity. However recent technological advances have led to a steady increase in its accessibility and popularity. Underfloor heating provides cost effective comfortable and unobtrusive heating in millions of properties throughout Europe and is rapidly becoming a mainstream heating choice in the UK. Designers and specifiers are constantly looking to adhere to new tighter energy efficiency regulations. The race to become energy efficient is a key driver for the popularity of underfloor heating, especially in new build markets as low carbon legislation is introduced. In the future new build will be the greatest growth area in underfloor heating as further legislation is introduced and the pressure to achieve 0 carbon buildings and homes intensifies.
Without radiators there's more usable space in a room and it gives designers more freedom in the design scope. The installation cost of underfloor heating in new build is comparable to a standard radiator system but it can provide greater energy efficiency compared to traditional space heating. The running costs are relatively low. Underfloor heating adds a luxurious comfort factor which research has identified as an appealing feature to potential purchases.
The British standard BS5385 part 4 categorise floor heating systems into 2 main categories, underfloor heating and undertile heating.
Typically underfloor heating is provided by incorporating heating elements in the structural concrete floor topped with a heat conducting screed. The heating elements may comprise either electric cables or plastic pipes carrying heated water. These cables or pipes are normally encapsulated within a screed mortar which has been applied over a suitable insulation layer which sits on top of the structural concrete floor. This is a floating screed construction and is commonly referred to as heated screed within the industry.
Some commercial buildings are designed to take advantage of the thermal mass which is controlled during off peak hours when utility rates are lower. With the heating cooling system turned off during the day the concrete mass and room temperature drift up or down within the desired comfort range.
The undertile heating systems are installed over an existing structural floor, immediately beneath the tiled floor, usually using electrically heated systems. Underfloor heating systems can be installed as the primary whole building heating system or as localised floor heating for thermal comfort. Whereas undertile heating is mainly for localised comfort floor heat. Electrical resistance heating can only be used for heating. When space cooling is also required hydronic systems should be used.
The wet systems use warm water. The water is pumped through pipes that are laid on the subfloor and then covered with a special heat conducting screed which, once warm retains its heat sufficiently. Wet systems can be as much as 30% more energy efficient than radiators because they use water at a lower temperature. They can be integrated with existing heating systems for instance you can specify underfloor heating for some rooms and radiators for others. There more favourable for new builds and large renovation projects.
Traditional electric systems consist of cables that, similar to a wet system, are laid in screed. Modern versions which are much thinner and simpler to install are more like mesh mats or a roll of membrane. They can be installed over an existing floor on top of an insulated board and then linked to a power supply.
Electric systems tend to be less disruptive to install than wet systems. There quicker to heat up. However can cost 30 to 40% more to run than wet systems.
Both systems are popular. Installing electric underfloor heating is less disruptive than a warm water system. Hence especially suitable for smaller scale and or first floor installations say up to 20 square meters. This could include bathrooms, domestic wet rooms and kitchens.
Warm water is ideal for installation in new builds, complete renovations, extensions and large areas in general. It can be linked to an existing radiator system and most effective when installed with alternative energy sources, such as geothermal and solar.
Potential Issues
There are many benefits of using heated screeds as a means of heating system as mentioned earlier. However there are potential problems when it comes to specification and installation. In this next section of the seminar we will highlight the key problems with heated screeds and provide advice and solutions so that you can specify an install with confidence and to best practice.
Traditional screeding materials may present problems of compaction, particularly around and beneath pipes, leading to inadequate soundness. The pumpable property of a screeding material in this instance can make compaction around pipes easier. Movements will continue through the life of the floor due to the temperature change cycles and different thermal expansion rates of the different materials used, such as screed cracking and curling or with a rigid tiled finish such as tile and stone debonding or cracking.
The major problem with heated screeds is the disruption of the flooring finishes. With respect to rigid tile finishes e.g. ceramic or natural stone, BS5385 part 4 Section 5 movement clause 5.1 general states, stresses could be created in the tiling system as a result of movement due to factors such as drying shrinkage, see 5.2 and moisture movement see 5.3, in the background, and thermal and moisture changes in the tiling. These stresses if not properly controlled can sometimes be sufficient to promote loss of adhesion and bulging or cracking of the tiling.
The amount of stress is generated within the floor system are exacerbated by factors such as not commissioning the screed adequately before laying the recommended floor covering or lack of installing adequate movement joints where required.
General Design Considerations

When specifying flooring with underfloor heating systems there are several factors which need to be considered at the design stage. Correct implementation of these design considerations will help to significantly reduce the risk of disruption to the floor finishes and thus avoid potentially costly failures. The following slides highlight the various factors which need to be considered.
Next let's look at some general consideration areas for specification.
Specifying screed materials.
Base sizes and movement joints.
Installation.
Testing.
Drying
Commissioning.
Traditional underfloor heating systems consist of either pipes carrying the heated water or electrical heating cables. The use of plastic hot water pipes is the more frequently used system in the UK. Plastic hot water pipes are positioned towards the base of the screed usually supported in clips or on preformed plastic plates which are laid on and completely over the insulation.
Heated screeds should be laid as floating construction over thermal insulation. A separating membrane should be installed between the concrete slab and the screed.
Floating screeds must have a minimum thickness 75mm-65mm for light loads. Applied over compressible insulation materials for acoustic or thermal insulation. Note that a uniform screed thickness is preferable.
Prior to the installation of a traditional cement sand floating heated screed, there are several factors which need to be considered at the design stage, including:
The existing concrete subfloor to which the heated screed is to be laid, is flat and level, to reduce the risk on uneven compression and rocking of the insulation when the screed is under load.
The correct type of insulation is selected to suit the installation in terms of the thermal requirements and to ensure the ability to resist compression when the floor is subjected to the anticipated loads.
Use of suitable mesh reinforcement if required
The screed is specified at the correct thickness taking into account the floor size
Heat outputs
The anticipated loading including point loading and the type of floor finish to be applied.
For floating heated screeds these should be mixed as a fine concrete see BS8204 part 1 2003 plus A1:2009. Good compaction of the screed especially around the underfloor heating pipes is an essential. Correct placement of movement joints both situated in the full depth of the screed and following through to the floor finish in the case of ceramic tiles or natural stone.
The low thermal movement coefficient and relative freedom, from drying shrinkage induced problems, make calcium sulphate based screed potentially suitable for use in heated floors.
Unlike a cement sand screed, which contains a cement based binder, anhydrides or calcium sulphate screeds contain anhydrous dry calcium sulphate and aggregates. When water is added to the screed the calcium sulphate forms dehydrated calcium sulphate more commonly known as gypsum. This reaction stops when the source of anhydrite is used up. The process is complete generally in between 3 and 7 days. This means that any water remaining in the screed is surplus to chemical requirements and simply evaporates from the screed surface.
The minimum overall thickness of an anhydride screed should be to the manufacturer's recommendation, but is normally in the range of 40 to 50mm. Under ideal drying conditions i.e. 20°C and 65% relative humidity the approximate drying rates of synthetic calcium sulphate screed is 1mm per day, up to 40mm thickness. At greater thickness is the drying times will be increased. For example in ideal driving conditions 40mm equals 40 days, 50mm equals 60 days, and 60mm equals 80 days. These drying times will increase significantly under poorer drying conditions. For rigid tile finishes the moisture content must be less than 0.5% water by weight, as determined using the carbide method, or less than 75% RH as determined by a suitable hygrometer method in accordance with British standards. Use of the underfloor heating after commissioning the screed as per the screeds manufacturers recommendations, may assist in reducing the drying time.
There are also other screeding materials with enhanced properties that could offer various benefits as heated screeds. For instance screeds incorporating rapid drying and hardening technology, enabling fast track installation which we'll explain later in more detail. Formulations with reduced water contents have the advantage of reducing drying shrinkage movement.
With the added benefits of achieving the same compressive and tensile bending strength in 24 hours that port and cement sand screed takes 28 days to achieve. The use of a pre blended screed system reduces the risk associated with inconsistent blending of the correct cements sand ratios from mix to mix, as well as ensuring the correct grades of suitable sand aggregate is used each time.
Pumpable or flow Applied Materials can speed up the installation process. With a pumped screed approximately 2000 square metres of material should be able to be applied per day.
Typically up to 500 square metres per hour can be achieved depending on equipment preparation and experience. This also has manual handling benefits as the weight of product required to achieve 1000 square meters at 6mm, can be in the region of 7 to 10 tonnes. By developing one ton bags any packaging wastage has been limited.
We feel at this point it's necessary to explain the difference in terminology of the screeds in the marketplace, which may be helpful when it comes to choose the right screed for the specification.
Normal or rapid setting
Refers to the time taken to set; this characteristic determines the working time on due to the rapid increase in strength during the initial hardening period.
Normal or rapid hardening
Refers to the time taken to take loads this characteristic determines the rate of strength development.
Normal or rapid drying
refers to the time taken for screed to dry. This characteristic determines when the flooring finish can be installed.
Traditional sand cement screeds require a minimum of 3 weeks drying time prior to installation of floor coverings. Uniquely formulated rapid dry products can reduce the drying time required to as little as 4 hours. Background shrinkage and recommended drying times can cause practical timing problems on site.
Typically proprietary rapid drying and hardening screeds will allow installation of floor covering after 24 hours irrespective of the screeds thickness, offering considerable time savings and reducing drying shrinkage.
The implication for complete isolation of the Bay joints is that they should be a flexible material capable of accommodating both contraction and expansion, similar to perimeter joints. Were screed Bay joints are simply Bud jointed movement in service can cause disruption of overlaid flexible floorings, even where the joint has continuous reinforcement.
To fully accommodate movements the screed should be designed to provide individual bays that have the capacity to move fully independently. Bay sizes should be limited to a maximum of 40 metres square in combination with a maximum overall dimension of eight metres, as recommended by DIN 18560. In suspended floors the base size should be reduced, and additional joints provided over supporting walls or beams.
For floors subjected to significant thermal change it is recommended to reduce the distance of intermediate movement joints. All bays must be kept as square as possible and not exceed a ratio of 1 to 1.5 in any direction from the centre of the field to the perimeter. It is also best practice to install movement joints in areas where the tiling bridges differing substrates i.e. new to old and including door thresholds.
In practice bay sizes will also be influenced by the heating circuit layout which needs coordinating. It's important also to introduce additional stress relief joints in bays of cement based screed. Some tiled floorings, such as resin agglomerated stone, require closer movement joint spacing due to their high coefficient of thermal expansion.
Warm water underfloor heating systems should be installed in accordance with BS EN 1264 part 4, supported by either The Building Services Research and Information Association (BSRIA) or Charted Institution of Building Services Engineers (CIBSE) Design and Installation guide for underfloor heating and the supplier's manuals. Electric cable underfloor heating systems should be installed in accordance with BS 60335-2 1996 together with the relevant parts of BS7671 figure 753 and the cable system suppliers' manuals. On completion of the floor heating system all necessary tests must be carried out, including a hydraulic pressure test for wet systems and cable resistance and continuity, plus earth tests for electrical systems. In both cases a test report should be created and handed over for inclusion in the building logbook.
Drying times for different screeds should be taken into consideration. Following the BS5385 part 3 recommendations for cement sand screeds. The screeds should be allowed to cure for at least 7 days followed by continuous drying in air for a minimum of 14 days. Calcium sulphate screed unheated drying time is approximately 1mm per day up to 40mm thickness in adequate temperatures and drying conditions. This will increase with screed thickness and in poor drying conditions.
As with cement sand screeds it's important that good drying conditions are provided for as soon as the calcium sulphate screed is laid. The screed should be protected from very rapid drying or drafts on the first day but thereafter atmospheric humidity must be low, for example not greater than 65% relative humidity and the air temperature must be adequate, for example 20°C so that moisture can evaporate. Commissioning screeds prior to the installation of floor coverings is very important. In the case of all heated cement sand screeds correct commissioning will help to reduce drying shrinkage stresses which can have a detrimental effect upon subsequent floor finishes.
The cement sand floor screed should be firmly conditioned to relieve stress and reveal defects, see BS EN1264 -4 for period of approximately 1 week.
In the case of calcium sulphate based screeds underfloor heating should be commissioned in accordance with the instructions of the manufacturer and may be used to speed up the drying of the calcium sulphate screed 7 days after laying the screed.
Any screed containing Portland cement to BS EN 197 -1:2011 after the initial curing and drying period of at least 3 weeks, should be heated slowly at a maximum rate of 5°C per day, up to the maximum operating temperature.
New TTA guidelines for heated floors state that, this should be to the operating water temperature of 45°C. Approximately 25°C screed temperature as recommended by the heating manufacturer. The temperature should then be maintained at that level for a further 3 days before being allowed to cool to room temperature.
Ensure that the heating system has been turned off or in cold weather turned on so that the screed is held at approximately 15°C before tile fixing commences.
Commissioning for Portland cement based heated screeds can take an average of 31 days. This can be halved by using a specialist Pty rapid drying and hardening screed mortar.
Specifying Underfloor Heating With Resilient Floor Covering.
The versatility of underfloor heating means that it can be used with a diverse range of flooring materials. Materials chosen will have an impact on the heat output. Generally solid wood floors are the most difficult to use with underfloor heating. The difficulties arise from timber not being a homogeneous material and reacting to changes in temperature and humidity, in terms of its dimensional stability. This uncertainty must be accounted for in specification.
It's important to check with timber floor suppliers for advice on selecting the correct wood. Timber must be specifically prepared to be used with underfloor heating. This relates to the way the timber is cut and the moisture level of the wood.
Vinyl is often a good choice for flooring due to the ease of installation, its low cost and hygienic quality, having no gaps where dirt and bacteria can settle. However not all types of vinyl and suited to high heat. Carpet manufacturers recommend that sometimes of carpet can be used with certain types of underfloor heating. As long as the underlay is a good thermal insulator heat will easily pass through this layer into the carpet itself.
Research carried out by underfloor heating Manufacturers Association and the carpet foundation suggest with another floor system which uses water pipes buried in screed, a carpet underlay with a combined thermal resistance of less than 2.5 togg allows the underfloor system to operate efficiently.
This tog value is less for underfloor heating using electric cables, for example of maximum togg value of 1.5. Prior to considering carpet for this type of installation further advice must always be made to the underfloor heating manufacturers for their recommendations. The Contract Flooring Association and UK Resilient Flooring Association recommends in a 2003 guidance note, the temperature should never exceed the agreed maximum of 27°C at the underside of the floor covering.
The heat output of underfloor heating systems in screeded flaws is on average 100 Watts per metre squared. For timber floors it is generally 70 Watts per metre squared. BS 8203 code of practice for the installation of resilient floor covering state, when used with many flooring materials underfloor heating can cause problems if the temperature at the interface between the subfloor and flooring exceeds 27°C, or is subject to rapid fluctuations in temperature.
In the majority of installations this temperature will not need to be exceeded if the building insulation meets the requirements of part L of the building regulations. Some types of vinyl are not suited to high heats. Always check with the supplier about the compatibility of the chosen material. As stated in BS 8203 the output heat should be regulated at maximum 27°C at the adhesive line for vinyl.
It is often not appreciated that even though a floor may have performed satisfactorily for many years problems due to moisture can still occur when installing a new floor covering. Therefore all installations require a damp proof membrane. There are damp proof membranes available which can even be applied to saturated surface dry concrete. It is vital that the installation has an effective damp proof membrane, ensure that one is situated either above or below the concrete slab, below the screed or below the smoothing compound moisture can be controlled by installing a damp proof membrane at one of the various points within the construction as demonstrated here.
Screed wire mesh reinforcement is sometimes used to improve the strength of screed constructions, curb shrinkage, prevent microcracking and potentially larger cracks from forming in screeds during the drying out process, as well as imparting better impact resistance. Where feasible and required it should be placed in about the middle third of the thickness of the screed, according to BS82O4 part 1:2003 and A1:2009.
With thin floor coverings for example vinyl sheet and tile linoleum and floor paints etcetera, the screed surface will require smoothing with an in situ applied underlay. Consideration should be given to the loads that will be sustained and the surface regularity required. The optimum performance of the floor finish will be achieved when it is well adhered to a smooth surface with a hardness close to that of the screed. Check for surface regularity as specified in BS82O4 part 1.
Here table 8 shows the maximum permissible departure from the underside of a 2 metre straight edge resting in contact with the floor.
For SR1 it can be up to 3mm.
For SR2 it can be up to 5mm,
For SR3 it can be up to 10mm.
SR1 would show through shiny vinyl. SR2 could affect medium format tiles or laminate/timber. A surface regularity of better than may be required for larger format ceramic tiles.
For vinyl floors such requirements are only achieved by the use of self-levelling underlayment's that harden to give a compressive strength in excess of 20 newtons per square millimetre. Products of this nature can be powder or water mixed, or 2 part acrylic based. And some have rapid drying and hardening properties which will help speed up the installation.
Also available, is a specialist 2 part latex system, which has the speed and versatility to be able to apply floor coverings after only 4 hours at 20°C.
Can be used with old adhesive residues including bitumen.
Have excellent adhesion without the need for priming to almost all substrates including flooring grey plywood direct to existing ceramic tiling and proprietary damp proof membranes.
Are unaffected by moisture.
Can be used under or over a suitable damp proof membrane or direct to damp concrete.
Specifying Underfloor Heating With Tile & Stone Floor Covering
Both the heated screed systems and the more recent undertile electrical cable heating systems are suitable for receiving tile and stone floor covering. Here will point out a few watch points for specification.
With heated screed systems it's important to ensure that all the drying shrinkage of the screed occurs prior to tile fixing. This not only requires the normal air drying periods advised for the thickness of the screed but also the commissioning period of the heated screeds. The importance of ensuring cement sand screeds are adequately commissioned before commencement of applying a floor covering, cannot be over emphasised. Further guidance can be found in BS5385 part 4, BS82O4 part 1 and BS EN1264 part 4. If rapid screeding systems are specified this period can be reduced by as much as 17 days.
With undertile heating systems the electrical cables are installed just below the tiling and on top of the floor substrate. It's equally important to ensure that the substrate provides a stable base for tiling. The undertile heating system may be used on a wider range of substrates.
The appropriate tile adhesive may be used to embed the heating elements prior to fixing the tiles. However, in order to minimise disruption to the wires, it is easier to embed the heating wires in a suitable smoothing and levelling compound.
As a general rule any tapes scrims mesh and other materials for securing the heating elements to the subfloor should not impede the adhesive contact between the backs of the tiles and the substrate, so that solid bedding is achieved. The adhesive specified should be a modified cement based product which meets the requirements of BS EN 12004: 2009 and A1:2012. The performance of a tile adhesive may be further enhanced in terms of its physical properties such as ease of mixing an application etcetera.
Moisture sensitive substrates such as wood based are less stable, as they are more likely to expand contract and warp, due to moisture humidity and heat change. This can subsequently result in cracking of the tiles. In this case a dimensionally stable intermediate substrate should be specified to overlay the moisture sensitive subfloor before receiving tile finishes. They are proprietary tile backer boards that are specially designed for such purposes.
As with underfloor heated screeds all movement joints and any joints in the sub floors that are likely to open and close as the subfloor temperature changes, must be brought through the tile bed and treated as tile movement joints. Such movement joints are particularly required at the perimeter of the heated tiling where the tile bed abuts any walls and other fixed structures.
In Summary
Now let's sum up the key points we've covered.
When an underfloor heating system is specified, these key elements need to be covered to ensure long term success.
With heated screeds the choice of materials has impact on ease of installation and construction time.
Commonly used are sand cement floating screeds and anhydrite calcium sulphate screeds.
Certain modern screeding materials have enhanced properties such as being rapid drying and pumpable, which will enable fast track installation.
The screed should be designed to provide individual bays that have the capacity to move fully independently, and movement joints be accommodated accordingly.
Where tiling is specified for floors which might be subjected to significant thermal changes, i.e. with the presence of underfloor heating, the floor area should be divided up by movement joints into bays of size not greater than 40 metres squared, with an edge length no greater than 8 metres.
The tile Association guidelines recommend maximum 25 metre squared bays for movement joints with underfloor heated screeds.
It's important to test and Commission the underfloor heating system after installation, this will minimise drying shrinkage movement exacerbated by thermal influences.
Seek advice from manufacturers.
Where tiles are to be installed specify adhesives and grouts with flexible heat resistance properties tiles should be fixed using the solid bed method am minimum BS EN 12004 C2 cement based tile adhesive and a minimum BSEN 13888 CG 2 cement based grout should be used.
Tiling products with rapid drying features are suitable for fast track installations.
Fibre cement technology also enhances product performance indicators such as improved coverage, increasing open time and increased slump resistance.
A BS EN13888 reaction resin grout RG1 type grout is advisable particularly where a shower with multiple jets is installed. An epoxy cement hybrid grout in this case may be the optimum choice due to its combined benefits of hygiene and ease of application.
For further details on adhesive and grout classifications, please see our CPD specify wall and floor tiling with confidence. For further information on the suitability of an epoxy cement hybrid grout for wet areas, please see our CPD tiling in wet rooms.
Remember that there's a fast track solution for the installation of underfloor heating systems.
There are specialist Pty screeding products available for rapid drying and rapid hardening. And where tiling is required as a floor finish there are suitable tile fixing and routing products. They can significantly shorten the commissioning and fixing process.
For instance, floating screeds using a suitable proprietary rapid drying cement, will allow the commissioning time of the screed heating to be reduced from 28 days plus to approximately 16 days, dependent upon the maximum operating temperature required.
Normally 28 days are recommended to have elapsed after completion of tiling and grouting before bringing the underfloor heating into use.
Suitable rapid drying tile adhesives and grouts will allow the heating system to be used after only 2 days following completion of grouting.
We also have a series of RIBA approved CPDs available at www.ardexcpdacademy.com
Titled:
Screeding levelling and subfloor preparation.
Specify wall and floor tiling with confidence.
Specify tiling in swimming pools and leisure centres.
Specify natural stone floor and wall tiling with confidence.
Specify wet room tiling with confidence.
Here we've provided a list of further references and should you wish to seek further advice from our decks, please contact us by telephone on T: 01440714939 or email e: technical_admin@ardex.co.uk