Addagrip
Providing quality resin surfacing solutions since 1980
Addagrip Terraco Ltd Addagrip House Bell Lane Industrial Estate Uckfield East Sussex TN22 1QL

01825 761333
ABOUT US
Established in 1980, Addagrip Terraco are manufacturers, formulators and suppliers of resin systems and have over 41 years' of trading history and experience in the resin surfacing industry.
Part of the Terraco Group since 2011, we pride ourselves in our knowledge and expertise in providing innovative paving solutions to meet changing demands.
Addagrip Terraco offer an extensive range of high quality external specialist resin surfacing solutions to meet a wide range of project needs and are constantly working on innovative new systems to offer problem solving solutions.
We offer both Resin Bound and Resin Bonded surfacing options for domestic projects and Commercial schemes along with specialist surfacing protection products. As part of the Terraco group we can also provide a range of quality specialist finishing materials.
ACADEMY MODULES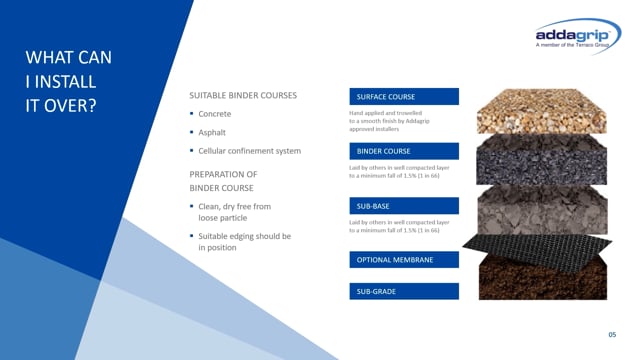 This CPD presentation about specifying External Permeable Resin Bound Surfacing is brought to you by Addagrip Terraco.
Module rating
45 mins required (approx)
Share this module
KEY PRODUCTS OR SERVICES
Resin bound porous surfacing

Resin Bound is porous, allowing water to permeate/percolate through the surface and beyond when a suitable base build-up configured for SUDS (Sustainable Urban Drainage Systems) has been installed.

https://addagrip.co.uk/systems/c/resin-bound-porous-surfacing/

Resin Bonded Surfacing

Addagrip Resin Bonded surfacing is a scatter system which provides the texture and appearance of loose gravel without the issues of migrating stone.

https://addagrip.co.uk/systems/c/resin-bonded-surfacing/