Cleaning, Protecting and Maintaining Natural and Artificial Stone, Ceramic and Porcelain - Lithofin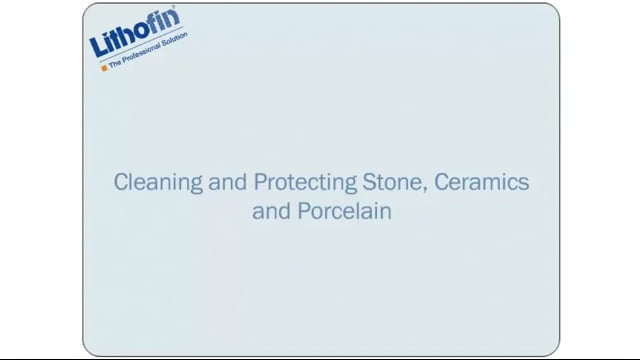 LOGIN OR REGISTER
Once you're logged in you can access all our training modules for free anytime that works for you. Enjoy On Demand CPD Training!
or
Please contact us via contact@construction-cpd.com to get permission to publish this video on your website.
<div style="position: relative!important; width: 100%!important; min-height: 700px; overflow: hidden!important; padding-top: 56.25%!important;"><iframe src="https://www.construction-cpd.com/cpd-external-view?ExternalId=67&ReturnUrl=https://www.construction-cpd.com/cleaning-maintaining-natural-artificial-stone-ceramic-porcelain-cpd" style="position: absolute; top: 0; left: 0; bottom: 0; right: 0; width: 100%; height: 100%; min-height: 500px; border: none;" mozallowfullscreen webkitallowfullscreen allowfullscreen></iframe></div>
Welcome to the Lithofin seminar cleaning and protecting stone ceramics and porcelain.
Seminar Learning Aims
The seminar learning aims are:
An introduction to various surface materials that you may use,
The use of chemicals at each project stage, installation, cleaning and handover, future maintenance, and restoration.
The advantages and risks of using chemicals at each project stage,
Maintenance requirements and life cycle costing,
Relevant safety and legislation information.
Login to record your CPD points
Lithofin - The Products
The Lithofin range of products is specialized and covers a variety of surfaces. They are constantly evolving to meet the needs of the industry, and the changing trends in natural and artificial surfaces and environmental issues. The company ethos revolves around high quality products which consistently perform excellently. The products are manufactured in Germany and are sold internationally through exclusive agents in a number of countries.
Casdron Enterprises Ltd - The Company
This seminar is produced by Casdron Enterprises Limited who have been the sole importer and agent for Lithofin in the UK and Ireland since 1988. We work closely with the manufacturers to develop our skills and ensure we are up to date with the latest product developments and recommendations. We also sit on the technical committees at the stone federation and the tile Association and help write industry codes of practice. We distribute the product to over 1,000 stockists throughout the country as well as training retailers and tilers to ensure the products are being recommended and used successfully. We also have a technical helpline available to answer consumer and specifier queries. The products have been widely specified and used by architects for large construction and installation projects, such as Harrods, Claridge's and the London Underground.
Literature Available to Aid Specification
The following literature is available from Lithofin to aid; specification, method statements, technical data sheets, including coverage guidelines, material safety data sheets, client aftercare advice sheets.
Tiled Surfaces
The tiled surfaces we will be looking at will include natural stone, unglazed ceramic tiles, glazed ceramic, porcelain, quarry, terracotta, geometric and encaustic, agglomerate, resin bonded, or cement based products.
Natural Stone
Firstly, when deciding to specify natural stone, there are important decisions to be made regarding the treatment of the surface, for instance:
what will the stone in naturally be resistant to?
What sort of traffic and contaminants will the stone be exposed to?
How will it be protected?
It is also important at this stage to think about how the stone will be maintained in the future, and which products will need to be used. This table illustrates two variations between soft and hard stone, and the elements which need to be considered when specifying each, for instance chemical resistance to acid.
Obviously, there are many deviations between these two extremes and further help can be sought from manufacturers or ancillary product suppliers if you have a surface which falls outside of these categories.
Ceramics
Other services fall into the category of ceramics when deciding to specify other ceramic surfaces such as porcelain, quarry or geometrics, additional factors will need to be taken into account such as:
Whether the tile is glazed or unglazed,
The finish of the tile, textures, smooth, etcetera,
The chemical resistance of the tile,
Whether the grout will need protecting?
Spa Area Learning Point
Let's take a look at an example of the importance of specifying the right surface. In this example this spa area in a high end London hotel was completely refurbished by an interior architect. The architect failed to research properly the contaminants the stone would be exposed to and therefore the kind of cleaning that would be required. In wet areas such as spas and pools calcium deposits salts and soaps are a common occurrence. The use of acidic cleaners is therefore unavoidable if the surface is to be maintained. The specification of this stone caused numerous issues for the spa owners and the contractors in charge of cleaning the floor. Its surface which was over 400 metres squared was removed and replaced with something more suitable just a few weeks after the spar opened. Moving on to how to take care of a surface once you have specified it.
Surface Care as a System
Surface care should be thought of as a system containing 3 steps.
Cleaning - Step 1
The first step is cleaning on installation. This step is a must and prepares the surface for Step 2.
Protection - Step 2
Protecting the surface either with an impregnate or a topical sealant makes the surface easier to maintain depending on the material.
Maintenance - Step 3
The maintenance regime rounds off the system. The third step is arguably the most important because it is carried out continuously over a long period of time. The best protective treatment in the world will not keep the surface looking good if the maintenance is not carried out with the required care or correct products and methods.
Finally, even following a regular maintenance routine you will at some point return to step one for possible restoration or re-sealing.
Cleaning the first stage of the life cycle.
Cleaning can be set out into four separate stages:
cleaning prior to sealing,
hand over clean,
maintaining,
renovation and problem solving.
The correct type of product to choose depends mainly on the type of dirt to be removed and the surface being cleaned. There are four groups into which the available cleaners can be roughly divided:
acidic,
alkaline,
solvent based,
outdoor cleaners.
On so called anorganic substances, cement and mortar residues (efflorescence), rust and rust discolouration, acidic products are required. On organic dirt, common dirt, wax, grease, light wax films and care product residues, alkaline products should be chosen. And on extremely stubborn organic dirt solvent based products had the biggest chance of success.
For exterior contaminants for example algae we would use an exterior special remover. As a point of interest and to return to the issue of acid resistance of different stones we have put together a brief overview of some common household substances and their ph values.
Soaps including the ones considered skin neutral show a ph value of 5.5-6, this level of acidity is sufficient to attack sensitive materials like for example, a polished Nero Marquina, careful consideration must therefore be taken to the surface and substances it may come into contact with.
Acidic Cleaners Removing Cementitious and Salt/Mineral Residues
There are several types of acid based cleaners available which can be used in differing scenarios, depending on the tile and type of contamination. Acid based products can remove and dissolve most inorganic deposits such as cement and mortar residues, efflorescence and calcium deposits, and excess grout residues as seen here.
Acidic Cleaners - Removing Rust and Rust Discolouration
Another type of acidic cleaner is used to remove rust or rust discoloration. These active cleaners contain optimal combinations of different kinds of rust preventing and cleaning agents. Some natural stones often contain traces of iron which may oxidise when they come into contact with water either through installation, cleaning or rain. These acidic cleaners will deal with rust and iron contamination on all porcelain, ceramic and grout issues. Natural stone will always need to be tested with some acidic cleaners may disrupt or damage the surface structure or coloration of the stone. This example shows rust contamination being removed through the use of an acid base cleaner.
Alkaline Cleaners
Moving on to alkali cleaners these deal with organic dirt. These products are generally used for thorough cleaning of exceptionally dirty tiled surfaces and also for the cleaning of newly laid surfaces prior to sealing or after grouting these products range from mildly alkaline to combination products mixed with mild solvents to allow for a wide field of use. This picture shows an alkaline cleaner being used to remove ingrained dirt from a limestone floor.
Solvent Cleaners - Removing Oil Stains
Something cleaners are products based on a highly active combination of solvents and cleaning components. They are used for moving oiling greasy dirt deposits from solvent resistant surfaces such as natural stone, ceramic, quarry and concrete. They can also be used on silicon joints. The example shown is the effective of using solvents to remove an oil stain from a site where oil had leaked from machinery and needed to be removed before the project was signed off.
Special Cleaners - Removing Outdoor Dirt and Algae
Lastly, we'll look at outdoor cleaners. There are products available that will clean and maintain the exterior surfaces of natural stone and concrete including paving, steps, walkways and walls, as illustrated here. These products work quickly and thoroughly removing green and dark deposits caused by plants leaves and general dirt. They can also be used on dark mould present on silicon joints.
In this example a test section has been cleaned to show the renovation potential. The wall had not been cleaned since it was built 30 years previously, also we have a before and after shot of a small commercial garden area, which has been cleaned.
Important Notes about Working with Cleaners
Obviously, the safety aspects of working with different cleaning materials are essential to consider. Environmental hazards must be identified and minimised. Users should be aware of the availability of MSDS and technical information. The recommended PPE and ventilation requirements, as well as the transportation and disposal considerations. For health and safety and COSHH risk assessment should be carried out.
The second stage - Protection.
The purpose of protective treatment oil grease and water borne dirt on the surface of the material, by preventing the dirt penetrating the surface, staining is avoided and keeping the surface clean is much easier. Another factor to consider is whether the stone will stain through installation from the grouting or pointing process. Some stones can take staining from grout pigment or moisture into the surface pores and edges producing, what we call picture framing or a bleed into the stone. In some cases, this causes unsightly discoloration which may not be able to be removed. These types of stone will definitely require pre sealing when installed and dry. The slide here shows wear protective treatment was not applied resulted in the floor being removed and reinstalled.
Types of Staining - Protecting
Here are a few examples of the types of staining which can occur. The picture on the left is the path leading from the kitchen of a restaurant to the dining area, heavy staining can be seen. The central picture shows an oil stained driveway and the picture on the right is the result of a dropped bottle of olive oil in an outdoor café. All of these issues would have been easily resolved had a protective treatment been applied.
No matter which protective treatment is to be applied, the surface must be completely dried out. The time required depends on the installation techniques used. With a thick mortar bed three weeks and more may be required for all the water to move through the stone and evaporate. Modern adhesive systems that use up most of the water in their own chemical reaction, can reduce this time to several days. Architects and planners should consider these drying times in the project, since otherwise problems can occur. There are two different types of protective treatments available for natural stone, porcelain, glazed and unglazed ceramics, impregnators and topical sealants.
Impregnators
Impregnators do not form layers on the surface, instead the active ingredients penetrate into the capillary system and form a durable film inside them. This interior coating breaks the stones capillary absorbency. Since there is no film on the surface the appearance of the stone remains the same, except when colour enhancing products are used. The slip resistance is not affected, and the water permeability remains intact. The treatment is not subject to mechanical wear and the effect can last for several years.
Sealant (Topical)
Topical Phoenix for protective film on the surface of the stone this film always produces some sort of Sheen and it also reduces the slip resistance of the surface. The layer prevents water from moving out of the surface and sealants should therefore not be used in outdoor areas. Due to mechanical where the durability of these treatments is fairly short in sealants therefore need to be stripped off and reapplied in regular intervals. Sealants are suitable to use in private homes but whenever public areas are involved an impregnator is the product to use.
Protecting Stone
This slide illustrates the effects of a colour enhancing impregnator, a topical sealer and a matte finish impregnator. The picture on the left shows the application of a colour intensifier and the change it makes to the stone. The second and third pictures show the difference between the matte and glossy finishes available to offer clients. Glossy being the result of a surface sealant and Matt the result of an impregnator.
Protecting Natural Stone
In these illustrations of the differences between topical sealants and impregnators as you will note the water beading as you would expect on a sealed stone. The breathability of the impregnator on the left is illustrated by the water vapour passing through the stone due to hydrostatic pressure. On the right water moisture below the topical sealer scenario may cause issues such as discolouration spooling and staining as the moisture vapour is not able to pass through the topical sealer.
Protecting Porcelain
Protecting natural stone is in almost all cases useful, but what about porcelain and ceramic tiles? Glazed porcelain and ceramics have their own protective layer on the surface and therefore cannot absorb any liquids. These tiles cannot be treated. The only thing that may be worth thinking about is applying a protective treatment to the grout minds since they are usually the weakest link in such a surface. The situation is different with polished porcelain tiles. During the polishing process the natural crust on the surface is removed and the core of the tile exposed. Porcelain tiles are not absorbent but inside they have a micro porosity that becomes part of the surface structure during polishing. Dirt can then penetrate into these paws from which it can be very difficult to remove. A protective impregnator can prevent staining and ease maintenance.
Important Notes about working with Impregnators and Topical Sealants
Similar precautions must be taken when specifying sealers and impregnators to that of cleaners. Safety considerations must be understood, and water based products used where appropriate.
Environmental Considerations
In days of green building and similar initiatives the environmental aspects become more and more important, we therefore recommend using water based systems whenever possible. In some cases, there is no alternative to solvent based products. Whilst solvents are certainly not highly desirable from an environmental perspective there are still good arguments for their use when we take a holistic view. Solvent based impregnators are used once to achieve a long term protective effect, this effect allows the use of mild cleaning and care products instead of aggressive cleaners. In the long run the balance therefore, works out in favour of the protective treatment. If solvents are to be used then the solvents used today are also mostly dearomatized and made much safer than they used to be.
Consideration can also be given to other environmental factors which may aid specification decisions such as:
the containers used for transportation,
the distance from manufacturer to end user,
the disposable requirements for left over chemicals.
The third stage - Maintaining.
Using the correct maintenance products for all natural stone, porcelain and ceramics is not only the key for the longevity of the sealants and impregnators but also ensures the tiles remain protected and in good condition. Damage can occur to a tiled finish by misuse or incorrect maintenance products. There are two main types of regular cleaning products; non layer forming and layer forming. Their use is dependent on the desired finish.
Maintaining - Regular Cleaning
As an example, this surface was maintained within layer forming product, after just three months there was a thick layer on the surface that continued to bind dirt. Of course, it is possible to clean such a surface with an alkaline cleaner but is much easier to avoid these unsightly layers from the start. Correct maintenance is simple when you have the right product and equipment. Always ask the tile fixer or stone mason during the installation for detailed method statement or maintenance plan and provided to the cleaning contractors.
Maintaining - Deeper Cleaning
Day to day cleaning is one part of the process but when the floor becomes so dirty that a regular daily maintenance cleaner cannot remove all dirt and greases the use for deeper cleaner will be required. In some cases, alight alkaline product can be used to remove deeper ingrained dirt as in these pictures, after cleaning the sealers are still protecting. However, the more often the deep clean is carried out the sooner a reseal is required as the stronger cleaning products can affect the protection given by the impregnators.
Restoration and Deep Cleaning
At some point in their lifetime most floors will require restoration which can take on several different forms. If an impregnator has been used on the floor it can be cleaned with a specific product. After the drying time the floor can be resealed and the normal maintenance routine can be reinstated. If a surface finish has been used this may get to a point where the finish may need to be fully removed with a stripping agent, dried and then resealed. Most floor areas can always be renovated as you will see in the next slide.
Ceramic Restoration
Some astonishing results can be achieved in refurbishment. This ceramic tile floor appeared underneath the carpet that was being torn out of a 500 year old building in London. Originally the heritage Department had agreed to natural stone being installed in the building but when they discovered the tiles dated to the early 1900s, restoration was the answer. The tile fixer immediately offered to refurbish the surface the results speak for themselves.
Maintenance and Life Cycle Costing
Having looked at the three stages of the surface care system it is important to incorporate this into your life cycle costing exercises. Let's take a look at an example of the life cycle of a floor. You would need to look at the following stages:
installation cleaning,
sealing the floor,
daily maintenance,
deep cleans
reseals.
Using the coverage calculations, you should be able to fairly accurately assess the cost of a tiled surface over its lifetime and demonstrate this to the client. Promoting the use of method statements and manufacturer recommendations on the frequency of deep cleans and reseals would assist this process.
There are of course variables to take into account in any situation such as the floor traffic, the weather elements had subjected to, the type of dirt it comes into contact with and the frequency with which regular cleaning will be carried out.
If you would like to find out more about the topics in this seminar here are some useful sources of information. These organisations are involved in writing the standards used across the industry.
Today, we have covered:
surface care as a system,
cleaning,
protecting and maintaining a variety of surfaces.
Outcomes have incorrect product selection,
life cycle costing requirements,
safety points and ecological issues,
where you can find out more.
Thank you for your time we hope you find the seminar informative and useful.
Please feel free to contact us to ask any questions.