Technal- Building Sustainable Facades of the Future - CPD Video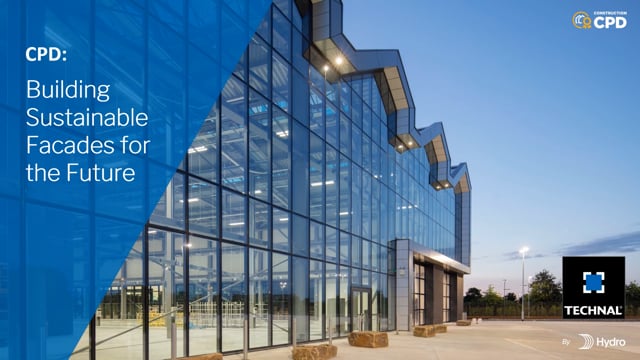 LOGIN OR REGISTER
Once you're logged in you can access all our training modules for free anytime that works for you. Enjoy On Demand CPD Training!
or
Please contact us via contact@construction-cpd.com to get permission to publish this video on your website.
<div style="position: relative!important; width: 100%!important; min-height: 700px; overflow: hidden!important; padding-top: 56.25%!important;"><iframe src="https://www.construction-cpd.com/cpd-external-view?ExternalId=1207&ReturnUrl=https://www.construction-cpd.com/building-sustainable-facades-future" style="position: absolute; top: 0; left: 0; bottom: 0; right: 0; width: 100%; height: 100%; min-height: 500px; border: none;" mozallowfullscreen webkitallowfullscreen allowfullscreen></iframe></div>
The facade is a key exterior element of any building. It sets expectations, defines the feel of the overall structure and determines the relationship between the building and its surroundings – will it stand out or blend in? The facade also plays a crucial role in building operations, from heat storage, air conditioning and lighting to sun screening, fire safety, noise reduction and sustainability.
This CPD from Technal UK takes a thorough look at the process of specifying sustainable aluminium and covers the benefits of using low-carbon aluminium products, with a focus on specifying facades and fenestrations in commercial buildings.
Sustainability targets and carbon emissions
With the looming threat of climate change, environmental sustainability is a growing concern, particularly in the built environment.
This CPD will look at what scientists say about the current state of the environment, what experts think needs to be done and what commitments various countries are making to avoid global catastrophe. It also looks at the different types of carbon emissions and provides useful information on comparing various materials.
Other sustainability factors
While carbon emissions are significant concerns for architects and specifiers, they aren't the only issues to consider when it comes to sustainability. From reducing waste to supporting the wellbeing of building occupants, this CPD will look at the wide-ranging issues surrounding sustainability, as well as the legislation and compliance requirements that specifiers need to know about.
Sustainable procurement and the impact of materials
This presentation will also provide guidance for sustainable procurement, looking beyond individual products and delving into suppliers' and manufacturers' business strategies, policies, and sourcing of raw materials.
The CPD will also look at the options when it comes to facades and fenestration, offering insight into what aspects of these building elements create the most significant environmental impact and how the choice of materials can significantly reduce a structure's carbon footprint.
Verifying sustainability
Finally, the CPD covers some of the different third-party verification methods and accreditation schemes, helping you to understand what's required to ensure a building meets regulations, as well as the voluntary criteria that many clients and end-user's desire.